Tyrone Wrestlers Shutout Bellwood
In a match riddled with forfeits, the Tyrone Golden Eagles took down rival Bellwood-Antis 48-0 in the mat version of the Backyard Brawl.
The match featured five forfeits in favor of the Eagles, and four wins, two by decision, and two by fall. The win was Tyrone's largest margin of victory all season.
The closest two matches of the night took place in the 145-pound weight class and the heavyweight class.
The 145-pound bout featured Tyrone wrestler Cohen Wallace holding a 9-10 record, and Bellwood wrestler Elias Alley, holding a 8-8 record.
The bout started out explosive, with Alley taking down Wallace and nearly putting him on his back. Wallace fought back to his base and escaped, making the score 2-1 going into the second period. Alley then got the choice and chose bottom, gained a reversal, and extended his lead to 4-1. Then Wallace got to work. He reversed Alley and turned him to his back for three near fall points, taking the lead 6-4 going into the third period. Wallace got his choice going into the period and chose bottom, where Alley was unable to turn him, giving Wallace the victory by decision, 6-4.
The heavyweight matchup featured Tyrone wrestler Braden Ewing who held a record of 24-6 and Bellwood grappler Ethan Norris who held a record of 13-6.
Coming into the match, the two wrestlers knew each other very well, and although the team score wasn't on the line, each wrestler's pride was. The match was very close, with the score knotted up 1-1 late into the third period. The wrestlers were in neutral with ten seconds left when Norris decided to take a shot. Ewing was able to shrug off his attempt and take him down with just 5 seconds left to secure the win.
The only other two matches that took place were at 160 and 172, where both junior Andrew Weaver and freshman Kyle Scott were able to pick up pins in the first period.
This was the Golden Eagles' last match of the season, and they won by a large margin, pushing their record to 6-8 to finish the year.
The Eagle's next contest will be individual districts on the 17th and 18th at Altoona, where they hope to send all of their grapplers to regionals, and eventually states.
Leave a Comment
About the Contributor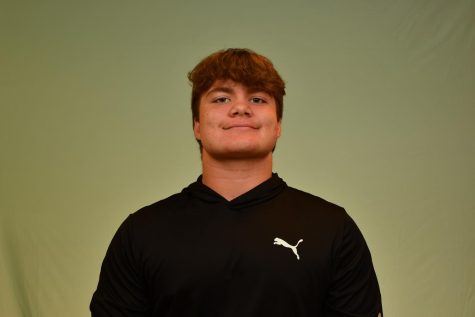 Braden Ewing, Sports Editor
Braden Ewing is a current junior at Tyrone Area High School. This is his first year on the Eagle Eye staff. Many of Braden's friends call him Jefe, a Spanish...