Tyrone Places 6th of 42 Teams at Ultimate Warrior Tournament
Five Tyrone wrestlers reached the podium
The Golden Eagles finished 6th of 42 teams at the Ultimate Warrior tournament Friday, January 27th, and Saturday, January 28th at West Branch High School. Five Golden Eagles placed, along with wins by all nine of the wrestlers.
Sophomore Logan Rumberger at 121 and junior heavyweight Braden Ewing, both clutched out wins in the semifinals, giving Tyrone their first championship-round appearance in the Ultimate Warrior Tournament since state-placer Hunter Walk.
"
I felt like I needed to have a better showing against him than last time, especially since it was a finals match. Honestly, I'm just happy I finished second and upset two kids that were ranked higher than me
— Logan Rumberger
Rumberger came into the tournament as the sixth seed and was able to defeat the third seed and the second seed on his run to the finals. He defeated Hickory's Dylan O'Brien 6-5 in the quarterfinals and had a thrilling overtime match with United's Gideon Bracken in the semifinals, where he was able to win 7-5.
Rumberger tried to ride this wave of momentum into the finals where he was matched up with number one seed, Mifflin County's Hunter Johnson.
Rumberger wrestled Johnson earlier in the year, where he was pinned in 2:39. This time however, Rumberger only lost by a decision, 8-1, and wrestled a much better match.
"I felt like I needed to have a better showing against him than last time, especially since it was a finals match. Honestly, I'm just happy I finished second and upset two kids that were ranked higher than me," said Rumberger.
Tyrone's other finalist, heavyweight Braden Ewing, came into the finals match favored, as he was the one seed in the tournament. Ewing was able to pin his first two opponents of the tournament, and then received a medical forfeit in the quarterfinals before beating the fourth seed, Central York's Ian Scully, 1-0 in his semifinal match.
Ewing was matched with Port Allegany's Carson Neely in the finals, which was sure to be an exciting, close match.
Neely came into the tournament with an 18-0 record as the three seed and pinned all of his opponents on his way to the finals. The match was exciting, going into overtime tied up 1-1. Unfortunately for Ewing, Neely was able to get to his offense with just 5 seconds left in the overtime period, earning a takedown and a spot on top of the podium.
Although four of the nine Tyrone wrestlers did not place, each recorded at least one win, with Caleb McKinney, Lukas Walk, and Remington Fleck all making the blood round. Each of the three wrestlers made it to day two, with a 2-1 record. Unfortunately, all three of them lost close matches and were unable to place.
Tyrone grapplers Andrew Weaver and Kyle Scott were also in the blood rounds and were able to win their matches, along with their next match, guaranteeing them a spot on the podium.
Weaver lost his next match in the consolation semifinals but was able to bounce back in his placement bout and win, clinching him fifth place on the podium.
Scott won his consolation semifinals match, giving him a rematch with BEA's sophomore phenom Caleb Close for third place. Scott, unfortunately, dropped this placement match, but still was able to place fourth overall in his weight class.
The other three placers for Tyrone, Korry Walls, Logan Rumberger, and Braden Ewing all made it to the semifinals of the tournament. Of the three wrestlers, two of them made it to the semifinals, with the only one losing being Walls.
Even with the loss, Walls had an impressive tournament. Coming into the tournament, Walls was seeded as the 14th seed, despite his undefeated record, and his win over the one seed in the bracket earlier in the year. Although his record was undefeated, Walls only had four matches on the year, due to a hand injury. Walls upset the three seed on his way to the semifinals, but was unfortunately handed a loss in his semifinals match.
Walls earned fifth place after forfeiting his first consolation bout and receiving a forfeit in the placement bout.
Leave a Comment
About the Contributor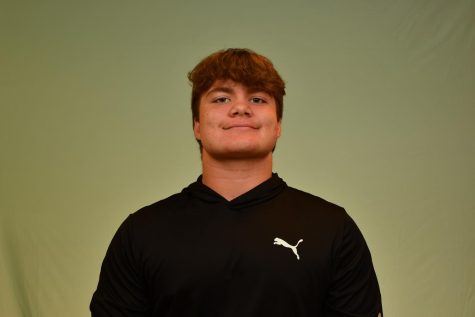 Braden Ewing, Sports Editor
Braden Ewing is a current junior at Tyrone Area High School. This is his first year on the Eagle Eye staff. Many of Braden's friends call him Jefe, a Spanish...