Tyrone Grounded by Bellwood Air Attack
For the third consecutive year the Backyard Brawl trophy will remain in Bellwood after a grueling 33-13 loss due to the inexperienced Tyrone team who let up too many big plays.
Zach Pellegrine threw for 228 yards and two touchdowns as Bellwood's aerial attack led them to victory.
"
We stressed all week that we needed to compete with their line. Those linemen are outstanding. We were loading the box, and when that happens, you can get beat.
— Tyrone Head coach John Franco
Tyrone had their work cut out for them. Bellwood's entire offensive and defensive line all returned from last year. Tyrone's only returning lineman was junior center Dylon Brower.
Defensively, Tyrone stacked the box to stop the run, which led to several deep passes from Bellwood, including a very good fingertip catch by Bellwood's Hunter Shawley on third and 11 for a 26 yard gain.
"We stressed all week that we needed to compete with their line." Franco told the Altoona Mirror. "Those linemen are outstanding. We were loading the box, and when that happens, you can get beat."
Tyrone's offense was shut out for the first three quarters of the game, and by the time they scored in the fourth quarter it was too late for a comeback.
Despite the loss, aside from letting up big plays, Tyrone's defense did not allow Bellwood to drive the ball down the field and get into the endzone.
In the first quarter Tyrone's defense let up a 7 yard touchdown run after a botched punt placed Bellwood on the Tyrone 39 yard line, making it 7-0 Bellwood.
The second quarter was a big defensive battle and someone had to give in eventually. Bellwood made it 14-0 on a big play with 1:30 left in the half when Pellegrine connected with Sean Mallon for a 62-yard touchdown pass.
Late in the third quarter Pellegrine kept the pressure on and connected with tight end Cooper Keen for a 71-yard touchdown to put the Blue Devils up 27-0.
In the fourth quarter Tyrone put on a long drive that ended in them getting into the endzone with a 5-yard touchdown pass to Zac LeGars.
Towards the end of the game, with Tyrone down 33-7, coach Franco saw an opportunity for freshman quarterback Ashton Walk to learn.
Walk came into the game and put on a very nice drive that ended with a score where he threw for 61 yards to set up a LeGars run to score.
Tyrone is in action at home this Friday at Gray Field and hope to get their first win against Juniata Valley.
SCORE BY QUARTERS
Tyrone 0 0 0 13 — 13
Bellwood-Antis 7 7 13 6 — 33
First Quarter
BA–Gibbons 7 run (Daughenbaugh kick), 7:10.
Second Quarter
BA–Mallon 62 pass from Pellegrine (Daughenbaugh kick), 1:25.
Third Quarter
BA–Gibbons 17 run (Daughenbaugh kick), 6:23.
BA–Keen 71 pass from Pellegrine (kick failed), 2:55.
Fourth Quarter
T–LeGars 5 pass from Gwinn (Gwinn kick), 11:32.
BA–Mallon 24 pass from Pellegrine (kick failed), 5:51.
T–LeGars 5 run (pass failed), 2:02.
TEAM STATISTICS 
First downs: Tyrone: 10  Bellwood: 18
Total yards: Tyrone: 183   Bellwood: 425
Rushes-yards: Tyrone: 22-51   Bellwood: 43-197
Yards passing: Tyrone: 132   Bellwood: 228
Passing (comp.-att.-int.): Tyrone: 13-27-0   Bellwood: 8-11-1
Punts-avg.: Tyrone: 6-27.8   Bellwood: 1-31
Fumbles-lost: Tyrone: 1-0   Bellwood: 0-0
Penalties-yards: Tyrone: 5-22   Bellwood: 5-35
INDIVIDUAL STATISTICS
RUSHING
Tyrone: Ronan 6-39, Beck 6-10, LeGars 1-5, Miller 3-4, Walk 1-0, Gwinn 5-(-7). Bellwood-Antis: Gibbons 24-97, Ridgway 4-29, Guyer 5-23, Kost 5-21, Pellegrine 2-21, Smithmyer 1-3, Martin 1-3, Swogger 1-0.
PASSING
Tyrone: Gwinn 9-19-0-71, Walk 4-8-0-61. Bellwood-Antis: Pellegrine 8-11-1-228.
RECEIVING
Tyrone: Baldauf 5-52, Rhoades 2-21, Gampe 2-14, LeGars 2-10, Weaver 1-24, Veres 1-11. Bellwood-Antis: Keen 3-103, Mallon 3-98, Shawley 1-26, Kost 1-1.
Leave a Comment
About the Writer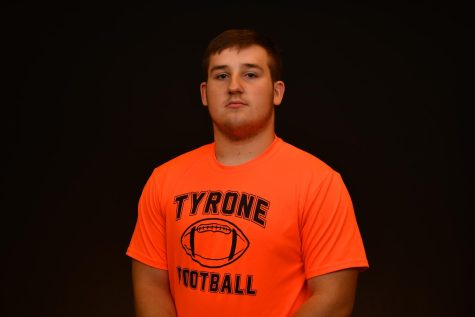 Dylon Brower, Staff Writer
Dylon Brower is a senior in his third year of Eagle Eye who enjoys giving an inside view into the locker rooms of the sports he plays. Dylon is someone...