Tyrone FFA members to attend National FFA Convention in Louisville, KY
The students will join 60,000 FFA members and guests from all over the United States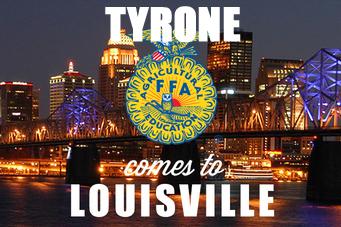 Watch out Louisville! On October 27th the TAHS FFA Chapter will depart from the small town of Tyrone, Pennsylvania and join over 60,000 other FFA members and their guests at the 2015 National FFA Convention in Louisville, Kentucky.
Tyrone will be traveling with 10 other chapters from Pennsylvania, according to ag teacher and FFA advisor Tiffany Hoy.
Much of the cost of the trip is covered by donations and support of the community.  "The members are fortunate this year due to a memorial scholarship in memory of Raymond Diebold," said Hoy,  "so the students are paying only 50% of the total cost to attend. A big shout out to Sarah Irvin and Bryan Buchanan."
This trip is the most anticipated event of the year for the Tyrone FFA members attending.
"I'm excited to learn more about agriculture," said TAHS FFA member Grace Gensimore, "This is a good opportunity…since I got the chance to go, I didn't want to turn it down."
"I wanted to go because of the chance to experience new things," added fellow FFA member Dakota Fink.
The three and a half day convention is packed full of sessions from 7:30 in the morning until late into the evening with opportunities for students and advisers to learn about agriculture and to network with fellow FFA members from across the nation.  A full convention schedule in PDF format can be downloaded by clicking the link below:
2015_national_ffa_convention_and_expo_event_schedule
The occasion was planned and organized by Hoy. "I am doing this for my students. I want them to go so they can meet people from all over the United States, including Alaska. There are going to be people from college universities that my students can learn from," said Hoy,  "I am excited to see the convention through my students eyes. I am also excited to attend professional development workshops."
In addition to learning about agriculture, the chapter members also plan to have a lot of fun, including a chance to attend a Jake Owens concert, which will be opened by Maddie and Tae.
"I am really looking forward to the concert and meeting new people!" said Gensimore.
Hoy chose the following FFA members to attend: Mariah Simondale, Dakota Fink, Grace Gensimore, Alexis Brode, Jacob Myer, Charles Beard, Noah Irvin, and Jaylon Beck.
The Eagle Eye will provide live updates on social media from the event, so readers can follow along with the Tyrone FFA at the 2015 National FFA Convention.
Leave a Comment
About the Contributor
Jaylon Beck, News Editor
As a second year Eagle Eye staff member and first year News Editor, junior Jaylon Beck seeks to expand Tyrone's knowledge of their own FFA chapter....