The Look Ahead: Brookville
The Golden Eagles are coming off their long-awaited win against Bellwood, but cannot get comfortable with their play this week against Brookeville.
With many penalties they have to clean up, Tyrone has to focus on continuing to win and getting better as the season goes on.
Due to the fact that Brookville's new stadium lights are not yet ready, Tyrone will host the Raiders instead of visiting, giving Tyrone a rare three-game home stand.
Although losing 42-7 last week, the Brookville team has been ranked high in District 9 and has the tools to win. Their loss gives them all the more reason to come into the game fired up.
Brookville is returning a 2,000-yard passing quarterback, Charlie Krug, and their backfield also features a big 200-pound running back in Jackson Zimmerman.
Speaking of running the ball, the Brookeville front line is huge on both sides of the ball. With that much size up front, the much improved Golden Eagle offensive and defensive line is going to have their work cut out for them again.
Not to be left out, Brookville's wide receivers are fast and know how to create space.
The Eagle defense looks to be on track this year, with Braden Ewing getting two sacks, and assisting in the punt block the Eagles had last week. Pressure in the front seven will be important to get more sacks and assist the defensive backs in any way possible.
The defensive back crew is going to have their work cut out for them against their strong passing attack. Tyrone only let up 103 yards passing against Bellwood, but they'll need to keep the deep pass locked up.
Tyrone will look to change up their defense in a couple of ways to keep Brookville's offense on their toes. Multiple blitzes from different angles will make getting pressure on the quarterback much easier.
The Brookeville defense runs a 50 front with 5 men down on the line. This many people force the linemen into one on one blocks, and that could spell trouble for Ashton Walk.
However, Walk is used to this and makes his best plays when forced out of the pocket.
The two teams will face off at 7 pm on Friday, September 2nd at Grey Memorial Field.
Leave a Comment
About the Writer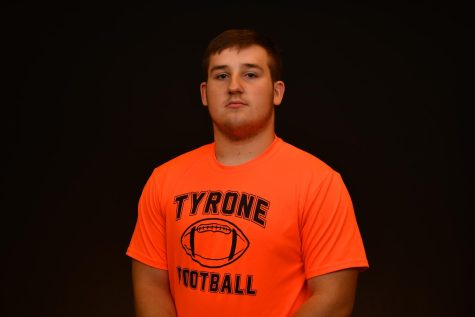 Dylon Brower, Staff Writer
Dylon Brower is a senior in his third year of Eagle Eye who enjoys giving an inside view into the locker rooms of the sports he plays. Dylon is someone...