TAHS Speech Team Takes Home Five of Ten Individual Awards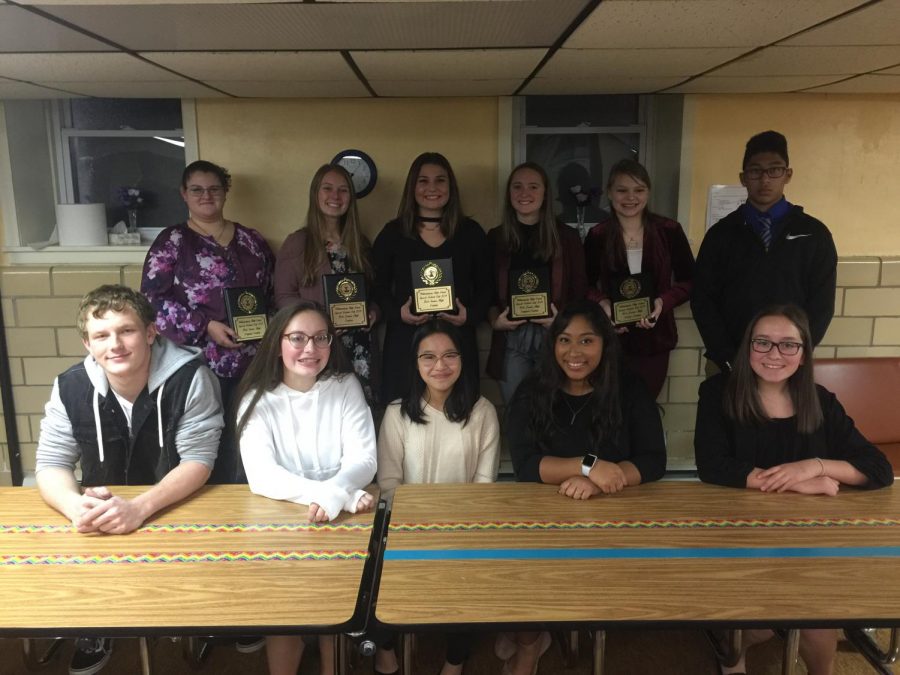 The Tyrone Speech Team took home five of the ten awards given at the Central PA Speech League competition on November 19 in Williamsburg.
"I think we put in quite a showing," said Speech Team co-advisor Mrs. Leah Deskevich, "Our future looks bright!"
Senior Olivia Reese won Best Senior High Oral Interpretation for her original poem "Under the Mango Tree," about hearing God's call to full-time ministry during a summer mission trip in the Dominican Republic.
"
It was cool getting to share my speech with everyone and share some of my life story with them"
— Olivia Reese
"I honestly wasn't expecting to get second place at all, but it was a really awesome experience," Reese said. "I'm going to push myself just as hard next time as I did this time."
Freshman Lydia Seltzer won Best Junior High Oral Interpretation for her rendition of "Reach Your Dreams by Achieving Your Full Potential" by Andreas Jones.
Both Reese and Seltzer delivered their speeches at the end of the awards ceremony, held in the Williamsburg Church of the Brethren's social hall.
"It was cool getting to share my speech with everyone and share some of my life story with them," Reese said.
Also receiving plaques for top scores were: eight-grader Raena Groner, sophomore Arianna Reader, and freshman Marley Grazier.
Groner read Abraham Lincoln's "Gettysburg Address" exactly 156 years from its initial delivery, Reader wrote a poem about turning a negative health situation into a positive attitude and lifestyle, and Grazier shared a story about a memorable conversation she had with her dad.
"I had a lot of fun," Groner said. "I can't wait to compete again in February."
Tyrone history teacher and Williamsburg graduate Josh King also enjoyed the event.
"I got to judge speeches sitting in the classroom and desk chair of my favorite [Williamsburg] teacher: Mr. Richard Baronner," King said.
Speech Team will compete again at Juniata Valley in February and here at Tyrone Area in April. Students interested in joining the team for the Winter and Spring Meets can stop by Quiet Study Room 121 for more information.
Best Senior High Oral Interpretation
Olivia Reese's original poem "Under the Mango Tree"
Best Junior High Oral Interpretation
Lydia Seltzer's rendition of "Reach Your Dreams by Achieving Your Full Potential" by Andreas Jones
Best Junior High Original Oral Interpretation
Marley Grazier's original story "One and the Same: The Most Important Conversation I've Ever Had"
Best Junior High Serious Oral Interpretation
Raena Groner's recitation of Abraham Lincoln's "Gettysburg Address"
Best Senior High Original Oral Interpretation
Arianna Reader's poem "One Minute I'm Okay"