TAHS Promposal contest: A room full of balloons!
Bry Taylor and Haley Wagner are Week 1's featured promposal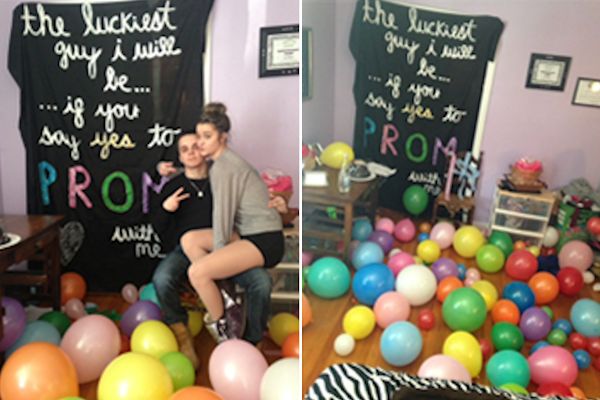 Promposals are a new trend that has just hit Tyrone High School. Asking your date to prom is now expected to be a big gesture complete with balloons, signs, humor or anything creative.
Senior Bry Taylor incorporated all of these things in his promposal for his girlfriend, sophomore Haley Wagner.
Taylor filled Wagner's bedroom with balloons when she wasn't home and made a sign saying "The luckiest guy I will be… if you say yes to prom with me."
"I sat down and thought about it, and I wanted to do something awesome," said Taylor.
He got help from Wagner's mom and her sister Payton.
Taylor and Wagner have been a couple for about a year but Taylor was still nervous to prompose, since he has never done one before.
Wagner was very surprised by the promposal.
"I knew that he would ask me eventually, but I had no idea how or when. When I walked into my room after dance practice, I was so excited!" said Wagner, who of course, said "yes."
Both Taylor and Wagner are excited to go to prom together and spend time with their friends.
Over the next several weeks will be sharing more of this year's most creative "promposals" at Tyrone High School.  When we're done, students will have an opportunity to vote on their favorite promposals of the year.
Leave a Comment