TAHS Marks 13 Years of Support for the Panzi Foundation USA
Tyrone's Youth Action Network (YAN) student organization presented a $1,200 check to Panzi Foundation USA representative Peter Frantz on Wednesday, April 27th, 2022.
This is the 13th consecutive year that Tyrone High School YAN club has made a donation to the Panzi Foundation, making TAHS the longest-running institutional supporter of the foundation, and the only high school student group in the world to support the hospital on an annual basis.
"
The Panzi Hospital is very aware of who you guys are. Little old Tyrone can make a big difference
— Panzi USA emeritus board member and former Executive Director Peter Frantz
"The Panzi Hospital is very aware of who you guys are. Little old Tyrone can make a big difference," said  Panzi Foundation emeritus board member Peter Frantz. "Tyrone has never not donated to the Panzi foundation, even during COVID-19."
Frantz is a Tyrone native, professional artist, activist, and co-founder of Panzi Foundation USA.  He served as the Panzi USA Executive Director from 2010 to 2014.
Tyrone Area High School's long-running connection with Frantz, the Panzi Organization and its founder, 2018 Nobel Peace Prize winner Dr. Denis Mukwege, began in 2009.
The Panzi Hospital is a primary treatment center for rape victims in the Democratic Republic of Congo, treating over 85,000 women experiencing issues from either rape or birth.
"Tyrone helps bring visibility to a subject that no one wants to talk about," says Frantz.
YAN has raised money to support the Panzi Foundation and hospital through donations taken from the Golden Eagle Halloween Event, Pennies for Panzi, and the 4-D Movie night.
"In your lives, I will guarantee that you will see something happen in front of you and you are going to have a 'Y' in the road where you will have a chance to help. All I am suggesting is that you give that some thought," said Frantz to the members of YAN.
YAN advisor Cummins McNitt has been working with Frantz for thirteen years and says that he and Dr. Mukwege are valuable mentors for Tyrone students.
"Peter always makes powerful presentations to our students. He doesn't hold any punches and speaks truth to power. While Peter is a very important player in all of this, it isn't Peter that that is the motivation behind our commitment, it is the work and words of Dr. Mukwege that awakens our desire to become involved," said McNitt.
Leave a Comment
About the Contributor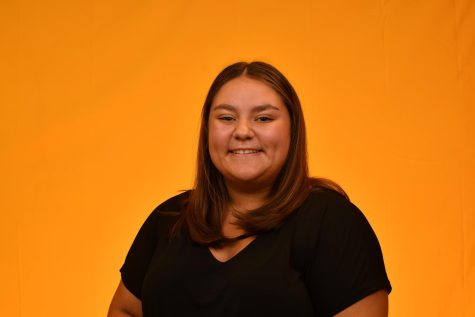 MacKenzie Hyde, Editor-in-Chief
This is MacKenzie! She is a Senior at Tyrone High School and this is her fourth year in Eagle Eye. After graduating, she plans to attend Penn State to...