TAHS Courtyard Mini-Golf Course Opens to Students
April 2 Update: We only wish this were true! Happy April Fools Day from the Eagle Eye!
For years the Tyrone High School courtyard has been one of the least used spaces in the school, but since the new mini-golf course opened two weeks ago, it has been buzzing with activity.
"The courtyard has been a long-neglected and unused space," said Tyrone High School Athletic Director, Dean of Students, Head Girls Basketball Coach, Assistant Varsity Football Coach, and newly appointed Mini-Golf Course General Manager Luke Rhoades. "We are pleased that students can now use the courtyard to enjoy a round of golf during gym, study hall, lunch, or after school."
In just its first two weeks of operation, the new Golden Eagle Golf Club has hosted almost 100 rounds of mini-golf.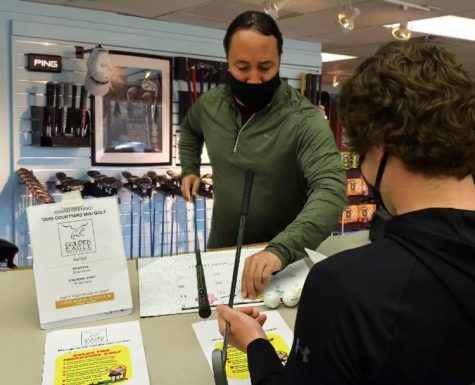 The course currently has nine holes and a pro-shop, with an additional nine holes planned for phase two of construction, which will begin this summer.
An 18th hole, where players must put the ball into the Eagle's beak to win cookies from the cafe, will be the highlight of phase two.
"Being an avid golfer myself, I know what a fun and competitive sport miniature golf can be, so I brought the idea to the school board. We need to consider the toll that this pandemic is having on our students, and do what we can to lessen it. After some discussion, we landed on the mini-golf course as a way for the students to kick back and have fun," said Rhoades. 
Phase three of the project is scheduled for the summer of 2022 and will involve installing a retractable roof over the entire courtyard, which will allow for year-round play.
The cost to build the initial nine holes and pro shop was about $50,000, which should be paid off in five years. The "back nine" holes will cost an additional $30,000. The roof will be the most costly part of the project, with estimates in the $350,000 range. 
"The roof does sound expensive, but it will extend the mini-golf season into the winter and allow our varsity golf team to practice their short game year-round," said Tyrone head golf coach Mike Funicelli.
Many of the course features were salvaged from the old Delgrossos mini-golf course, which was dismantled when the Laguna Splash Water Park was constructed in 2016. The pieces were purchased from G & R Salvage in Tyrone.
"G & R also has the old DelGrosso Park go-karts. We are discussing purchasing those as well, possibly as training vehicles for Mr. McNitt's driver education classes," said Tyrone Area School District Physical Plant Director Jordan Good.
Students in the carpentry classes have been working on the mini-golf course all year.
"We weren't allowed to go to the house project because of COVID, but we were allowed to work outside on the courtyard golf course, so the timing was perfect," said TAHS carpentry teacher Dan Plummer.
Although the carpentry students weren't paid for their work, they have been granted free access to the course anytime during the school day. 
"It was really fun to build the course. It was hard to learn the process behind it but it's very rewarding to see the final result and know that I helped build it," said senior carpentry student and high school golf team standout Jake Taylor.
In addition to constructing the course, the carpentry students also converted half of the high school library into a full-service golf pro-shop with club rental and sales.
"There hasn't been a book checked out of the school library in over three years, so we thought that a golf pro shop would be a much better use of the space," said Tyrone High School Principal Tom Yoder.
A ceremonial first round was played on March 10 between Dean of Students Lucas Rhoades, science teacher/golf coach Michael Funicelli, and TAHS golf team stars Jake Taylor and Cassidy Miksich. The foursome tested out the course for design flaws many times throughout the construction process.
"
The courtyard has been a long-neglected and unused space. We are pleased that students can now use the courtyard to enjoy a round of golf during study hall, lunch, or after school"
— Luke Rhoades
Miksich won the inaugural round and currently holds the course record with a six strokes under par 50. Taylor was second with an even-par 56. Rhoades was third with a four-over-par 60 and Funicelli finished a disappointing fourth with a 102, 48 strokes over par.
"I've never been so off my game," said Funicelli. "The course is fine for now, but we are looking to make some adjustments in the future. Every professional mini-golf course I've been to features a waterfall and Tyrone High will be no exception."
Mini golf has been spreading in popularity as a youth sport in recent years. It is already a PIAA sanctioned sport in many school districts in the suburban Philadelphia area.
Despite the high cost of travel, Athletic Director Luke Rhoades is already planning to enter a Tyrone team in the Philidelphia league in the spring of 2022.
"I'm not the best putter on the golf team, so I would really benefit from the practice that a mini-golf team would offer," said sophomore golf team member Cyrus Alhert.
A round of golf is free for students during their gym classes.  During study halls and after school, the cost is $5 a round for students and $7 for teachers and staff members.
The course is open to students during the school day for students in gym and study hall and after school to everyone from 3-5 pm.
It will be open to the public on weekends beginning April 3 from 10 am to 2 pm, and on weekdays over the summer from 11 am – 3 pm beginning June 7.
View Comments (5)
About the Contributors
Andrew Savino, staff writer
Andrew Savino is part of the wonderful senior class at Tyrone High. This is Andrew's first year on the Tyrone Eagle Eye News team. Andrew loves to be outside...
Haydn Loudenslager, Staff Writer
Hello my name is Haydn. I am a junior who wears five watches for no reason at all. I spend most of my time at home playing video games, listening to music...