PIAA Grants Extra Year of Eligibility to 2020 Grads
April 2 Update: Happy April Fools Day! While we wish we could bring back the spring 2020 sports season, there is no plan for the PIAA to allow graduates to play this season, but thanks for reading our April Fools 2022 story.
One of the most disappointing consequences of the COVID-19 pandemic was the loss of the spring 2020 high school sports seasons. Athletes from across the state had their senior seasons canceled, a move that left many devastated. This was especially true at Tyrone Area High School, where softball, baseball, and track were all poised to have strong seasons.
However, in a surprise move, the PIAA has responded to pressure from athletes and parents and announced that athletes from the Class of 2020 will be granted an extra year of eligibility, which can only be used in the upcoming 2022 spring sports season (see related PRESS RELEASE).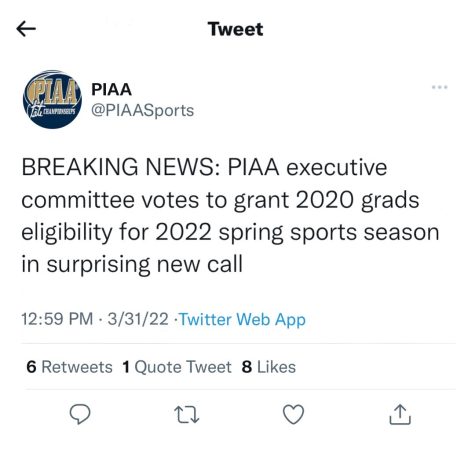 The move is similar to what the NCAA did in 2021 to accommodate its winter sports athletes, although the PIAA decision comes a year later, causing some additional controversy and a few added regulations.
Reactions to the plan have ranged from excitement to outrage.
For the Tyrone Lady Eagle softball team, it means that Class of 2020 grads Cate Baran, Ally Jones, and Callie Maceno will all be back this spring.
All three are already practicing with the Lady Eagles and are excited to finally make a run at the D6 title.
Baran, who currently plays at Juniata College, will balance her time between the two teams for the spring season.
"Luckily most of the games don't conflict, so I should be able to pitch for both Tyrone and Juniata this season," said Baran. "My college coach is not happy with me, but I jumped at the chance to play with my high school team again. We have unfinished business."
Tyrone baseball players and 2020 grads Michael Stoner, Nic Light, and Kevin Lehner are also excited to return to the Golden Eagles baseball squad this spring.
"It's a shame they didn't give us the eligibility last year, I would have loved to win a state championship," said Stoner. "But I'm ready to go all the way again and finally get the title we deserve."
Lehner, similar to Baran, plays college ball for Penn State Harrisburg and will divide his time between the two squads.
"Yes, the drive from Harrisburg to Tyrone is long, but I'm willing to do anything to be a Golden Eagle again," said Lehner, "Obviously I won't play every game, but it will be so nice to finally get to have a proper end to my high school career."
Track stars Elise Gailey and Nick Vasbinder are also ecstatic about returning for a chance to make it to States.
Vasbinder, who returned this year as an assistant coach, is in a unique situation because he will be the first player/coach in Tyrone sports history.
"
My college coach is not happy with me, but I jumped at the chance to play with my high school team again. We have unfinished business."
— 2020 grad and current Juniata College softball player Cate Baran
Juggling coaching responsibilities while also training for events will be tough, but Vasbinder says he's up to the challenge.
"There's no feeling like competing, and I am honored to represent the school I love most for my second 'senior year'," said Vasbinder.
According to Head Boys Tennis Coach Randy Irvin, the tennis team will only return one senior from the 2020 squad.
Nick "Nags" Delbaggio will return to the courts this spring, but his brother Ben "Bags" Delbaggio has declined the opportunity for an extra year of eligibility in order to focus on his studies at Gettysburg College.
"I have no interest in playing," said Bags. "Besides, why would I want to see anyone from high school again?"
Most of the spring sports coaches have reacted positively to the decision and are excited for the return of some of their best athletes.
"Elise [Gailey] was one of the best track athletes I have seen come through Tyrone. She was a huge part of our successes in the Girls 4×100 Relay that went to states," said Track and Field Head Coach Brad Kanuch. "It will be a big asset to us to have her return for this season. I can't wait."
Tyrone Athletic Director Luke Rhoades' opinion of the plan is mixed.
"As an athletic director and coach, I love it. These kids deserve to have another shot at their senior season," said Rhoades, "But as Dean of Students, I still have a lot of unanswered questions. How do we run eligibility on these players? And what if one of these 'super-seniors' breaks the dress code or shows up at practice with a vape? Can I give them an in-school suspension? PIAA hasn't told us anything about that."
Despite the positive response from 2020 grads and coaches, some other members of the community are outraged by the decision.
Among the most upset are current seniors who will likely lose playing time to athletes who have already graduated.
"
As an athletic director and coach, I love it. These kids deserve to have another shot at their senior season, but as Dean of Students, I still have a lot of unanswered questions."
— Athletic Director and Dean of Students Luke Rhoades
Senior baseball star and Penn State commit Aiden Coleman feels like his senior season is being stripped from him.
"It's just not fair. I mean, I feel bad that they lost their senior season, but this was supposed to be my year. [The PIAA] can't just come in and neglect the current seniors. If they want to give these athletes extra eligibility, then they need to give current seniors another year too," said Coleman.
The plan has also raised concern among parents of current athletes who feel the decision will create an unsafe environment for their children.
"It's crazy that the PIAA did this. What makes them think that these older athletes, some of whom are nearly 21 years old, won't have an advantage over high school kids? They just aren't on the same playing field anymore," said Tom Coleman, TAHS PE teacher and parent of baseball players AJ and Aiden Coleman, at a recent school board meeting.
These parents are concerned because many of these returning athletes have been competing at the collegiate level for almost two years and received a significant amount of additional training, they should not be allowed to compete with high school athletes.
Also upset at the PIAA announcement are many of the winter sports athletes from 2020 who never got to finish their 2020 season.
"This is great and all, but what about our state tournament playoff run?" said current Tyrone basketball senior Jaida Parker. "Our basketball season was canceled in the middle of a playoff run. I would like to play Beaver."
Criticism of the plan is also not limited to athletes.
As a result of the PIAA policy, other extracurricular activities that were canceled are also demanding that their 2020 grads be allowed to return.
Tyrone musical director Laura Harris is the most vocal of this group.
Harris plans to present a petition to the school board in April demanding that graduating members of the cast of Newsies be allowed to return and perform the show that was canceled just a couple of weeks before opening night.
"I would be there in a hot minute," said 2020 Tyrone grad and Newsies lead Brent McNeel. "Just give me a chance."
---
For a complete list of all the Tyrone 2020 graduates who will compete in the 2022 spring sports season, click here.
View Comments (1)
About the Contributor
Ellie Oakes, Editor in Chief
Ellie Oakes is in her third & final year as a member of the renowned Eagle Eye News staff. As a senior, she is hoping to make her last year of high...