Shooting 4 the STARS: TASD's Daycare Program Achieves Star-4 Ranking
Hang on for a minute...we're trying to find some more stories you might like.
The Tyrone Area School District's daycare staff recently received some welcome news.  On May 4, they learned that their program has achieved a "Star-4" ranking, the highest possible, from the Keystone STARS Program.
Keystone STARS, a program of Pennsylvania's Office of Child Development and Early Learning (OCDEL), is a quality rating system used to improve, support, and recognize the continuous quality improvement of early learning programs in Pennsylvania.
Assistant Principal Amanda Kurtz was very pleased with the outcome of the evaluation.
"[The staff] have worked so hard to meet the standards that the program was looking for. They stayed late to do the necessary training," says Kurtz, "It takes dedication to do that and then come in at six the next morning."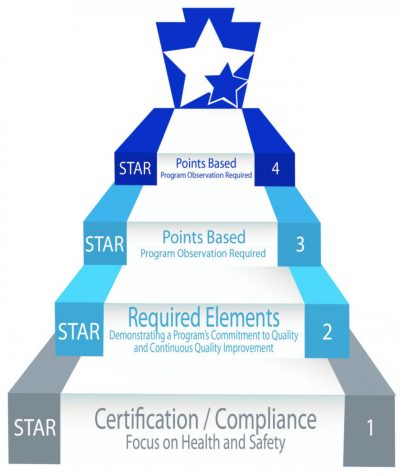 Kurtz says that while the program's goal was to achieve a "Star-3" rating, the jump to "Star-4" is an honor and "shows the dedication and hard work of the staff each and every day."
The acronym STARS stands for quality improvement through Standards, Training/Professional Development, Assistance, Resources, and Support.
To obtain a "Star-4" ranking, a point system is used and program observations are required to determine the level of quality and a program's commitment to continuous and quality improvement (CQI).  To learn more about the program and its rating system, click this link.
The daycare staff was given a four-week window in which an unbiased assessor from the Keystone STARS program would make an unannounced visit for an observation and assessment.
"Staff were anxious not knowing when they would show up and whose rooms would be randomly picked," said preschool teacher Robin Shock.
The assessors visited four rooms and a check-list was used to evaluate the teacher, the learning environment, and interactions between the children and staff.
Tyrone's daycare program was previously ranked as a "Star-2" program before being designated as "Star-4."  It is currently the only four-star childcare program in the Tyrone area.
Even though most of the daycare staff does not have a four-year degree, experience matters and can make up for a lack of a degree.
"If someone without a degree is looking for a full-time teaching job, there could be enough quality to see the potential for that person to grow," says Kurtz.
Parents of daycare students are also pleased and thankful to have a great staff and a safe environment for their children.
"I love the school daycare. My son loves the stuff they do there. I would recommend this daycare to everyone," said parent Dawn Davis.

Parents Kyle and Erin Crain also showed their appreciation for the program.
"Daycare has been a huge blessing to our family. It's very refreshing to be able to drop off our child knowing she is safe and well cared for. Plus she is having fun," said Erin Crain.
The daycare program offers services for ages six weeks through sixth grade.  It is open from  6 am – 6 pm Monday through Friday and offers options including five full days, three half days, three full days, and five half days. While the program is currently full, parents interested in applying to the wait list should contact the school at 814-684-1342 and/or visit the daycare page on the TASD website by clicking here.

About the Writer
Sara Shock, Staff Photographer/Writer
Hey! Sara Shock here. Welcome to my profile. This is my second year in Eagle Eye. I am in YAN, Aevidum, NHS, and student council. My interests are photography,...