Nathan's Underground Music Spotlight: REBEL INC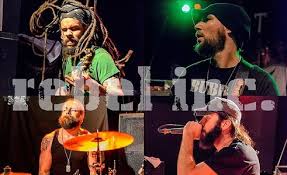 Hang on for a minute...we're trying to find some more stories you might like.
How's it going guys?   This week in the spotlight is a rock band from Baltimore, Maryland called REBEL INC.  It consists of Adam on vocals, Kevin on guitars, Brian on drums, and Keni on bass.  They infuse rock with hip hop and metal to create a groovy original sound.
I was recently able to catch up with REBEL INC's front man Adam for a quick interview.
Nathan: Tell us about REBEL INC and how it got started?
Adam:  REBEL INC began several years ago in Detroit, MI.  We didn't have a band name at that time, but Kevin (guitarist) and I were writing music together, and digging the sound.  We couldn't find people serious enough to make it happen in that area, and perhaps, we weren't mature enough ourselves either.  So we ended up relocating to Baltimore.  Kevin got a job offer out there, and after a year or so, called up myself and another high school friend he used to jam with, Brian (drummer) and asked if we'd be interested in moving to give the band a full push.  So we packed our bags.
N: How did you come up with the name REBEL INC?
A: It was kind of a tongue-in-cheek thing.  A paradox.  We're aware that our government has sold WE THE PEOPLE's rights, our truths, our medicine, our food, our water, our land, our education, our justice, our peace, our prosperity, our live, our future, and our happiness.  If there will ever be another REVOLUTION here in America, it is in extreme danger of being hijacked and actually run by the very same people that the REVOLUTION began against in the first place.  Therefore, becoming a fake and untrue REVOLUTION.
N:  Before REBEL INC, did you guys have any other bands?
A: We played in a few bands, but nothing serious.  This is 24/7.  This is life for us.
N: How did you guys get into the music industry?
A: We started this band to wake people up.  To inspire them to make positive changes, think critically, and search and question truth, as well as anyone who claims to be their "Authority."  The music industry is a gross animal.  Filled with snakes at every step ready to sucker you out of money, your music, or whatever they can.  The industry is rough, but you gotta handle business if you want fans, radio play, and to tour the country.  Pay your dues, work your ass off, make good music, network to meet people in the biz, be straight up with them and NEVER GIVE UP if it's something you truly believe in.
N: Who inspires you?
A: There is inspiration for any one of us, in every one of us.  I'm inspired every day by random people.  I'd say that personally, Jim Morrison from The Doors is my top.  His intelligence, spirituality, and his rebellious attitude.
N: What do you guys write about?
A: We write about oppression, free and critical thinking, awareness and truth, questioning the information you are fed or taught constantly, and of course, any person claiming to be your authority and have power over you.  We also write about the struggles and the courage it takes to stand, and perhaps fight, against what is NOT right.
N: What are some of your favorite bands you've been able to play with?
A: We've played with Seether, Chevelle, 10 Years, Sevendust, Feul, MUSHROOMHEAD, Red Jumpsuit Apparatus, Nonpoint, Anti-Flag, Saliva, and several others.  Had a RIOT at every single one of them.  Lead singer of Seether gave us a shout out on stage in Baltimore after our set.  That we pretty sweet.
N: What is your favorite moment from a show?
A: Getting in the crowd with the mic.  Time to share some REBEL LOVE with my brothers and sisters. It gets intense.
N: You guys just released your album Soundtrack to the Revolution not too long ago, how did you come up with the album name?
A: We didn't write an album.  We didn't hide away for 6 months writing and recording.  We wrote a bunch of songs, during breaks over 2-3 years of touring, and wanted to get this music to people to hear.  There was an underlying tone that laced these songs together.  Like it was a soundtrack of savage and righteous love that stems from conscious anger.  A soundtrack to a REVOLUTION.
N: What are some of your favorite venues to play?
A: The ones that are packed! Don't care if it's big or small, REBEL INC came to destroy the stage.
I want to personally thank Adam and the rest of REBEL INC for providing this interview.
You can check them out at the following locations on the web:
www.reverbnation.com/rebelincmusic
www.facebook.com/rebelincmusic
Until next time,
Nathan