A Swiftie Ranks Taylor's Albums
I've been a fan of Taylor Swift since I was about eight years old. I would hear her on the radio and my mom listened to a few of her songs, but I fell out of listening to her music for a while.
However, I recently got back into it when I went down the Taylor Swift, Conan Gray, and Oliva Rodrigo rabbit hole.
So that made me think, what do my fellow students at Tyrone High School think of Taylor's music? What are their favorite Taylor Swift albums?
To find out, the Eagle Eye polled all students in grades 9-12.
We got 95 responses and I was pleasantly surprised to learn that most students really like her, with a select few who either dislike her music or just don't listen to her at all.
However, my opinion of her best and worst albums does differ somewhat from popular opinion.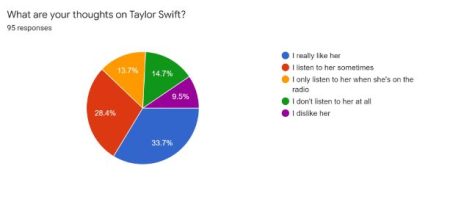 Swift has released nine albums in total, not including the re-recorded albums or singles – and here is my opinion of how they rank, from my least favorite to most favorite album.
Feel free to disagree. You can even make your opinions known in the comments.
#9. Taylor Swift (Debut)
Taylor Swift is Taylor's 1st studio album and was released in 2006.
Clearly, her debut album is very country, she started her career in country and landed in pop and folk, a lot like Shania Twain.
There's nothing wrong with the album, I enjoy listening to it on occasion. The only reason it's this low on my list is because of personal preference. I like country but it's not above other genres.
I also think her newer albums are more her and hold more depth. It just showcases her growth as a singer, writer, and performer. And how much more comfortable she became and being able to be more herself in the spotlight
I applaud her for having the courage to switch to a new style and disregard the hate she could get.
Trust me though I'm a sucker for Our Song.
Noteworthy songs include: Tim McGraw, Picture To Burn, Our Song, Should've Said No, Teardrops On My Guitar, and A Place In This World.
#8. Fearless (Taylor's Version)
Fearless is Taylor's 2nd studio album and was released in 2008, but re-recorded in 2021.
I think it's safe to say that fearless houses some of Taylor's most well-known songs, such as Fifteen, Love Story, and You Belong With Me.
Though her Debut brought her into the spotlight, Fearless solidified it.
I love this album it's very nostalgic to me, I grew up listening to this album like Red.
Fearless also brought Taylor's first grammy of her eleven, as well as making her the youngest female to win album of the year.
This album makes sense to appeal to Tyrone students, in Taylor's fearless era it was still a country feel, leading a little towards alternative.
Songs to listen to: Fearless, White Horse, The Way I Loved You, Mr. Perfectly Fine, The Best Day, and You're Not Sorry.
#7. Evermore
Evermore is Taylor's 9th studio album and was released in 2020.
It pains me to put evermore this low, a lot of my favorite songs come from evermore. Such as champagne problems, no body no crime, and Ivy.
Weirdly evermore is like the sibling of Folklore. They have very similar vibes. However, the song meanings are a lot different.
Evermore was released out of nowhere. Many fans were not expecting it, it came as a surprise, especially after folklore was released just months before.
Taylor managed to put together two amazing albums in the span of a year, extremely impressive.
Notable songs include: Champagne Problems, Gold Rush, 'Tis The Damn Season, Tolerate It, No Body No Crime, and Coney Island.
#6. Lover
Lover Is Taylor's 7th studio album and was released in 2019.
Lover performed, on the charts, worse than any of her other albums. I think majorly because of Covid.
However, I fully believe that this album would have been one of her highest-ranking albums if not for the pandemic. It's fun and sweet. Cruel Summer would have most likely hit #1, but in 2019 only peaked at #29.
I think it can appeal to everyone, it's pop and correlates to happy friendships and relationships.
Songs to listen to include: Cruel Summer, Lover, Paper Rings, Afterglow, Cornelia Street, and Daylight.
#5. Speak Now
Speak Now is Taylor's 3rd studio album and was released in 2010.
Arguably, this album is probably the most liked among the Taylor Swift fan base.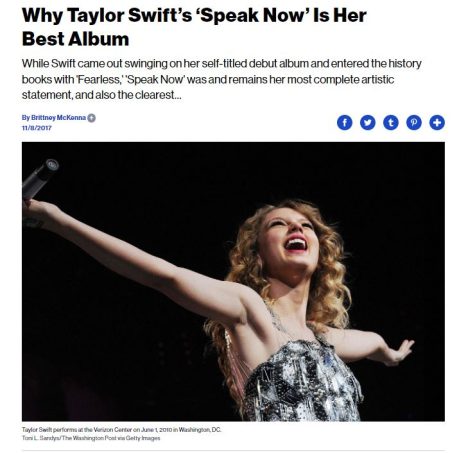 https://www.billboard.com/music/country/taylor-swift-speak-now-best-album-8030047/
Articles like this can be found all over the internet. This one, in particular, was written by Billboard, one of the biggest names in music reviewing. Though it may not be my #1 They are 100% correct in their statements.
This album has a more country alternative feel. With heavy drums and a lot of electric guitars present in the songs.
The album is so well reclaimed because it's brutally honest and very relatable for teens and young adults.
Some say Speak now was her golden era, she was making headlines and breaking charts. She was no longer looked at as the girl who wrote "Love Story" or "Our Song".
Notable Songs in Speak Now include: Back To December, The Story Of Us, Enchanted, Better Than Revenge, Haunted, Speak Now, and Last Kiss.
#4. 1989
1989 was released In 2014 and is her 5th studio album.
1989 was the most liked by Tyrone Students.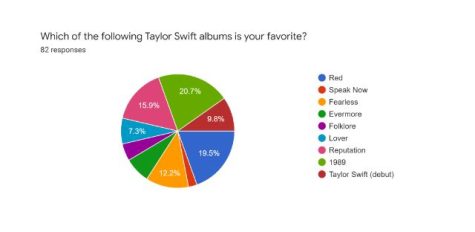 The appeal of this album is that it is fun. Taylor Swift even said that this album made her and her music seem edgy and cool. The album gives off city vibes, hence her song 'Welcome To New York'.
The album was inspired by daft punk and electronic music, which is why it's associated as her party-type album.
This is another album that went off the tracks of Taylor's common genre and sparked other albums that would do the same. I would say it was her official debut into pop music.
Because of the lively aspect of the album, it makes it impossible to dislike.
Eminent songs include: Out Of The Woods, New Romantics, Bad Blood, Wildest Dreams, and Style.
#3. Red (Taylor's Version)
Red is Taylor's 4th studio album and was released in 2012. But was rerecorded in 2021
By no surprise, Red ranked amongst the most liked by Tyrone Area High school students, and rightfully so.
Red was recently rerecorded due to ownership issues. All Too Well (10 Minute Version) has received amoundous praise since its release, and to have a 10-minute song as an artist takes a lot of dedication and time.
Taylor's from the vault songs like: Babe, I Bet You Think About Me, and Nothing New made it onto the billboard top charts, to have that level of hype over an album that has already been released is undone by any artist.
"My favorite album is probably Red (Taylor's Version) because it's the album I grew up listening to." said a Tyrone Highschool student.
Nostalgia is another key contributor, Red was a key factor in a lot of kids' childhoods, and songs like I Knew You Were Trouble and We Are Never Ever Getting Back Together played repeatedly on the radio.
Another cool thing Taylor did for the re-recording was make a short film for the All Too Well (10 Minute Version)
Noteworthy songs from Red include: The Last Time, Everything Has Changed, Treacherous, and 22.
#2. Reputation.
Reputation is Taylor's 6th studio Album and was released in 2017
Originally I had Reputation at #5, but after watching Taylor Swift's Reputation Stadium Tour again it felt like a crime to put it at anything less than #2.
Reputation dare I say be the most backlashed and hated album in her discovery, at first, especially by critics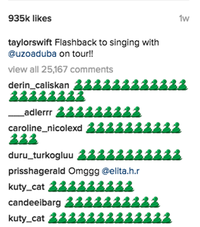 Taylor a year before releasing went completely ghost. No social media posts, no paparazzi pictures for 6 weeks this is all due to hate she was receiving from other fan bases and critics. Snake comments like the one above flooded her comment sections.
Taylor stated," Nobody physically saw me for a year, and that's what I thought they wanted." She also stated, "I grew tired of fighting for people's respect."
When she did have her debut back in the music industry, with reputation, the symbol of the album was a snake. She took what was pinned against her as a hate comment and used it as a symbol of her success.
When Reputation was released critics hated and criticized the entire album, saying it wasn't going to profit and her tour was going to be a "Flop Tour"
Taylor Swifts Reputation tour became the highest-grossing tour in all of U.S history. It consisted of 53 shows, 2.55 million attendees, and grossed 345.7 million in revenue.
Noteworthy Songs Include: …Ready For It?, I Did Something Bad, Don't Blame Me, Getaway Car, Dress, New Year's Day, and This Is Why We Can't Have Nice Things.
#1. Folklore
Folklore is Taylor's 8th album and was released in 2020.
Originally I had no doubts about putting Folklore at number one, but amongst Tyrone students, folklore was the most disliked album.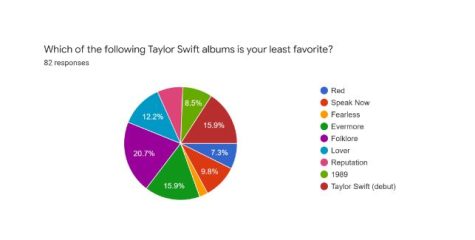 However, I'm going to keep it at number one. In Folklore Taylor expands her album to different topics which she has not done before, while also tying in every project she's worked on in the past. It has the ability to show her modern pop style while also highlighting her folky past.
In Folklore, she wrote for herself and released the pressure of building up hype which makes the album that much more humble.
I think from a nonrelationship stance this album and the lyrics can be widely relatable to everyone.
Folklore is an exceptional album, that is very beautiful if you take the time to listen to what Taylor is trying to say and express through her lyrics.
Not to mention it won Album Of The Year at the 2021 Grammy's.
Some notable songs include: August, Mirrorball, Cardigan, My Tears Ricochet, and my favorite Exile.
Leave a Comment
About the Contributor
Emma Wertz, staff writer
This is Emma's first year in the Eagle Eye. Emma plans to pursue film at New York University (fingers crossed). If you can't find Emma watching the Devil...