Nathan's Music Review: Jason Aldean's Burn It Down Tour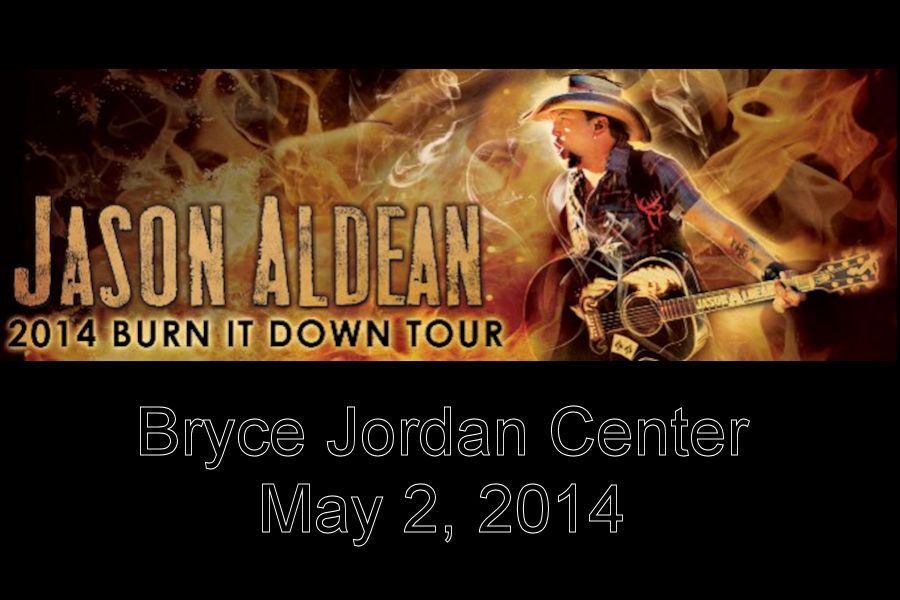 Jason Aldean, Florida Georgia Line, and Tyler Farr took to the sold out Bryce Jordan Center Friday May 2, 2014 for the second stop on the Burn It Down Tour.  Overall the night was a great success with three of country music's biggest stars.
Up and comer Tyler Farr kicked it the night with his song "Ain't Even Drinkin'." He then dove into covering AWOLNATION's song "Sail." His rendition of the song had a hard rock sound to it with a little country twang. The crowd reacted well to this and even sang along.
Farr then spoke to the crowd about how his dreams were coming true because of all the fans.  He then jumped into his newest single "Whiskey in my Water."  He ended his set with his Platinum selling single "Redneck Crazy."
Tyler Farr was a great warm-up for the night and the crowd gave him a great response even though his set was so short.
After a brief set change, country pop duo Florida Georgia Line took the stage.
The crowd erupted when the lights dimmed and Florida Georgia Line's intro began. They began with "It'z Just What We Do" using the entire stage to their advantage. Their stage presence was very energetic as they sang and grasped the audience with their performance. They sang their hits "Round Here" and "This Is How We Roll." They also threw in a Bruno Mars cover which went over well. They finished out the night by receiving their own Nittany Lion jerseys while singing their Platinum hit "Cruise."
While setting up for the headliner, a DJ performed on the side of the stage which provided some entertainment for a lengthy set change.
Finally, after about a twenty five minute set change, the lights went dim as the intro began. Two jumbo-trons played a match lighting a guitar and cowboy hat on fire. Suddenly, pyrotechnics exploded and a giant "A" rose up from the stage with Jason Aldean on top.
Aldeen began his set with "Hicktown" to pyrotechnics exploding all over the stage. He then flew into "My Kinda Night" and "Tattoo's On This Town" before stopping to talk to the audience. Aldeen used every part of the stage making sure everyone had a good time. Later into the set, A giant projector screen dropped from the rafters. It projected different images for each song and even featured a holographic Kelly Clarkson to sing on the screen for his song "Don't You Wanna Stay."
Aldeen then brought out Florida Georgia Line to sing "The Only Way I Know" with him. He finished his set with "Crazy Town" and more pyrotechnics. After a long pause, the band came back out and did "She's Country" as an encore. 
Tyler Farr Set list
Ain't Even Drinkin'

Sail (AWOLNATION cover)

Whiskey in my Water

Redneck Crazy
Florida Georgia Line Set List
It'z Just What We Do

Party People

It's Just What We Do

Round Here

This Is How We Roll

Stay

Grenade (Bruno Mars Cover)

Tell Me How You Like It

Dayum Baby

Get Your Shine On

Cruise
Jason Aldean Set list
Hicktown

My Kinda Party

Tattoo's On This Town

Amarillo Sky

Big Green Tractor

Johnny Cash

The Truth

Take A Little Ride

Fly Over States

When She Say's Baby

1994

Night Train

Don't You Wanna Stay

The Only Way I Know (With Florida Georgia Line)

Heaven (Bryan Adams cover)

Dirt Road Anthem (Colt Ford Cover)

Crazy Town
Encore
She's Country
About the Contributor
Nathan Sechrist, Staff Writer
Nathan is a senior this year.  He loves music.  He has his own metal band called Into the Storm where he writes music, plays guitar, drums and keyboards. ...