Loose Sparks Eagles in Backyard Brawl Victory
Junior Brandon Loose and senior Alex Weaver play key roles in Tyrone's classic 15-12 victory.
Tyrone came out of the gates slow against a Bellwood Antis team that was hungry for revenge after being smothered 41-7 in the 2015 Backyard Brawl. Despite a valiant effort by the visiting Blue Devils, Tyrone proved to be the better conditioned team as they owned the fourth quarter and won another classic backyard brawl 15-12.
With returning starters on the outside, inside, and in the backfield one of Tyrone's biggest concerns is at quarterback. Sophomore Denver Light, a returning starter on defense, has big shoes to fill after Drew Hunter's record breaking senior year.  In his first test Light managed the game well, helping his team to victory.
"
I had a lot of pre-game jitters, but coming out of the locker room after halftime, I really felt like I belonged on the field,"
— QB Denver Light
"I had a lot of pre-game jitters, but coming out of the locker room after halftime, I really felt like I belonged on the field," said Light.
The Blue Devils jumped out to an early 6-0 lead in the first quarter after Jarrett Taneyhill delivered a 30 yard pass down the middle to Duke Brunner for a TD. Bellwood failed to convert the PAT.
First game jitters were evident for Light as the Golden Eagles' passing game was slow in the first half. The Eagle's only touchdown came after senior Josh Maceno recovered a muffed punt in scoring territory. Light converted the opportunity with a 5-yard QB keeper to give Tyrone a 7-6 lead.
The Blue Devils responded with a Nick Watters 1-yard TD.  =Bellwood failed to convert the PAT but carried a 12-7 lead into halftime.
At halftime, Tyrone Head Coach Jason Wilson had to figure out how to get his offense going after the sluggish first half. That challenge became more difficult with senior tailback Gary Weaver sidelined with cramps.
For Tyrone to win Coach Wilson needed junior tailback Brandon Loose to step up. Loose would quite literally take that challenge and run with it. He racked up 161 yards on 24 carries, most in the second half.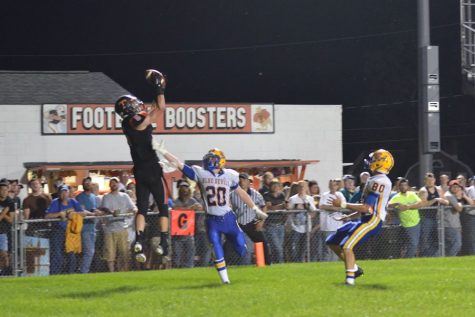 "I honestly didn't expect to have that many carries, but when Gary went down I just did what I could," said junior tailback Brandon Loose, "I never could've done well without the O-line though. They really opened up holes for me and made my job easy."
Loose was also a huge part of the game winning drive that was capped off by a 23 yard strike on fourth and 15 from Denver Light to senior wideout Alex Weaver, who leaped over a defender for the touchdown.
Not only did Weaver notch the game winning TD, but he was also a big part of Tyrone's stout fourth quarter defensive effort and soiled Bellwood's last drive with a key pass breakup on fourth down to seal the win.
Next week Tyrone travels to Martinsburg to face Alex Hoenstine and the Central Scarlet Dragons who are coming off of a dominant 35-7 win over the Hollidaysburg Tigers.
STATISTICS
SCORE BY QUARTERS
Bellwood-Antis: 6 6 0 0 – 12
Tyrone: 0 7 8 0- 15
First Quarter
BA-Brunner 30 pass from Taneyhill (kick failed), 4:17.
Second Quarter
T-Light 5 run (Vipond kick), 7:36.
BA-Watters 1 run (pass failed), 3:26.
Third Quarter
T-A. Weaver 23 pass from Light (Loose pass from Light), 6:06.
INDIVIDUAL STATISTICS
RUSHING:
Bellwood- Friedenberger 1-15, Watters 6-11, Kline 6-9, Brunner 1-(-3), Taneyhill 6-(-9).
Tyrone- Loose 24-161, G. Weaver 14-66, Light 10-38, TEAM 1-(-1).
PASSING:
Bellwood-Taneyhill 13-27-0-238.
Tyrone-Light 6-17-0-63, R. Hicks 0-1-0-0.
RECEIVING- 
Bellwood-Friedenberger 3-56, Kowalski 1-43, Watters 2-41, Brunner 1-30, Kline 2-25, McGee 2-22, Moore 2-21.
Tyrone-A. Weaver 2-28, Lewis 2-18, Mitchell 1-12, G. Weaver 1-5.
INTERCEPTIONS:
Bellwood-None.
Tyrone-None.
TEAM STATISTICS
First downs- Bellwood: 12, Tyrone: 19
Rushes- Bellwood: 20-23, Tyrone: 49-264
Passing (comp.-att.-int.)- Bellwood: 13-27-0,   Tyrone: 6-18-0
Yards passing- Bellwood: 238,  Tyrone: 63
Total yards- Bellwood: 261, Tyrone: 327
Fumbles-lost-  Bellowood: 1-1, Tyrone: 1-0
Penalties-yards- Bellwood: 6-45, Tyrone: 5-36
Punts-avg- Bellwood: 4-33.5, Tyrone: 2-34.0
Leave a Comment
About the Contributor
Asher Christine, Sports Editor
Hi my name is Asher Christine.  I'm a Senior here at Tyrone Area High School and this is my third year as an Eagle Eye staff member. The main reason I...