FFA Senior Spotlight: Jacey Whitcomb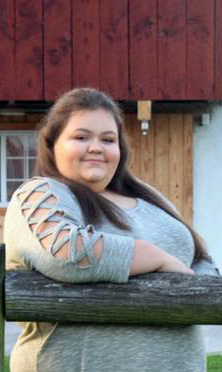 Hang on for a minute...we're trying to find some more stories you might like.
Jacey Whitcomb has been a member of FFA for four years. She has a great personality and takes it into her ag classes with her. She fills the room with laughs and smiles; as well as her own. She has made her impact through national conventions, trips, and even as committee chairperson. She has great leadership qualities and always helps the younger students in need of it. She is a very special aspect to our chapter.
We asked the student the following questions:
Eagle Eye: Why did you join FFA?
Jacey Whitcomb: "I was just kind of placed into the Ag program, and fell in love with it. It took me a couple months to get used to the environment, but it was the best decision I have ever made."
EE: What are your greatest accomplishments within the chapter?
JW: "My greatest accomplishment was going to National Convention in Indianapolis and earning 11th in the country [for National FFA AgriScience]."
EE: What are your plans after you graduate?
JW: "I plan to become a vet tech."
EE: What is your best memory within the chapter?
JW :"It is so hard to pick one because FFA has given me the best memories. The one I most vividly remember is the first time I went to Farm Show and watched FFA members get their jackets. The feeling of awe when the white shirts got covered by the blue jackets is a feeling I will never forget."
Jacey plans to take the NOCTI and continue in the agricultural field. We wish you the best of luck wherever the future takes you. Your impact will be felt for many years.