Enjoying the Great Outdoors Responsibly
Spring weather has caused a bad case of cabin fever for many, and as a result there has been a large influx of people enjoying the outdoors, especially young people.
"Surprisingly, I think this quarantine has really made me more in touch with nature and more disconnected with my TV because I can't stand just sitting around inside all day," said Tyrone senior Olivia Ake.
The good news is most Pennsylvania State Parks have remained at least partially opened during the pandemic.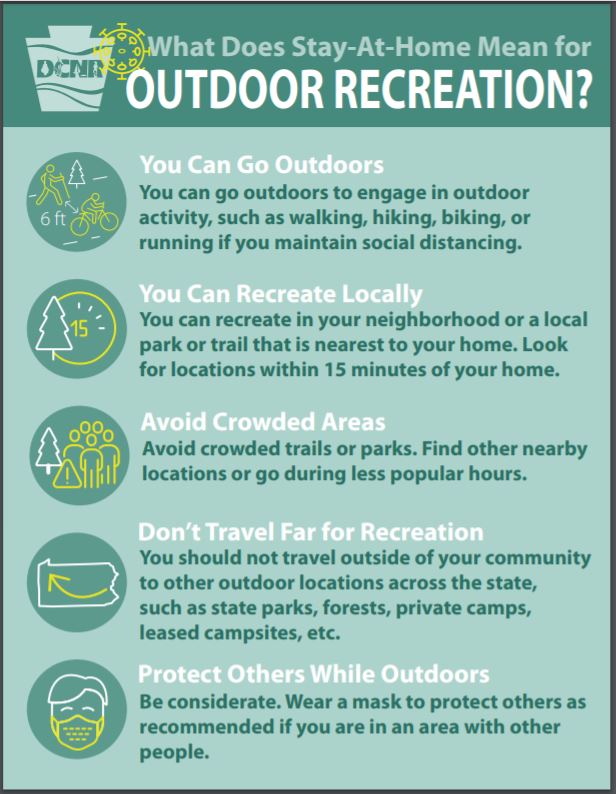 Pennsylvania State Park hiking trails are open. All nine marinas in state parks will open to the public on May 8. However, campgrounds, swimming beaches, and playgrounds will remain closed for now.
Many people are going on walks with close family, while others are using the beautiful weather as an excuse to see friends they haven't seen in a while.
Some of the popular places members of the community have been going are Reservoir Park, Rails to Trails, Canoe Creek State Park, 1000 Steps, and many more.
While being outdoors does not inherently break the rules of social distancing, the amount of people visiting these areas may be a cause for concern.
The majority of people taking to the trails are not wearing masks since they are outdoors, but at places like 1000 Steps, hikers are often closer than six feet to others passing by since the steps are very narrow at times.
Still, there are plenty of ways to enjoy the warm weather without putting yourself or others at risk of catching COVID-19.
For example, one responsible way to get outside is to go on hikes in places where less people are frequenting. Many local hiking trails are long enough that the probability of you coming in contact with people is slim, and when passing someone, it is easy to keep your distance.
In places where there are no restrictions on the use of  trails and open spaces, here are some recommendations from the National Recreation and Parks Association:
Refrain from using parks or trails if you are exhibiting symptoms.
Follow CDC's guidance on personal hygiene prior to and during use of parks or trails.
Prepare for limited access to public restrooms or water fountains.
While on trails, warn other users of their presence and as they pass, and step aside to let others pass.
Follow CDC guidance on the recommended size of social gatherings including outdoor picnicking, pick-up sports and other group hangouts, and maintain proper physical distance at all times.
Observe CDC's minimum recommended physical distancing of 6 feet from other individuals at all times. If this is not possible, users should find an alternate location or depart that space.
Consult you local and state ordinances and guidelines for the most up to date recommendations on park and trail use.
To see the latest COVID-19 related updates from the Pennsylvania Department of Conservation and Natural Resources (DCNR) click HERE.
Remember, it's good to be outside during this time, but it is still important to do so responsibly.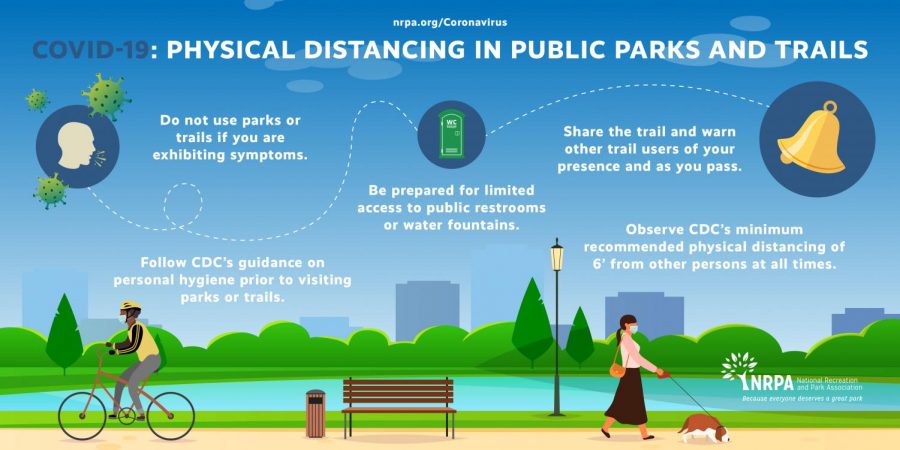 Leave a Comment
About the Contributor
Alicia Endress, Staff Writer
Hi there! My name is Alicia Endress and I am a senior for the 2019-2020 school year. This is my first year as a member on the Eagle Eye staff. I am on...