Athlete of the Week: Emily Beam
Each week of each sports season the Eagle Eye chooses an Athlete of the Week from nominations made by the varsity head coaches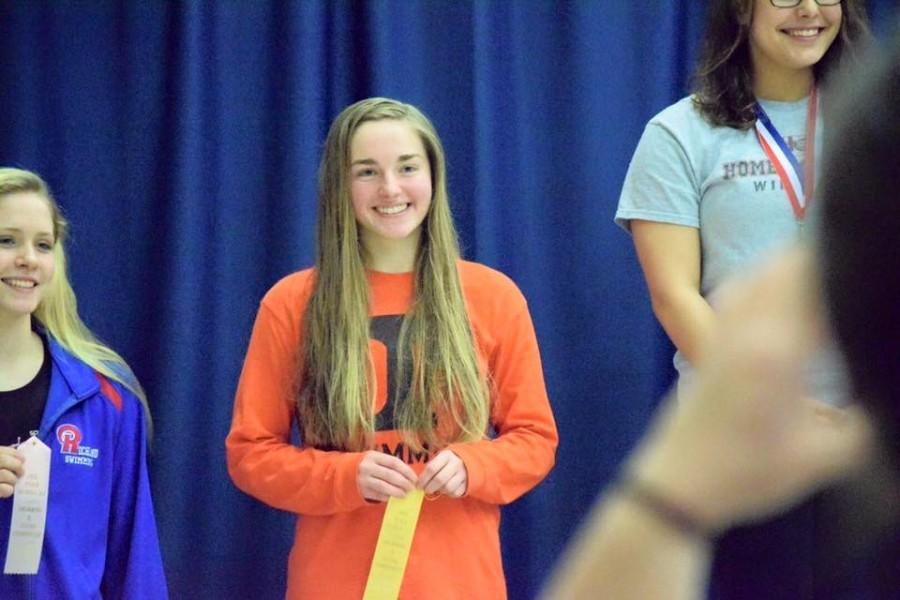 Name: Emily Beam 
Sport: Swimming
Grade: 12
Accomplishments: 
Emily finished her career at Tyrone with a fourth place finish in the 100 butterfly with a personal best time of 1:08.19.  This is her second year in a row placing in the top 4 at districts.
Coach Tom Getz's quote:
"Emily is one of the hardest workers I have ever had on the swim team.  She works so hard day in and day out that it is good to see the hard work pay off with her recent success."
Eagle Eye: How did you first get involved in this sport? 
Emily Beam: I took swimming lessons at the outdoor pool and loved swimming.
EE: What other sport(s) do you play?
EB; Cross country and track.
EE: Favorite professional sports team? 
EB: Steelers
EE: Favorite professional athlete? 
EB: Michael Phelps
EE: Who is your hero? Why?
EB: My parents because they are so supportive.
EE: Favorite food? 
EB: Tacos
EE: What advice would you give to younger athletes? 
EB: Just keep swimming.
EE: What are your future goals?
EB: Go to Penn State Altoona for a double major in biology and art. I eventually want to become either a pediatrician or a veterinarian.
About the Photographer
Molly Fadgen, Staff Videographer 10
Hi, I'm Molly Fadgen and I'm currently a sophomore at TAHS. My favorite subject in school is gym. At home, I sleep all day. Some of the things I do...