Eagles soar high over Bearcats, 52-21
Whether on the ground or through the air, Tyrone's offense could not be stopped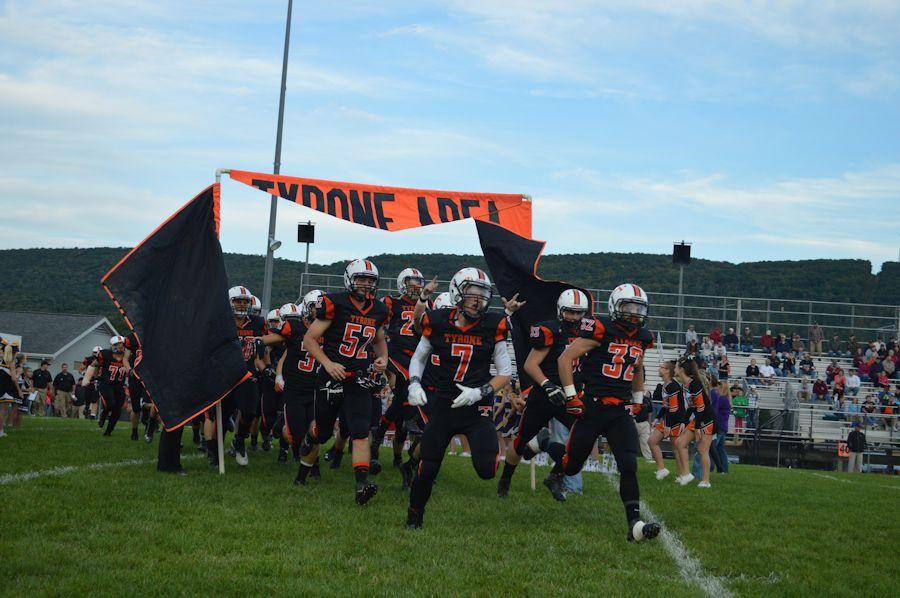 Putting up a combined thirty eight points in their first two victories, Tyrone relied heavily on their defense to bring them to victory.
That was not the case Friday night.
This week the Golden Eagle offense was unstoppable, putting up thirty two points in the first half alone, ultimately beating Huntingdon 52-21.
Senior quarterback Garrett Hunter added to his already impressive senior season.  Hunter was 14-18 passing on the evening for 198 yards and four touchdowns, three through the air and one on the ground.
"We were efficient beyond measure this week,"  said quarterback Garrett Hunter, "I just got caught up in the flow of the game, so individually I may stand out, the credit really goes to my teammates. As a unit we dominated both sides of the ball."
"We were efficient beyond measure this week"

– QB Garrett Hunter
The offense got rolling for Tyrone in the first quarter, by way of a one yard quarterback sneak by Hunter. Later fullback Eli Sleeth was able to punch the ball in from three yards out.
The second quarter was graced by three touchdown passes from Hunter, the first two being to tight end Dwayne Boone. As the half expired, Hunter found senior receiver Nick Getz in the end zone, giving Tyrone a 32-0 lead going into the half.
Getz ended the game with 123 yards receiving, the first 100 yard receiving performance of the season for Tyrone.
All this was accomplished in the first half, as Tyrone's starters sat out the entire second half.
Another bright spot for Tyrone was the outstanding second half play by sophomore reserve running back Gary Weaver.  He returned a kick for a seventy three yard score and added two more touchdowns on the ground from forty three and eleven yards out.
The Tyrone defense was also dominating, only relinquishing scores in the second half when the junior varsity team was on the field.
Looking forward, Tyrone goes on the road this week against a down Philipsburg team that is still looking for its first win.
STATISTICS
Huntingdon 0 0 8 13 – 21
Tyrone 12 20 20 0 – 52
First quarter
T-G. Hunter 1 run (kick failed), 4:24.
T-Sleeth 3 run (kick failed), 3:01.
Second quarter
T-Boone 16 pass from G. Hunter (kick failed), 4:51.
T-Boone 4 pass from G. Hunter (Vipond kick), 1:55.
T-Getz 20 pass from G. Hunter (Vipond kick), 28.6
Third quarter
T-Weaver 73 kickoff return (kick failed), 11:46.
H-Price 54 pass from Scott (Baney pass from Wagner), 8:11.
T-Weaver 43 run (Vipond kick), 5:51.
T-Weaver 11 run (Brenneman kick), 3:29.
Fourth quarter
H-Wagner 10 run (Heaton kick), 8:59.
H-Wagner 47 run (kick failed), 3:50.
INDIVIDUAL STATISTICS
RUSHING:
Huntingdon-Wagner 16-52, Oliver 3-21, Fisher 2-(-1), Scott 2-(-2), Baney 2-(-7).
Tyrone-A. Hunter 8-74, Weaver 6-68, Sleeth 7-35, Taylor 8-32, G. Hunter 4-20, Skelton 2-6, Farias 1-3, TEAM 1-(-30).
PASSING:
Huntingdon-Scott 6-9-0-107.
Tyrone-G. Hunter 13-17-0-198, D. Hunter 1-1-0-30.
RECEIVING:
Huntingdon-Fisher 4-55, Price 1-54, Baney 1-(-2).
Tyrone-Getz 4-123, Crawford 3-57, Boone 3-35, Sleeth 2-6, A. Hunter 1-5, Bakhsheshe 1-2.
INTERCEPTIONS:
Huntingdon-none. Tyrone-none.
TEAM STATISTICS
First downs H – 5 T – 20
Rushes-yards H – 25-63  T – 37-208
Passing (comp.-att.-int.) H – 6-9-0  T – 14-18-0
Yards passing H – 107 T – 228
Total yards H – 170 T – 436
Fumbles-lost H – 0 T -0
Penalties-yards H – 4-45 T – 10-90
Punts-avg. H – 4-32.2 T – 0-0
About the Contributors
Adam Zook, Editor in Chief
Oh hey, I didn't see you there. My name is Adam Zook, Editor in Chief of the world's greatest school newspaper: Tyrone Eagle Eye News! I am a senior...
Carly Crofcheck, Social Media Director
My name's Carly Crofcheck. I've been in the Tyrone Eagle Eye for four years and I'm a Senior at TAHS. Last year I was the Editor in Chief, this year...