Eagles Fall After Strong First Half
There usually isn't much good to say about a 42-12 loss, but the young and rebuilding Tyrone Golden Eagles came out of Friday's contest with Clearfield a better team than they went in.
A heavy underdog, Tyrone surprised many by hanging with the Bison for the entire first half, which ended 14-6.
"The team played well and had a lot of intensity in the first half, and if we can keep playing like that then we are going to win games," said junior Deegan Baldauf.
"
The team played well and had a lot of intensity in the first half, and if we can keep playing like that then we are going to win games
— Deegan Baldauf
On their initial drive, Clearfield fumbled on the 40, giving the Eagles a boost early. Unfortunately, Tyrone couldn't capitalize on the turnover, turning the ball over on downs.
The Bison responded with a drive that ended in a 5-yard touchdown run by Clearfield's star 6'3 255 pound quarterback Oliver Billotte.
In the second quarter, Clearfield added another 5-yard touchdown run from Billotte.
But Tyrone would not quit. They got on the board with 4:41 left in the first half on a 2-yard touchdown run from senior quarterback Keegan Gwinn. Tyrone missed the extra point, making the score 14-6.
With a minute and a half before halftime Tyrone put on a good no-huddle drive but the Eagles couldn't convert it into a score when getting into the red zone.
Despite the Eagle's great first half, the second half was all Clearfield.
In the second half Tyrone couldn't stop the Bison ground game, giving up two Chamberlain touchdown runs in the third quarter.
The Bison also scored on a 52 yard run to McGonigal and then ended the game with a 4-yard run to Collins.
Tyrone kept up its tradition this year and scored late in the fourth quarter when Ashton Walk made a 5-yard touchdown pass to Kolton Miller.
The Bison spent the rest of the game running up the gut against the Tyrone defense who were missing key players due to injuries and Covid tracing.
"In the first half, we stayed with them despite the missing players, but it only got worse in the second half limiting our ability to catch our breath," said senior safety Corrie Beck
Tyrone's injury bug caused some issues when quarterback Keegan Quinn had to come out of the game due to a hurt ankle.
It also affected starting defensive lineman Melvin Lopez who came out of the game due to cramps.
This game puts Clearfield 4-0 on the season so far and makes Tyrone 1-3.
Tyrone hopes to get another win next week away at Huntingdon.
SCORE BY QUARTERS
Clearfield 7 7 14 14 — 42
Tyrone 0 6 0 6 — 12
First Quarter
C–Billotte 5 run (Sidorick kick), 4:31.
Second Quarter
C–Billotte 5 run (Sidorick kick), 8:51.
T–Gwinn 2 run (kick failed), 4:41.
Third Quarter
C–Chamberlain 15 run (Sidorick kick), 6:44.
C–Chamberlain 2 run (Sidorick kick), 0:16.
Fourth Quarter
C–McGonigal 52 run (Sidorick kick), 9:57.
T–Miller 5 pass from Walk (pass failed), 7:10.
C–Collins 4 run (Sidorick kick), 1:32.
TEAM STATISTICS
First downs: Clearfield 21, Tyrone  16
Total yards Clearfield 410, Tyrone  236
Rushes-yards Clearfield 46-377, Tyrone  22-30
Yards passing Clearfield 33, Tyrone  206
Passing (comp.-att.-int.) Clearfield 3-8-0, Tyrone 22-40-1
Punts-avg. Clearfield 1-41, Tyrone 3-39.3
Fumbles-lost Clearfield 2-2, Tyrone 0-0
Penalties-yards Clearfield 5-44, Tyrone 2-10
INDIVIDUAL STATISTICS
RUSHING–Clearfield, McGonigal 11-116, Billotte 10-95, Alban 8-87, Chamberlain 8-47, Collins 7-32, Domico 1-1, TEAM 1-(-1). Tyrone, Kline 3-10, Gwinn 3-9, Walk 3-7, Ronan 10-7, Miller 1-1, Beck 2-(-4).
PASSING–Clearfield, Billotte 3-8-0-33. Tyrone, Gwinn 17-32-1-170, Walk 5-8-0-36.
RECEIVING–Clearfield, Kline 3-33. Tyrone, Ronan 6-27, Gampe 4-79, Baldauf 3-28, Beck 3-20, Rhoades 2-29, Weaver 2-14, Miller 1-5, LeGars 1-4.
Leave a Comment
About the Contributors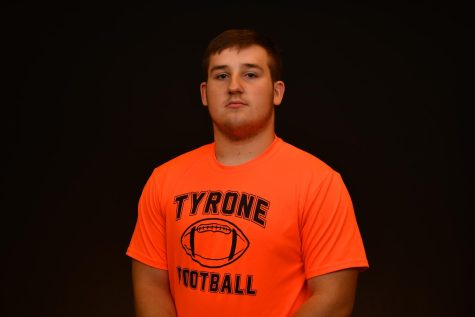 Dylon Brower, Staff Writer
Dylon Brower is a senior in his third year of Eagle Eye who enjoys giving an inside view into the locker rooms of the sports he plays. Dylon is someone...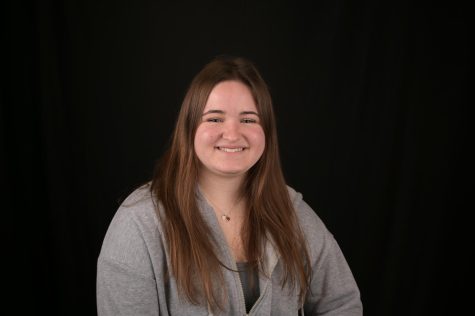 Ellie Oakes, Editor in Chief
Ellie Oakes is in her third & final year as a member of the renowned Eagle Eye News staff. As a senior, she is hoping to make her last year of high...