Eagle Eye Promposal Contest: Victory Royale Prom
Hang on for a minute...we're trying to find some more stories you might like.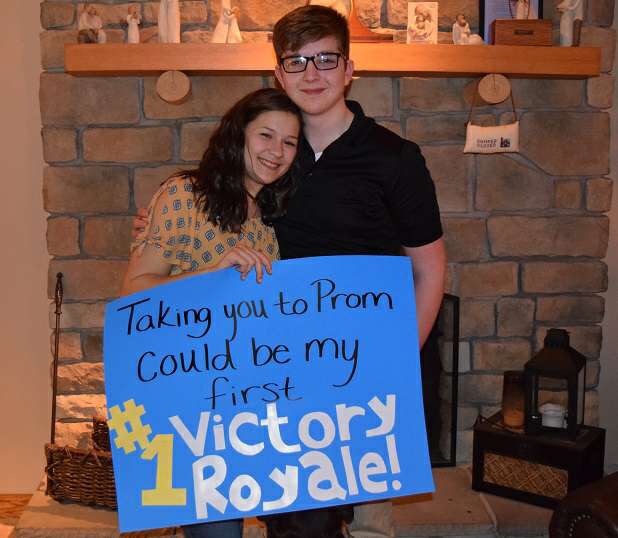 Senior Emily Hamer knew she wanted to make her senior prom memorable, and asking her good friend Stephen Hanzir will make it that way.
By using Fortnite as a way to ask him, Emily had him meet in her room where she stood with a sign saying "Taking you to Prom could be my first Victory Royale!"
Promposer: Emily Hamer
Eagle Eye: Describe in detail how you asked them.
Emily Hamer: "We were going out to eat and Stephen was coming to pick me up. So I told him to come in and I would be in my room. He walked back the hall and I stood there with the sign. The look he had on his face was priceless. Torrie Foy helped me come up with the idea, and we just made the idea reality in about four hours."
EE: Why did you choose this person to ask?
EH: "I chose Stephen because he is such a good person and I love being around him. Also I know he's going to make my senior prom memorable."
EE: Where did you get the inspiration for the idea?
EH: "Almost every single guy plays Fortnite and he plays a lot so I thought it would be clever to incorporate both Fortnite and prom together."
EE: What relationship do you have with this person?
EH: "We are good friends and we get along well together. And I know I wouldn't want to go to prom with anyone else."
---
Promposee: Stephen Hanzir
Eagle Eye: Give your side of the story. Why do you think they asked you?
Stephen Hanzir: "We were old friends that know each other well and prom together would be a great time!"
EE: Describe in detail how you were asked and how you felt.
SH: "We were on our way to dinner but when I picked her up she surprised me with the poster, it was really sweet and an awesome idea."
EE: Did you have any suspicions that you were going to be asked by them?
SH: "I did, but I wasn't 100% sure how."
EE: Why should you win the contest?
SH: "It was an original idea that is very relevant and unique!"

About the Writer
Olivia Watson, News Editor
Hi! My name is Olivia Watson, and I am a senior. I have spent my whole life at Tyrone and have always been a proud Golden Eagle. While I have been at this...