Eagle Eye Promposal Contest: Horsing Around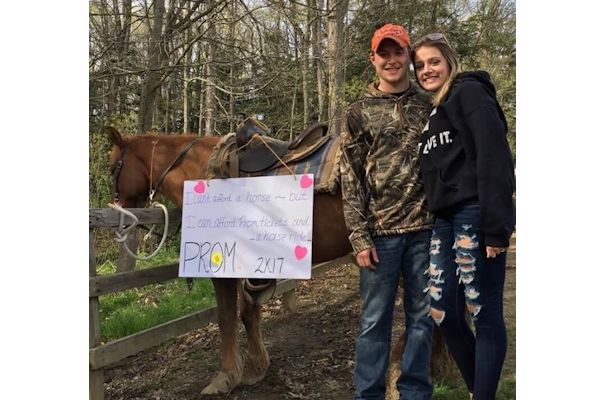 Hang on for a minute...we're trying to find some more stories you might like.
Senior Josh Maceno spent his Sunday afternoon planning a surprise for his longtime girlfriend, Danielle Peters. Maceno convinced his girl that they would be going 'jeeping' that day, but instead went to Glendale Stables. With the help of some fellow friends, Josh was able to bring Danielle the whole way with any suspicions. When they arrived, a sign that read "I can't afford a horse – but I can afford a ticket to Prom…and a horse ride!"
Promposer: Josh Maceno
Eagle Eye: Describe in detail how you asked them. 
JM: I went to Glendale Stables because I knew Danielle rides a certain horse down there. Her sister Annie and I drove down with the idea and they loved it. So, Sunday the 23rd, I had 8 of my good friends help me out. Annie, her boyfriend Dill Osterhout, Tanner Briggs, and Grace Gensimore rode  down with my sign while Gary Weaver and I kept Danielle busy. After they left, Nate Hormell texted me saying there were some jeep trails in Glendale that he wanted to go check out. Danielle, Gary, and I followed Nate and Makenzie Stauffer up to the 'jeep trails' and went straight to Glendale Stables, where the Prom? sign was on the horse that she always rides. then, we all went horseback riding.
EE: Why did you choose this person to ask?
JM: She's my girlfriend and I love her.
EE: Where did you get the inspiration for the idea?
JM: She loves horses
EE: What relationship do you have with this person?
JM: Girlfriend
Promposee: Danielle Peters
EE: Give us your side of the story. Why do you think they asked you?
DP: Well because he's my boyfriend and we planned on going together, but I knew he would ask me in a cute way!
EE: Describe in detail how you were asked and how you felt.
DP: I was asked by the horse I always ride when we go up to Glendale Stables and when he told me we are going 'jeepin' that we pulled into the stables and I still had no idea
EE: Did you have any suspicions that you were going to be asked by them?
DP: I had no clue it was happening and I was really excited to go jeepin until we pulled into Glendale Stables.
EE: Why should you win the contest?
DP: I think we should win the contest because Josh did something very clever and how my sister and him planned it out was just so sweet and romantic. He really out did himself.