Eagle Eye Promposal Contest: Gotta Catch 'Em All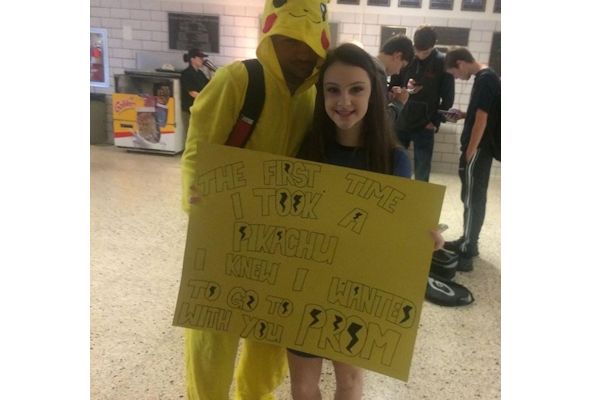 Hang on for a minute...we're trying to find some more stories you might like.
Jamal Hicks wanted to find a creative way to promposal to his girl of nearly two years, Laney Romano. Knowing he had a Pikachu costume in hand and after a week of finding the right words, he finally made his move. With help from his brother, RaShawn, the duo was able to scheme and successfully surprise Laney one morning before school when Jamal jumped out in his costume. He had a sign in his hands that read " I knew when I took a Pikachu that I wanted to go to prom with you."
Promposer: Jamal Hicks
Eagle Eye: Describe in detail how you asked them.
Jamal Hicks: Told RaShawn to keep her distracted in the lobby in the morning and popped outta nowhere to surprise her.
EE: Why did you choose this person to ask?
JH: Been dating for nearly 2 years. And that's my girl.
EE; Where did you get the inspiration for the idea?
JH: Just chillin in Pops and knew I had a Pikachu costume at home so I tried to think of a rhyme to fit "Pikachu" in. Took a week but I finally got a chance to word it right, then I just planned the right day.
EE: What relationship do you have with this person?
JH: That's my boo, my baby girl, my honey bunny, my snookums, but most importantly, my world.
Promposee: Laney Romano
EE: Give us your side of the story. Why do you think they asked you?
LR: We have been together for almost 2 years.
EE: Describe in detail how you were asked and how you felt.
LR: I walked into school and RaShawn told me to come with him, When I turned around, I saw Jamal in a Pikachu outfit and with a sign. I felt excited that he finally asked me.
EE: Did you have any suspicions that you were going to be asked by them?
LR: Yes, I have been telling him how I wanted to go for a while.
EE; Why should you win the contest?
LR: Cause we are adorable, duh?