Eagle Eye Promposal Contest Goes International: A Rosey Promposal from South Africa
One of the great things about being an online student news site is that our work can reach a wide audience.  The Eagle Eye gets regular readers from across the country and around the world. In fact, a couple years ago we even gained a few social media fans from Tyrone, Northern Ireland.
But this year even the Eagle Eye's popular Promposal Contest went international, with an entry from South Africa.
It all started when Eagle Eye adviser Todd Cammarata got an email with a promposal video attached. No explanation. No name. Just a video.
"I watched the video, and it was clearly a promposal, but the school was not one that I recognized. I knew it probably was not local, but I had no idea where it came from," said Cammarata.
Cammarata showed the video to the Eagle Eye staff members working on the Promposal contest. None of them could identify the people or the school either. So Cammarata emailed the sender and asked who they were and where they were from.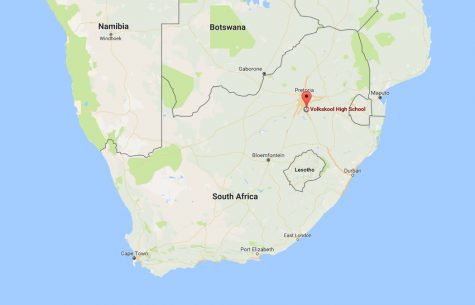 That's when he found out the surprising news: the proposal video came from Andy Haasbroek, a high school student at Hoër Volkskool Heidelberg High School in Heidelberg, Gauteng, South Africa.
Haasbroek, who has never been to the United States, found the Eagle Eye contest while searching the internet for promposal ideas.
"My friends and family said I should upload the video because they were very impressed by my idea," Haasbroek said via email.
Andy's promposal involved many students in his school, and included roses and a sign in the courtyard of their school (see video posted above and the interview below).
According to Haasbroek, prom is just as big of an event at his school in South Africa as it is in the United States.
"Some people ask their dates to the prom almost 2-3 years in advance. Then the girls spend whole year planning their dress and the guys will mostly fit the color of their dresses," said Haasbroek, "In the afternoon, all the couples go to the school in the car of their choice, mostly fancy and modern cars. Otherwise, they go with a car that suits their personality. After that we all go to a hall where we eat and dance, and afterwards there is a party at someone's house or at some other place."
The Eagle Eye students were shocked that someone from South Africa had found our contest and taken the time to enter.
"We did some internet sleuthing and found his school's website, which led us to Google Maps, where we confirmed that the school was the same one in the video," said Cammarata.
After a few exchanges of emails, Andy and his date sent the Eagle Eye answers to all the promposal interview questions and a photo.
"We were really excited to hear from Andy. Knowing that the things we do here at Tyrone High School are reaching teenagers in South Africa really blows my mind," said Cammarata.
While we would love to offer Andy and Anize tickets to our prom, that probably isn't realistic. So, we would like to send them Tyrone t-shirts as a special prize for our first international promposal contest entries.
Thanks Andy!
Promposer: Andy Haasbroek
Eagle Eye: Who did you ask to go to prom with?
Andy Haasbroek: Anize Bester
EE: Describe in detail how you asked them.
 AH: The people who helped me plan was her best friend, Carla Coetzer, and one of my closest friends, Lizanne Cronje.  At school I asked Lizanne and Carla for some ideas and what she likes. Then I decided on what I want to do.
The day before, I printed out the letters "MATRIEKAFSKEID ANIZE?" ("Prom Anize?"), one letter per page and I stuck the words on the wall right above where I wanted to stand. Then I went and bought the roses which I gave to the grade eights the next day and I said to them to stand across from each other, forming two rows which she will then walk through, towards me.
So that morning I arrived at school 6:50 so that I can put up the pages and get the people that wanted to help me. My other friend Francois, also helped me gather the grade eights.
School was supposed to start at 7:20 but the whole school stood and waited for Anize because she only arrived at 7:35. So the whole school decided not to go to class because they wanted to see what was about to happen.
Then when she arrived my heart was pounding out of my chest and I couldn't keep my hands still. But I stood there, admiring her beauty and her red face walking up to me. I could see that she did not expect this and I just had to give her a hug, while I asked her. When she said yes it felt like lifting the weight of the whole world off my shoulders and all I could do was imagine us driving on to the school grounds at the day of prom, just looking amazing. I knew that she was the one I had to ask and I haven't regret my choice for even a second.
EE: Why did you choose this person?
AH: We've been good friends for a while and we started talking about prom. Then I realized no one has asked her yet. So I thought that I would be the one.
EE: Where did you get the inspiration to ask?
I've watched a few videos and asked some friends.
EE: What relationship do you have with the person?
We are just friends but we will probably get more close to each other this year,
Promposee: Anize Bester
EE: Give us your side of the story. Why do you think they asked you?
We are good friends and we would have a fun time together at the prom. We enjoy dancing together and get along well.
EE: Describe in detail how you were asked and how you felt.
The night before I got asked my best friend told me to come to school early as there was something urgent she had to tell me. The following day when I arrived at school she came to fetch me where I stood beside my car. She grabbed me by the arm and practically dragged me down to the quad where the school gather every morning. I were very confused and didn't know what was going on. As we approached the quad I saw the whole school standing there, everyone's eyes on me. Standing there, a bit uncomfortable, there was something that caught my eye… I looked up and there it was.. stuck to the wall there were 20 colorful papers with the words "Matriekafskeid Anize?" ("Prom Anize?") 
"Matriekafskeid Anize?" ("Prom Anize?")
Immediately I knew what was going on. In aww I started walking closer to the quad, with the on-cheering of my friends of course. In the quad a group of the grade eight boys formed a guard of honor, each with a red rose in their hands. At the end of the guard of honor, on a small flight of stairs, he stood with another rose in his hands. As I walked down the quad it almost felt as if I forgot how to walk. I was so shocked and surprised at the same time, I even started shaking. After I collected the rest of the roses from the grade eights, I walked towards him where he finally popped the question. How could I say no? He complied to all my expectations.
EE: Did you have any suspicions that you were going to be asked by them?
I knew there was a possibility because we became good friends the past few years, but I had no suspicion that it would be that particular day.
EE: Why should you win this contest?
I think we should win because our story us very unique and special. I also think Andy is a great example for the rest of the guys out there planning on asking a girl to prom.
Leave a Comment
About the Contributor
Brianna Foy, Staff Writer
Freshman Brianna Foy is brand new to the Eagle Eye staff this year. She enjoys being on the Lady Eagle volleyball team where she plays both left and...