Eagle Eye Promposal Contest: Cinnamon Buns and Puns
Hang on for a minute...we're trying to find some more stories you might like.
Junior RaShawn Hicks asked his girlfriend, junior Rayann Borman, to prom is a sweet way that involved cinnamon buns and a poster.
After baking the rolls himself, RaShawn told Rayann that they would need to cool down and retreated upstairs where he locked himself in a room.
Rayann, confused and hungry, waiting in another room for him to come out. When he unlocked the door and ran downstairs, Rayann followed him and found RaShawn standing in the kitchen beside the buns with a sign that said " Rose are red…Cinnamon buns are the bomb! Would you be…my date to prom?"
Rayann could not help but to smile and say "Yes."
Promposer: RaShawn Hicks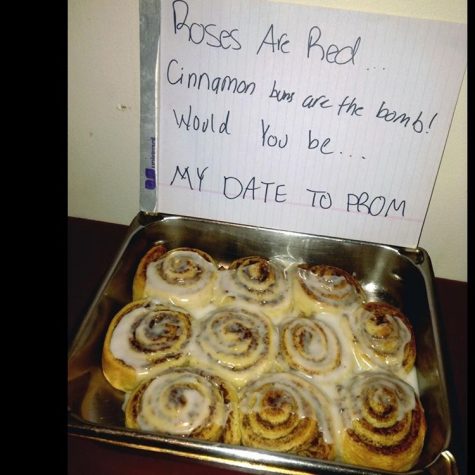 Eagle Eye: Describe in detail how you asked them.
RH: I bought cinnamon buns.
EE: Why did you choose this person to ask?
RH: Pulled a name out of a hat
EE: Where did you get the inspiration for the idea?
RH: I was hungry
EE: What relationship do you have with this person?
RH: I see her here and there.
Promposee: Rayann Borman
EE: Give us your side of the story. Why do you think they asked you?
RB: I think he asked me because we're really close. Plus it was our 8 months, so it made it even more special.
EE: Describe in detail how you were asked and how you felt.
RB: RaShawn was making cinnamon rolls and when they were done, he went upstairs. I asked him if we were going to eat them, but he said to just let them sit for a little bit. So I went upstairs, but he locked himself in his brothers room. Then I heard the door unlock and heard him run down the stairs. I was curious on what he was doing so I followed him and there he was holding a sign that said "Roses are red…Cinnamon buns are the bomb! Would you be…my date to prom?" I was so happy when I saw him cheesing really hard.
EE: Did you have any suspicions that you were going to be asked by them?
RB: I knew that he was going to ask me I just didn't know when. I had a suspicion though because normally he's lazy and wants me to make the food, but when I offered to make the cinnamon rolls he wouldn't let me tough them at all.
EE: Why should you win the contest?
RB: Because it was simple and sweet. He didn't have to go all out just to put a smile on my face. It's the little things that matter most. (: