Eagle Eye Promposal Contest: A MemoraBULL Prom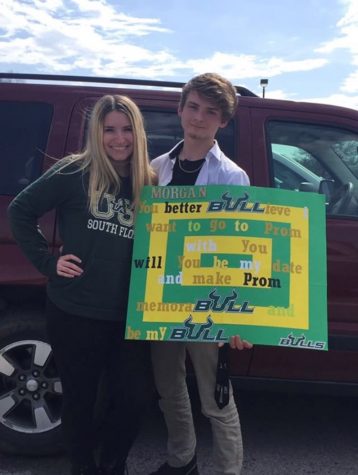 Senior Morgan Bridges and her boyfriend Tyler Houck are looking forward to their future together and are both attending The University of South Florida in the fall. Tyler thought and made up a poster in a way with using phrases including the USF mascot, a bull.
Tyler surprised Morgan after school on their 7 month anniversary with a promposal sign that said, "Morgan, you better BULLeve I want to go to PROM with you, will you be my date and make PROM memoraBULL and be my BULL?"
---
Promposer: Tyler Houck
EE: Why did you choose this person to ask?
TH: "Morgan has been my friend for years, then she became my best friend, and now the best girlfriend."
EE: Where did you get the inspiration for the idea?
TH: "Since we both are going to USF next year and I know she cannot wait to go there."
EE: What relationship do you have with this person?
TH: "We have been dating for months, friends for years, and we are going to college together!"
---
Promposee: Morgan Bridges
EE: Give your side of the story. Why do you think they asked you?
MB: "He is my best friend and we have been dating for months."
EE: Describe in detail how you were asked and how you felt.
MB: "He surprised me with the USF poster one day after school. I had no idea that he was going to be visiting me so I was super happy. It really means a lot to me because we are going to college together!"
EE: Did you have any suspicions that you were going to be asked by them?
MB: "I knew we were going to prom together already and I knew he was going to ask me, but I had no idea when or how! I couldn't imagine going to prom with anyone else.
EE: Why should you win the contest?
MB: "Because the idea was so thoughtful and had a lot of meaning to me. It was original and creative, and not just some promposal that everybody does."
Leave a Comment
About the Contributor
Lauren Taylor, Social Media Director
Hi! Welcome to the Eagle Eye! My name is Lauren Taylor. It's SENIOR YEAR BABY. Bless up. This is my third and final year being apart of the Eagle Eye staff....