Eagle Eye Promposal Contest: A Lit Prom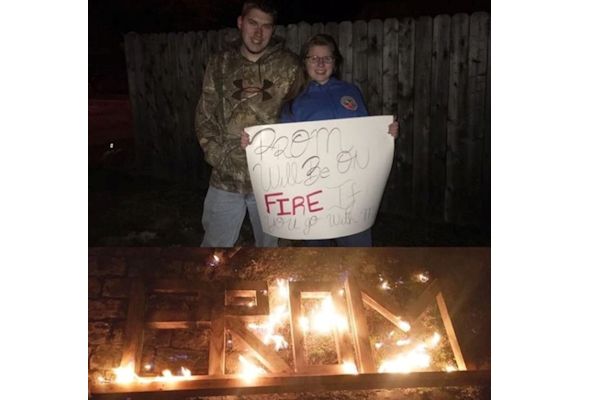 Senior John Powell used his love for the outdoors in his promposal for junior Makayla McCloskey. Powell made a wooden sign that spelled out 'prom' and which was illuminated by fire. He was also holding a sign that said "Prom will be on fire if you go with me".
The Eagle Eye caught up with the two besties and asked about their promposal.
Promposer: John Powell
Eagle Eye: Who did you ask to go to prom with?
John Powell: Makayla McCloskey
EE: Describe in detail how you asked this person. 
JP: I made a wooden sign that spelled out 'prom' and covered it in gasoline. Then I held a paper sign that said "prom will be on fire if you go with me". When she came outside we lit the sign on fire so prom was literally on fire. Her best friend Jamie helped me with the planning and Jake and Josh helped me set it up. 
EE: Why did you choose this person to ask?
JP: She's really cool and a lot of fun to be around. 
EE: Where did you get the inspiration for the idea?
JP: It was just something I came up with. 
EE: What relationship do you have with this person?
JP: Really good friends.
Promposee: Makayla McCloskey
Eagle Eye: Give us your side of the story. Why do you think they asked you?
Makayla McCloskey: Because it's John Powell and we are really good friends. 
EE: Describe in detail how you were asked and how you felt. 
MM: Jamie asked me to go for a walk and when we walked out the door I saw JP standing there and with the sign. It was so cute and I was so happy and surprised. 
EE: Did you have any suspicions that you were going to get asked?
MM: Well when I heard a loud bang  on the front porch and heard Josh and Jake yelling outside I knew something was up
EE: Why should you win the contest?
MM: Because no one else has done something like this and it's a completely original idea. That, and he put a lot of hard work into it. 
Leave a Comment
About the Contributor
Toni Burns, News Editor
Laid back and easy going describe senior Toni Burns. In her third and final year in Eagle Eye, Toni hopes to make a lasting impact on the group. Toni...