Eagle Eye Promposal Contest: Recruited for PROM?
Hang on for a minute...we're trying to find some more stories you might like.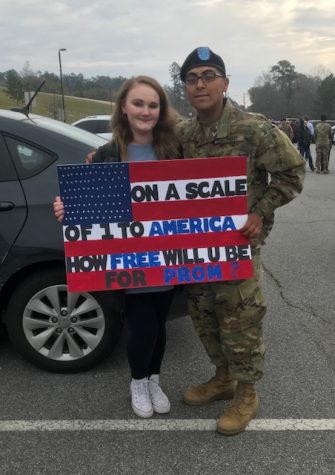 Senior Sarah Goldenbaum traveled 15 hours to Fort Benning, Georgia to ask her 2016 Tyrone Alum boyfriend, Aaron Lewis to her senior prom. Aaron is in basic training for the United States Army and Sarah and Aaron's family traveled to Georgia to visit Aaron for his graduation from basic training.
Sarah hid behind the car holding her sign, while his family went to see Aaron first. When his family walked to the side of the car where Sarah was hiding, she jumped out from behind the car when he was close enough with her sign that read, "On a scale from 1 to America..how free are you for PROM?" Aaron had no idea Sarah was even going to be at his graduation because she had told him she couldn't make it. For her to prompose to him was all the more of a surprise.
---
Promposer: Sarah Goldenbaum
EE: Why did you choose this person to ask?
SG: "I wouldn't want to go to prom with anyone else but him. This will be our 3rd prom together."
EE: Where did you get the inspiration for the idea?
SG: "I got the inspiration from Pinterest but made the sign on my own."
EE: What relationship do you have with this person?
SG: "He is my boyfriend."
---
Promposee: Aaron Lewis
EE: Give your side of the story. Why do you think they asked you?
AL: "Why she asked? I have been with Sarah for almost 3 years and it has been such a honor to be by her side. We've been through the impossible, she has been there for me no matter what and I'm ready to continue to this journey with her."
EE: Describe in detail how you were asked and how you felt.
AL: "I was asked right after my basic training graduation. She lied and said she couldn't make it to my graduation. But out of nowhere she popped out with a sign asking me to go to prom with her. I haven't ever felt to happier in my life, honestly was the best feeling in the world."
EE: Did you have any suspicions that you were going to be asked by them?
AL: "I mean, figured she was going to ask me but I had no idea when or how. It was so amazing her surprising me by coming down to my graduation. I was so happy to see her."
EE: Why should you win the contest?
AL: "We should win because she planned this out perfect. She drove miles across the country to see her soldier. That shows love and dedication, not only should she win the contest but also be respected for what she has done. She deserves to win this contest. I am serving for all of you, support your troops!"

About the Writer
Lauren Taylor, Social Media Director
Hi, my name is Lauren Jade Taylor. I'm a junior this year and this will be my second year as part of the Eagle Eye staff. I plan to do Eagle Eye my senior year too, and wish I would've taken Eagle Eye as a freshman. I´d like to give myself the title of the...