Eagle Eye Named Best Student News Website in PA for Second Year in a Row
The Eagle Eye won seven Keystone Media Awards this year
The Tyrone Eagle Eye News won seven awards from the annual Pennsylvania New Media Association Keystone Student Media Awards, including the Best High School News Website in Pennsylvania for a second consecutive year. 
"I am incredibly proud of the Eagle Eye Staff for this accomplishment," said Eagle Eye Editor in Chief Sarah Jackson, "Our staff has some amazing writers and some even more amazing people. To all of our underclassmen, continue to do great things for the Eagle Eye. To all of our upperclassmen, I can't express how honored I am to have worked with you all these last three years." 
In addition to the website award, the Eagle Eye won six other awards for ongoing news coverage, individual stories, photos, and videos created during the 2020 calendar year.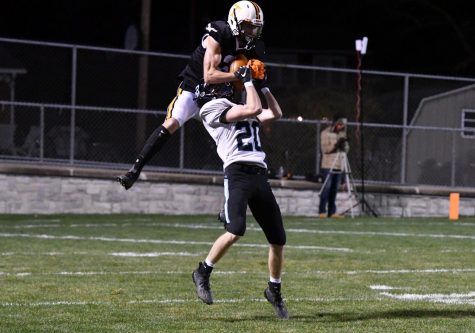 Eagle Eye Photo Editor Lucia Isenberg won first place in the sports photography category for her photo of Tyrone's Damon Gripp making a catch over Penn Cambria's Zach Broad.
"It was such a memorable play and I was standing in the perfect spot to get the photo.  It was an over 50-yard pass and no other photographers were on that side of the field to get the shot.  I was so excited when I saw the photo. It really captured his athleticism," said Isenberg.
Class of 2020 Features Editor Reagan Wood, Video Editor Cody Harpster, and Staff Videographer Nathan Walk won first place in the video category for their story and video Welcome Home: Tyrone Soldier Surprises Sister After 10 Month Deployment, about Tyrone Alum Amber Chamberlain's homecoming after a ten-month military deployment to surprise her little sister in first grade.
"I'm so glad that story got so much attention because it was my favorite to write," said Wood.
The Eagle Eye also won second place in the video category for senior Brent McNeel's video titled Dear Seniors: An Open Letter to the Class of 2020, a message to all the seniors of 2020 to stay strong after and during COVID-19 shutting down the school.
Current Features Editor Mario Grugan won third place in the public service category for his story Green Alert: Lack of Recycling a Challenge at TAHS, addressing the lack of recycling at TASD and the reasons for it.
Staff Writer Ebonee Rice won third in the personality profile category with her story Ending the Stigma: PSU Junior Raises Awareness of Eating Disorders, about PSU student Haley Hamschin, a student leader for the National Eating Disorder Awareness Walk at Penn State.
Finally, the Eagle Eye won third place as a staff for its ongoing news coverage of the impact of COVID-19 on the school and the community, with notable stories written by Mario Grugan, MacKenzie Hyde, Lindsey Walk, Rocky Romano, Michael Stoner and Lucia Isenberg.
The Keystone Media Awards are sponsored by the Pennsylvania NewsMedia Association Foundation, a statewide independent, non-profit corporation that, according to their website, "provides training and resources to members, to develop the next generation of readers and journalists, and to educate the public on the importance of the First Amendment and the role of a free press."
The awards are presented annually in four divisions, Division I for four-year colleges over 10,000 enrollment, Division II for four-year colleges under 10,000 enrollment, Division III for two-year colleges, and Division IV for high schools.
The winners are normally honored at a luncheon celebration in Harrisburg, but due to COVID-19 the luncheon has been canceled and there will be a video presentation in spring to honor the winners.
To see a complete list of this year's Keystone Student Press Awards winners, click here.
Last year the Eagle Eye won four awards at the Keystone Student Press Awards including first place in the website category and three other individual awards.
The Eagle Eye is also an eight-time winner of the Student Newspapers Online Distinguished Site Award.
Eagle Eye adviser Todd Cammarata credits the support of the Tyrone administration and community for the continued success of the Eagle Eye.
"Without the ongoing support of our administration and our readers, none of these awards would be possible. The administration provides financial support to maintain the website and also supports freedom of the press and the student's right to have an independent voice in the school. Our readers inspire the students to do their best work because they know they have an audience for their work," said Cammarata.
About the Contributors
Haydn Loudenslager, staff writer
Haydn Liam Stone Loudenslager is a short but exceptional senior that is in his third and final year of Eagle Eye. He has some of the best-researched and...
Lucia Isenberg, Photo Editor
This is Lucia's fourth year in Eagle Eye and her third year as Photo Editor. She is very excited to express her creativity and find new ways to take...