Eagle Eye Comes Up Big During Awards Season
Student journalists look forward to spring for more reasons that just the good weather.
Spring is traditionally awards season in the journalism world, and this year the Eagle Eye won the most awards in its six year history as an online student news site. 
The 2018-2019 Eagle Eye staff earned six 2019 Keystone Press Awards, including third place for Best Overall High School News Website in Pennsylvania. 
It also won its sixth consecutive Distinguished Site Award from School Newspapers Online, as well as having a record 12 stories published nationally on the Best of SNO website.
The site also enjoyed another year of great traffic, with almost 800,000 total pageviews so far this school year.
Keystone Press Awards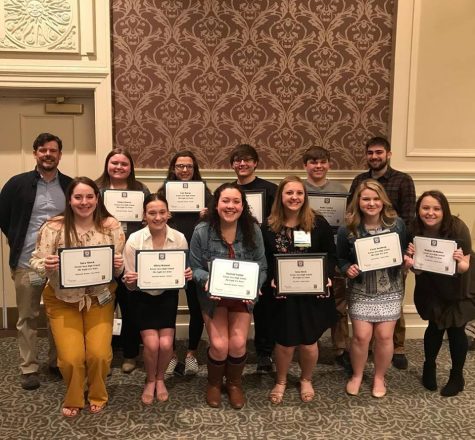 The six Keystone Press Awards won by the Eagle Eye was the second most awards won by any high school newspaper or website in the state. 
"I am very proud of our students," said Eagle Eye Advisor Todd Cammarata, "I'm especially proud of the overall website award because it is a honor that everyone in Eagle Eye gets to share. It is always fun to be recognized for what you do. It's also motivating for the students to know that what they write or take photos of is not only seen and read within their community, but also can be recognized state or nation wide."
The Student Keystone Press Awards contest recognizes high school and college journalism that provides "relevance, integrity and initiative in serving readers." The competition is judged by members of the Pennsylvania NewsMedia Association, a statewide organization of professional journalists.
Any student at any public, private or parochial Pennsylvania high school, college or university who has had his or her material published in the school newspaper is eligible to enter the contest.
Seniors Kolby Cowher, Devon Henninger, and Meghan McMullen were three of the writers that earned Keystone Press Awards this year.
"Hoagie Wars: East End vs Macs Market" was Henninger and Cowher's story reviewing two town favorite hoagie shops in Tyrone.  It won first place in the Review category.
"We put a lot of time and effort into Hoagie Wars and it was pretty cool to be the top story. It was also nice to see how involved the entire community was with our story through the comment section on Facebook and Eagle Eye. We learned a lot about Tyrone and how people come from other towns or come back to Tyrone just to eat at East End or Macs. We also got a chance to see how devoted the fan bases are for both restaurants, and how people have switched between the two over the years, as both have grown into staples of our small town," said Henninger.
"Nobel Peace Prize Awarded to Founder of Panzi Hospital" was senior Meghan McMullen's story on Dr. Denis Mukwege's Nobel Peace Prize and his connection to the Tyrone High School community.  It won second place in the general news category.
In the photography categories, senior Anna Beck won first place for a sports photo taken of Brandon Homan at a football game against Clearfield. Sophomore Lucia Isenberg won the second place award for the sports photo category with her picture of Tyrone swimmer Fiona McConnell during her 100 butterfly vs Central Cambria. Senior Sara Shock won an honorable mention for her news photo of Tyrone alumni Emily Hamer walking her final lap around Tyrone Area High School during the 2018 annual Senior Walk.  All three winning photos can be seen in the slideshow above.
"It's really cool knowing one of my pictures is known in such a large area now. I entered it not really expecting to win anything, but I decided to give it a shot.  And what do you know, not only did I win, I got first place," said Beck.
All of the individual award winners and the editors attended an honorary luncheon at the America East News Media & Technology Summit in Hershey, PA.
The following editors were honored at the awards ceremony: Editor in Chief Hannah Gampe, News Editors Olivia Watson, and Meghan McMullen, Feature Editor Emma Hoover, Sports Editors Cate Baran, and Michael Stoner, Photo Editor Lucia Isenberg, and Video Editor Caden Brooks.
SNO Distinguished Site Award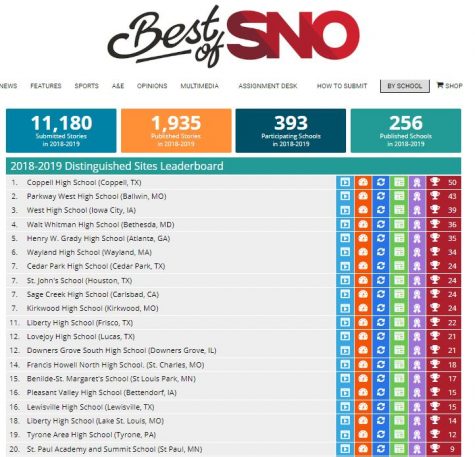 This year the Eagle Eye also won its sixth consecutive Distinguished Site Award from School Newspapers Online.
In order to receive the Distinguished Site Award, a high school news site must earn following badges: continuous coverage, site excellence, story page excellence, multimedia excellence, and audience engagement.  To see the criteria for each award, click here.
The Eagle Eye earned their final badge two weeks ago and received their award last week.
Of the 393 participating schools, the Eagle Eye is currently ranked in the top 20 in the country, and first in Pennsylvania.  To see the current rankings by school, click here.
School Newspapers Online (SNO) also runs site called bestofsno.com, that student journalists can submit stories for publication.
So far this academic year, Best of SNO has featured twelve Eagle Eye stories, twice as many as the Eagle Eye's previous record of six published stories, set last year.  There are currently several more stories pending on the site, so the staff hopes to add to this number by the end of the school year.
To see all of the Eagle Eye stories published on Best of SNO so far, click here.
In addition to Best of SNO, Eagle Eye writers have also published numerous stories this year in the Tyrone Daily Herald, on the pafootballnews.com website, in the TyNotes district newsletter, and the Altoona Mirror.
Site Traffic
So far during the 2018-2019 school year the Eagle Eye News has almost 800,000 page views and over 65,000 users.  The Eagle Eye has over 50 stories with more than 500 page views, including the following most viewed stories to date on the site: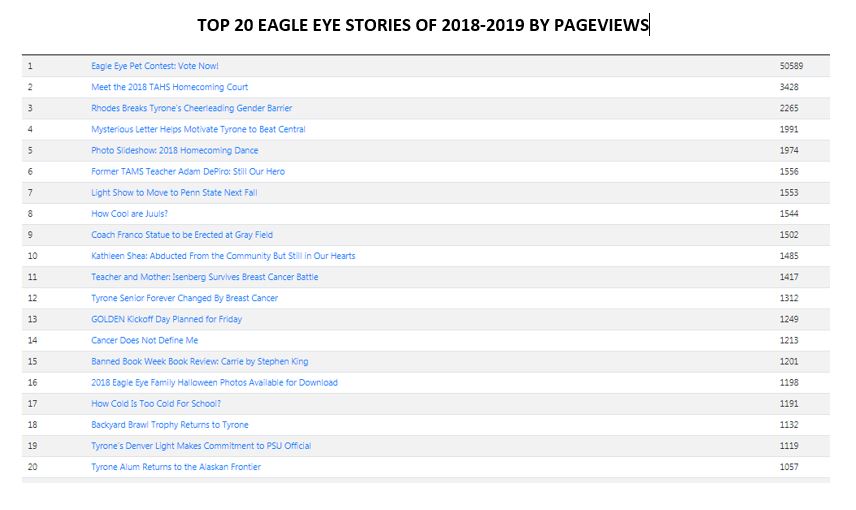 View Comments (1)