Comeback Kids
Only one week after an uncharacteristic fourth-quarter loss, Tyrone rewarded its fans with a comeback win of its own over Penns Valley on Friday.  Led by freshman quarterback Ashton Walk and sophomore running back Brady Ronan, the young Eagle's offense put together its most complete game to date.
Tyrone started off strong, scoring early in the game with a 14-yard pass from Keegan Gwinn to Corrie Beck. Unfortunately, they missed their extra point, making the game 6-0.
The Rams battled back however and led a drive of their own scoring on a 2 yard run to Tanner Ilgen.
The Tyrone special teams made a play to keep the game tied when Zac LeGars blocked their extra point attempt.
The next score came from Penns Valley in the second quarter on a 17-yard touchdown pass from Romig to Braucht.
Tyrone put on another drive down the field, but it ended in the red zone when Gwinn threw a bad ball. Penns Valley's Tanner Ilgen got a 95-yard interception touchdown.
Tyrone wouldn't roll over, however. The Eagles put in freshman Ashton Walk as quarterback for the rest of the game. Walk had originally been rotating with Gwinn every other drive.
Walk showed what he was made of and drove 81-yards, connecting with Ross Gampe for a 19-yard touchdown strike.
This put the score 18-13 Penns Valley going into the half. During the first half, Ronan had an arm injury and remained in the locker room until later in the game.
Tyrone's defense picked up the slack and held the Rams to only 96-yards in the second half.
The Eagle's offense took until the fourth quarter to actually get points on the board.
With only three minutes left in the game, Penns Valley punted from deep in their own endzone, giving Tyrone prime field position to get the lead back.
This was the time for Ronan to make his reappearance. After getting stitches in his arm, his contribution to the team was huge in the final minutes of the game.
Tyrone would get the lead on a 9-yard pass when Walk connected to Ronan with 1:53 left in the game and wouldn't look back.
Walk scored on the two-point conversion making the game 21-18.
On the kickoff following the touchdown, Joshua Patterson and Colton Veres would both contribute, making Penns Valley fumble the ball.
This set up a 20-yard touchdown run from Brady Ronan, which made the score 28-18, and Penns Valley only had 1:30 left to win.
The Tyrone defense wouldn't give the Rams the chance to come back, getting an interception that let the offense go into victory formation.
Tyrone's record goes to (3-4) and Penns Valley goes to (3-4) as well. Tyrone hopes to keep the wins coming and fight for the third seed of the playoffs.
Tyrone plays at Philipsburg-Osceola this Friday (10/15)
SCORE BY QUARTERS
Penns Valley 6 12 0 0 — 18
Tyrone 6 7 0 15 — 28
First Quarter
T–Beck 14 pass from Gwinn (kick failed), 4:42.
PV–Ilgen 2 run (kick failed), 1:38.
Second Quarter
PV–Braucht 17 pass from Romig (run failed), 8:24.
PV–Ilgen 95 interception return (pass failed), 2:10.
T–Gampe 19 pass from Walk (Gwinn kick), :58.
Fourth Quarter
T–Ronan 9 pass from Walk (Gampe from Walk), 1:53.
T–Ronan 20 run (Gwinn kick), 1:29.
TEAM STATISTICS 
First downs
PV – 7
T – 24
Total yards
PV – 256
T – 369
Rushes-yards
PV – 16-17
T – 41-118
Yards passing
PV – 239
T – 251
Passing (comp.-att.-int.)
PV – 14-18-2
T – 20-33-1
Punts-avg.
PV – 4-31.8
T – 4-33.0
Fumbles-lost
PV – 2-1
T – 1-0
Penalties-yards
PV – 2-16
T – 5-35
INDIVIDUAL STATISTICS
RUSHING
Penns Valley, Ilgen 6-24, Romig 4-(-13), Watson 6-6.
Tyrone, Ronan 17-90, Beck 5-18, Gwinn 2-3, Walk 9-(-3), Miller 5-15, TEAM 3-(-5).
PASSING
Penns Valley, Romig 14-18-2-239.
Tyrone, Gwinn 9-12-1-79, Walk 11-21-0-172.
RECEIVING
Penns Valley, Brooks 4-103, Braucht 5-98, Meyer 1-4, Watson 3-20, Lyons 1-14.
Tyrone, Rhoades 5-65, Gampe 7-71, Beck 5-59, Veres 1-10, Miller 1-40, Ronan 1-9.
Leave a Comment
About the Writer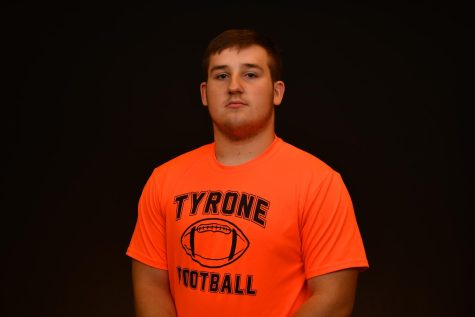 Dylon Brower, Staff Writer
Dylon Brower is a senior in his third year of Eagle Eye who enjoys giving an inside view into the locker rooms of the sports he plays. Dylon is someone...