Camp Anderson FearFest Looking for Volunteers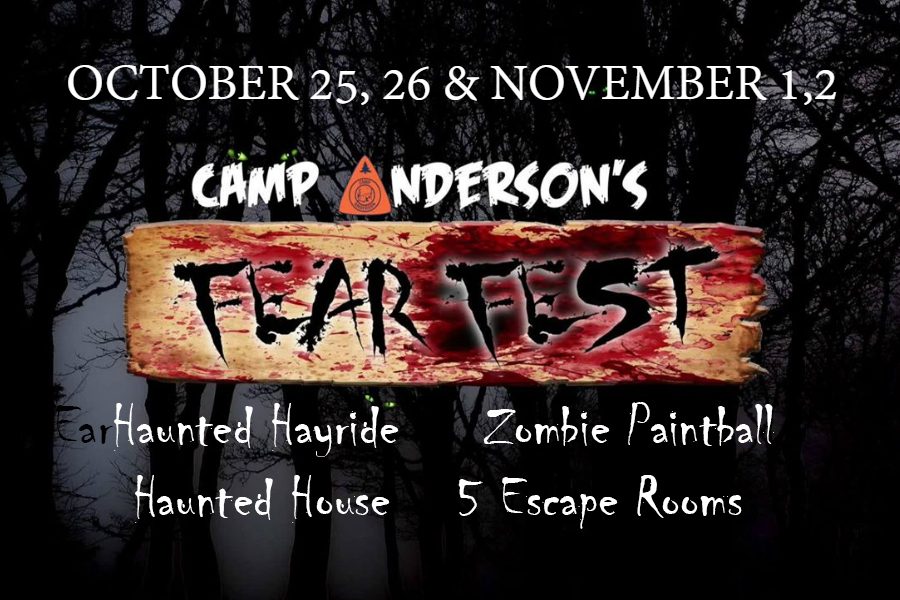 Camp Anderson's annual "FearFest" is in need of student and adult volunteers.
The event will run two weekends, October 25-26 and November 1-2 on Friday and Saturday nights from 6 PM to 12 AM.
Students who volunteer can earn service hours for National Honor Society or their church group.
To get more information, or to signup, see Mr. McNitt in the high school or contact the Haunted Camp Anderson on their Facebook page. To sign up directly, click this link.
Available positions are:
Trail guides: lead groups through the house and the rest of the haunted camp.
Costumed actors: If you love to scare people, then this job is for you!
Make-up artists: Puts your talent and creativity to good use by helping with horrific costumes and makeup.
Facilities and operations: These volunteers set up the props, keep the camp clean, and also help with tear down. Tear Down day: Sunday, November 3rd.
This year's event will include five different attractions and a kitchen for snacks.
The tickets are $7 per venue. Parking and shuttle are free at Smith Transport.
The five venues this year are:
The Haunted Dining Hall, Maze & Trail
Zombie Paintball
Five Escape Rooms
The "Extreme Walk"
Haunted Hayride
Anyone who loves Halloween and the Tyrone community is invited to volunteer or to show up for the fun and support the cause.
About the Contributor
Caleb Orr, Staff Writer
Ahoy! My name is Caleb Orr. I'm a senior this year, and it's my first time in Eagle Eye. I enjoy ping pong, tennis, drumming, and most of all, 𝙗𝙤𝙤𝙢𝙚𝙧𝙨....