An Alumna in the Aloha State
"Until you spread your wings, you will have no idea how far you can fly" -Unknown
Many of Tyrone's alumni have moved away after graduation and are scattered across the United States. Recently the Eagle Eye has profiled Tyrone alumni in Alaska and Tennessee. Another of these transplanted alumni is the class of 2005 grad Nancy Pazmino, who can be found teaching in Maui, Hawaii.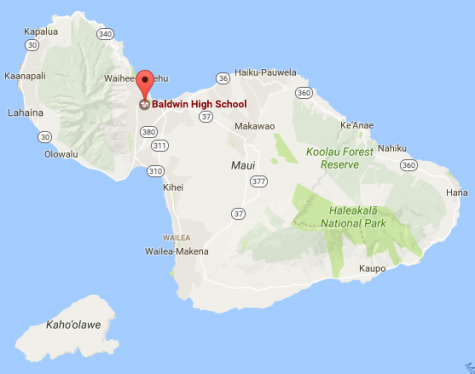 "My fiancé was offered a job on Maui at the Pacific Disaster Center as the Senior Disaster Risk Analyst in 2015. We decided together that we would try out living on Maui for a few years to see how we liked it, so he accepted the job offer," said Pazmino.
Pazmino is currently teaching a program called the Community-based Instruction/Work-based Learning Program at Henry Perrine Baldwin High School. In this program, Pazmino works with students who have intellectual disabilities to teach them important life skills such as money management, and how to fill out a job application.
"My students are very lively.  I love them.  They each have very unique, fun personalities, and most of them are all very hard workers.  They are all willing to do whatever is asked of them in the classroom, or when they are working in the kitchen, or outside in the garden," said Pazmino.
Pazmino says that life in Hawaii is significantly different in many ways from Tyrone. One of these differences is the weather. Living in a tropical area in the middle of the Pacific Ocean, the weather is especially different there.

"Depending on what altitude you are on the island can determine the temperature and climate.  It can be pouring rain on one side of the island, and bone dry and sunny on the other.  At the same time, it could be raining up the mountain (where we live) and completely dry down on the coast.  "Winter" here has lows in the coastal sections on the island in the 60s, while up country it can get down into the 40s or 50s," said Pazmino.   
The culture is also very different in Maui. The island is much more culturally  diverse than Tyrone. The school where Pazmino teaches, Henry Perrine Baldwin High School, has an 86% minority enrollment.
"Many families have immigrated here from other places such as the Philippines, Japan, or China, and many are native Hawaiian. It makes for a melting pot of many cultures, food choices, and experiences," said Pazmino.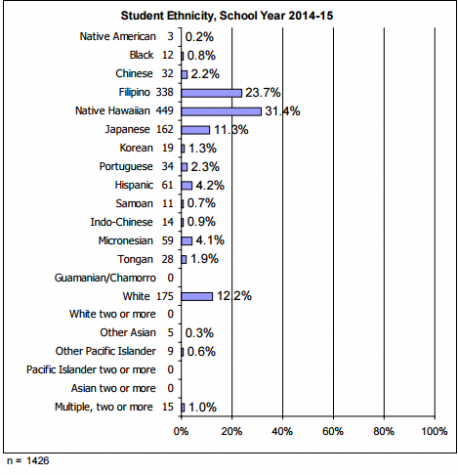 Another difference between Hawaii and Pennsylvania is the high cost of of living. As a result of such high costs, 39% of the students at H.P. Baldwin are considered economically disadvantaged.
"Many families on the island live below the poverty line and work in service industry jobs, only to turn around and pay high fees for basic items such as gas, food, and housing…Being on an island means that everything has to be imported, so the selections to purchase are not nearly as expansive as what you can find on the mainland.  Because of this, I end up buying a lot of things online and getting them shipped," said Pazmino.
Despite the high cost of living, Pazmino greatly enjoys living in Hawaii. She especially enjoys the beautiful sights that can be found on the island.
"The thing I like most about living in Hawaii is having easy access to visit and experience places easily that most people can only experience on a brief vacation.  I can go to the beach and snorkel, go for a hike along a path with beautiful waterfalls, or go up to the top of Haleakala National Park and enjoy the views anytime that I want!" said Pazmino.
Pazmino plans to return to Pennsylvania to get married this September.
View Comments (2)
About the Contributor
Taylor Hoover, Features Editor
Reading and writing are a big part of the reason senior Taylor Hoover decided to join the Eagle Eye staff team for the first time. She is ready to tackle...