Alumni Spotlight: Cannistraci Tops Christine on PSUA All-Time Scoring List
Tyrone officially owns the record books in women's basketball at Penn State Altoona.
This season TAHS Class of 2017 graduate Alexis Cannistraci became the all-time leading scorer in Penn State Altoona Women's Basketball history, surpassing another familiar Tyrone name on the all-time list, TAHS Class of 2016 grad Finnley Christine.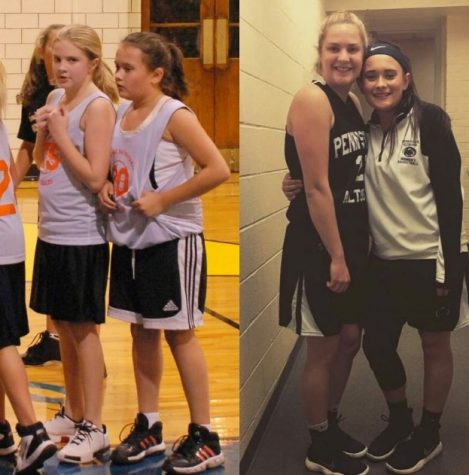 Cannistraci scored a game-high 20 points against Mount Aloysius in early December to pass Christine's PSUA career mark of 1,276 points.
Cannistraci now holds Penn State Altoona's all-time scoring title with 1452 points and counting.
Having two Tyrone alumni on top of PSUA's scoring records means a lot to both Cannistraci and Christine.
"It speaks volumes of the Tyrone girls basketball program. Coach Rhoades and his staff taught us a lot and prepared us to play at the next level," said Cannistraci.
In high school, Christine and Cannistraci combined for four Mountain League Championships and helped lead one of the best four-year stretches in the history of Tyrone's girls basketball program. Together they won over 90 games for the Lady Eagles and after five combined seasons of play, their teams put up a 94-26 overall record.
But their history together goes back much farther than high school. They were teammates from elementary school through college and hundreds of each athlete's points came on assists from the other.  They have also developed a lifelong friendship that extends beyond the basketball court.
"Lexi was always my go-to person, and I truly don't think I would have been the basketball player I was without her presence out on the court with me," said Christine. "Outside of playing basketball, Alexis and I have formed what I feel is a lifelong friendship, and we will have basketball memories to speak about forever."
So Christine was beyond excited to see her record fall to her long-time teammate and friend.
"I couldn't have been more excited for her," said Christine, "Alexis is definitely one of the hardest working athletes I had the pleasure to play with, and she deserves every second of the fame. If someone were to beat my record, I wanted it to be Alexis."
Cannistraci's mother Beth (Dutrow) Cannistraci was also a standout player for the Tyrone Golden Eagles in the 1980s and has been a coach for numerous teams over the years, including teams with her daughter and Christine.
Beth and her husband Jim love that their daughter is playing college basketball close to home where they easily can see games in person.
"Basketball has always been a passion of mine, so when she decided she wanted to play, I was beyond thrilled," said Beth Cannistraci. "I could not be more proud of the person and player that she is today. She is confident, passionate, supportive, competitive, and a hustler."
Cannistraci is also a rare two-sport college athlete, playing two seasons as a middle hitter for Penn State Altoona Women's Volleyball. She also made the Allegheny Mountain Collegiate Conference's Academic All-Conference team in volleyball.
According to Cannistraci, the two sports complement each other well, and her volleyball career has made her a better basketball player.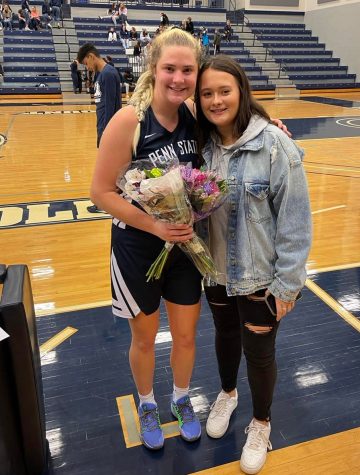 "There are many times that both sports require quick and explosive movements. Training can even look similar for both sports due to the amount of jumping required," said Cannistraci.
On the basketball court, Cannistraci is currently averaging 17.1 points per game, which is first in the conference and 48th overall in the nation in Division III women's basketball.
She was a first-team All-Allegheny Mountain Collegiate Conference selection in both her sophomore and junior seasons and has been named the Allegheny Mountain Collegiate Conference's Player of the Week five times in her career.
Cannistraci will graduate in the spring with a degree in kinesiology and exercise science. She plans to use her degree in either pharmaceutical sales or fitness and strength training fields.
Christine graduated from PSUA with a degree in elementary education in 2020 and is currently a human research technologist for the Child Health Study at Penn State. She is also keeping herself involved in basketball as the head coach of the junior high girl's basketball team at Central High School.
"It has been a really great fit for me, and so rewarding to view basketball from a different perspective after playing for nearly my whole life," said Christine.
Leave a Comment