Double Trouble: Former Lady Eagles Christine and Cannistraci Reunite at PSUA
TAHS alums Finnely Christine & Alexis Cannistraci are back together on the hardwood for PSUA
Tyrone graduates Finnley Christine and Alexis Cannistraci have been playing hoops together since elementary school.  As key members of Tyrone's girls varsity squad from 2013-2016, they won three consecutive Mountain League Championships together.
Both thought their days as teammates were over when Christine graduated in 2016.  But as fate would have it, the two have been reunited, but donning a different uniform and higher expectations, as members of the Penn State Altoona Lady Lions.
"Their chemistry from playing together in high school has allowed for them to connect on a multiple avenues. They have an understanding and awareness of where one another are on the floor and their movements pair well together," said Penn State Altoona Head Coach Casey Shoup. "They have also been a support system for one another when practices and games have become mentally, emotionally and physically draining."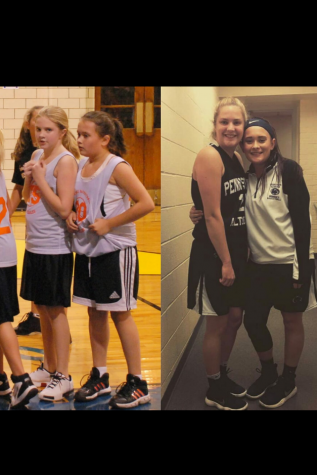 Christine and Cannistraci's  names are both etched into Tyrone girls basketball's record books. The two combined for four Mountain League Championships and helped lead one of the best four year stretches in the history of the girls basketball program. Together they won over 90 games for the Lady Eagles and after five combined seasons of play, their teams put up a 94-26 overall record.
"To be Finn's teammate again is such a blessing. I've always felt we meshed well on and off the court," said Cannistraci. "We've been playing together since elementary school and it's so awesome to be playing with her again."
Christine and Cannistraci are continuing the Tyrone to Penn State Altoona pipeline started by Tyrone standout Nicole Gripp, who just finished her senior season last year for the Lady Lions. Shoup appreciates the talent and discipline of Tyrone players.
"Coach Rhoades runs a sounds system at Tyrone," said Coach Shoup. "He has built a program and advanced players skills to the level that we appreciate and want to bring on at the collegiate level. Each of these young ladies, Finn, Lex and Nicole have/had their own special flair that we felt would help our program move to the next level."
Although they are both still in the early years of their careers, Cannistraci and Christine are both contributing in significant ways.
"
To be Finn's teammate again is such a blessing. I've always felt we meshed well on and off the court," said Cannistraci. "We've been playing together since elementary school and it's so awesome to be playing with her again."
— Lexi Cannistraci
Christine is coming off of a solid freshman year where she averaged 8.3 points per game, 4.8 rebounds per game, 2.3 assists per game, and 1.1 steals per game. This year she leads the team with 13.6 points per game, 3.6 assists per game, and 2.3 steals per game. Christine has reached over 20 points twice already this year with 26 against Salem College and 24 against Medaille College.
Cannistraci is also contributing early in her freshman season with 6.6 points per game, 5.4 rebounds per game, and 1.1 assists per game. She is coming off of her best game yet scoring 12 points, shooting 50% from the floor against Franciscan College.
"Playing again with Lexi feels like we were never separated for that one season," said Christine. "She has picked things up really well and has been an important part of our team this year."
The Lady Lions are coming off a 6-16 overall record last year that included six wins and 12 losses in Allegheny Mountain Collegiate Conference play.
Coach Shoup thinks that this year's squad has all the right pieces to achieve its first winning season since 2009-10 and its first AMCC Tournament berth since 2014-15.
"Finnley has worked hard during the off season – she's developed and sharpened her overall skill set and she's a player that we has been able to deliver when we place tall orders in front of her, said Coach Shoup. "Lex, is one of those players that you we can place pretty much anywhere on the court which has proven to be a enormous benefit for our program."
Christine and Cannistraci  hope to help the team this season and so far they are off to a great start.  The Lady Lions already have get half as many wins as last season in just the first few weeks.
"I appreciate both of them for being great individuals on and off the court. They are a pleasure to work with on a daily basis and I can't wait to continue to watch them find success. My expectations for them is that they find success first and foremost in the classroom," said Shoup. "As far as their basketball careers, I want them to continue to find enjoyment and fun in the game. I'm certain that both of them will make their mark because they are hard workers and are willing to put their teammates and our program before themselves."
Leave a Comment
About the Contributor
Asher Christine, Sports Editor
Hi my name is Asher Christine.  I'm a Senior here at Tyrone Area High School and this is my third year as an Eagle Eye staff member. The main reason I...