State Representative Jim Gregory Discusses Issues Facing PA
Local radio personality Jim Gregory was sworn in as a State Representative for Pennsylvania's 80th district in January. Gregory was elected in November in a landslide, receiving 74.37% of the vote over Democrat Laura Burke.
This will be Gregory's first term in the Pennsylvania State Legislature, and he is excited by the opportunity to serve the citizens of the 80th District.
"You can't describe that feeling until you are in the position of actually representing a group of people who place all of their trust and belief in you to do the best you can do.  The accomplishment of winning is great. But the responsibility is greater. I have told anyone who asks why I would want to do this that it's an honor and a privilege to serve in this capacity; don't take yourself too seriously; treat people with respect; listen to others, and above all work hard," said Gregory.
According to Gregory, the most pressing issues facing the legislature are solving the pension crisis, and continuing a decade's long attempt to eliminate property taxes.
"I cannot provide a silver bullet for either of these critical issues, but I will work with my colleagues to find answers," said Gregory.
Another issue that Representative Gregory expressed concern about is the need for a constitutional amendment to eliminate the statute of limitations on sexual abuse.
"Our legislature has tried unsuccessfully to address this problem. Abuse victims deserve an opportunity to be heard in civil cases and the best way to do that is through the amendment process," said Gregory.
On the campaign trial, Representative Gregory often talked about being a staunch Republican, but said that he is not opposed to compromise with Democratic legislators.
"Staunch doesn't necessarily mean unwilling. I am a listener to all views and make decisions based on what is best for the people of my district. Sometimes that means compromise to achieve a goal, but I cannot accept compromising on my principles," said Gregory.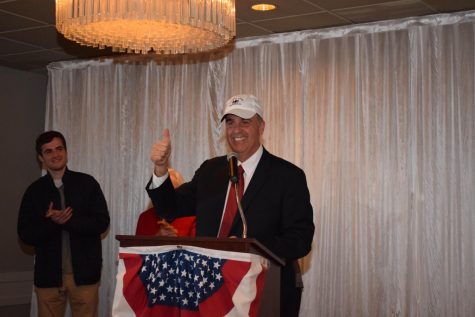 Gregory enters office under a Democratic Governor, Tom Wolf.  
"I'm most disappointed with the Governor's repeated calls for tax increases in order to resolve budgetary problems," said Gregory, "I believe tightening our belt as a state is preferable to raising taxes on working families. I am hopeful the House, the Senate, and the Governor can better work together as we enter the new year and tackle a new budget. It is my hope that he removes any party affiliations from his thinking when it comes to consideration of legislative proposals. We all need to stop thinking in terms of Republican and Democrat and start thinking in terms of what is best for the people of this state."
Another issue addressed by Gregory is the Pennsylvania gas tax, the highest gas tax in the United States at $0.58 per gallon. 
"I will do everything in my power to make sure the money from the gas tax is going to what it was intended for and that is improving our roads, bridges, and infrastructure. Too much of it is having to be funneled to the State Police budget where that money is being used to cover more municipalities who can't afford their police forces," said Gregory. 
Another important issue, according to Gregory, it the ongoing opioid epidemic.
Last year Governor Tom Wolf declared a 90-day statewide disaster as a result of the severity of the opioid epidemic. Within Blair County over 1,500 people are receiving medical treatment for opioid addictions.
Representative Gregory took a hard stance against opioids during his campaign trail.
"The Commonwealth has an issue here that goes well beyond throwing more money at the problem. We have all contributed to this issue whether you know that or not.  You are also paying for it whether you know it or not. Until we as a people accept that 'disease of thinking' is what causes most addiction, we will not address the core issue.  Addiction stems from an inability to cope with emotional, physical, and psychological deficiencies and traumas. Our lack of support for mental wellness resources for decades has cast us on a path of misunderstanding of how impactful those deficiencies can be on an individual, a family, and a community." He continued with, "I have joined the House Mental Health Caucus and requested among my five committee choices the Committee for Human Services.  It is here where I hope to have the most impact."
Gregory also discussed the increased use of e-cigarettes that have exploded in popularity among high school students.
According to one national study released in December, the use of vaping products has nearly doubled among high school seniors in just one year, from 11 percent in 2017 to 20.9 percent in 2018. Vaping has even reached into the Middle Schools, more than one in 10 eighth graders reporting that they have used vaping products in the past year. The York Dispatch called vaping in Pennsylvania High Schools as "epidemic" and said that teens in Pennsylvania High Schools have become "addicted" to vaping. 
"We have all seen the mounting reports of the dangers of e-cigarettes. The use of these devices is primarily a cultural one, and I believe much of that needs to be resolved…with families talking about and addressing these issues directly with their kids. However, legislation that would prohibit the sale of e-cigarettes, JUUL's and other related vaping products to minor in Pennsylvania unanimously passed the State House last year for the second consecutive time. Unfortunately, the Senate did not take action. I am open to reviewing whatever future legislation may come forth in regard to this issue," Gregory said about the vaping crisis. 
As this is his first year in office in the Pennsylvania General Assembly questions about his personal background and political experience have come to fruition.
"My background has been diverse, including health care, banking, communications, and politics.  My relationship building in all those fields is what I believe will serve me and the people of the 80th District well in Harrisburg.  In addition, I enjoyed the experience of learning the issues important to people that I wasn't as familiar with. My time with farm families like the Detwilers, Longs, and Hoovers in Tyrone and Sinking Valley gave me a surface understanding of their challenges.  Most importantly, it let those families – who are new friends of mine – know that I care about them and will work hard for them," said Gregory.
View Comments (1)
About the Contributor
Devon Henninger, staff writer and videographer
Hey bub, I am a senior (Big Cheese, I know) at Tyrone Area High School. Currently, I am a part of the Blair County Young Republican (unofficially) and...