A Case of Creativity: Library Showcase Brightens the Halls of TAHS
Assistant librarian Gabby McLarren has taken the high school library display case to the next level
Walk by the high school library and you can't help but notice the timely and creative displays in the library showcase.
Over the past school year the case has featured an animated fireplace, realistic trees, lights, scarecrows, and hibernating teddy bears, among other things.
All these fantastic displays are the work of high school assistant librarian Gabrielle McLarren.
She has been in charge of the display case since the 2014-2015 school year. Since she took over the displays have become increasingly more involved and creative.
To get a new display started, McLarren often researches bulletin board ideas online and modifies them to make it three dimensional.  She always tries to find ideas that make a thematic connection between holidays and seasons with books and reading.
"I see an idea, [then I] use that to bring my own ideas to life," said McLarren.
For inspiration, McLarren says she often gets help from her mom, but McLarren is already very creative in general.
She usually changes the displays every few weeks but around the holidays and other school breaks they may change only once a month.
As for which display is her favorite, its hard for McLarren to choose.  "That'a a hard question but my top favs would have to be the Holiday Wishes display with the animated fireplace, the peeps display, the scarecrow among a crop of books, and the apple tree," said McLarren, "because each has an element that turned out better than I expected."
"I am always amazed to see what Gabby comes up with," said High School librarian Ken Grady, "She really has a lot of artistic talent and creativity. I can't wait to see what she comes up with next."
McLarren estimates that she spends roughly two to four hours getting materials ready. She then cuts out letters and prepares the props with help from her mom. Setting up the actual display usually happens after school and can take up to two hours.
She even has a blueprint for the future.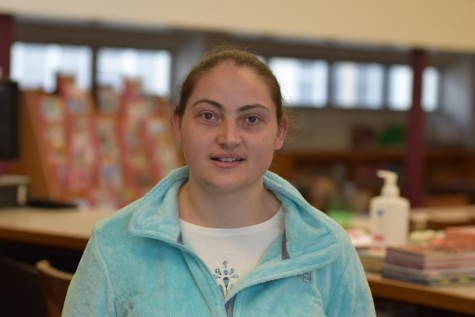 "I actually have a four year plan," says McLarren, "and after four years, I'll recycle back to the first display."  That way, said McLarren, students can go their entire high school career without seeing the same display twice.
Her creativity isn't the only thing that motivates her to create impressive displays, she also appreciates the feedback she gets from the students, faculty and staff.
"Whether she is lighting up the halls with her displays or with her smile, Ms. McLarren always brightens up my day," said sophomore Asher Christine.
Students and teachers often tell her which ones are their favorite, and even sometimes try to figure out what the next theme will be.
"She always puts her best effort into her display cases," said sophomore Brandon Kemp, "Stopping by the library and looking at the display case always brightens my day."
McLarren is a Tyrone resident and a 2002 TAHS graduate. She continued her education at Lock Haven University, where she majored in biology and chemistry.
McLarren started working at TAHS in October 2007. She began as a learning support paraprofessional and moved to the high school library after former assistant librarian Mary Riggle retired.  To read more about Mrs. McLarren's transition from learning support to library assistant, click here.
Will McLarren keep her display case tradition going? "As long as I'm here I will," said McLarren.
"
I am always amazed to see what Gabby comes up with. She really has a lot of artistic talent and creativity"
— TASD Librarian Ken Grady
View Comments (1)
About the Contributors
Kendra Wertz, Photo Editor
My names Kendra and I'm a senior at Tyrone Area High School. It's my second year of being a part of Eagle Eye! I'm planning on going to college next...
Chelsea Miller, staff writer 12
Hi! My name is Chelsea Miller. This is my first year at The Eagle Eye Newspaper. I am 17 years young. I am a senior at good ole' Tyrone High School....