Vancas to Retire with 41 Years of Service to TASD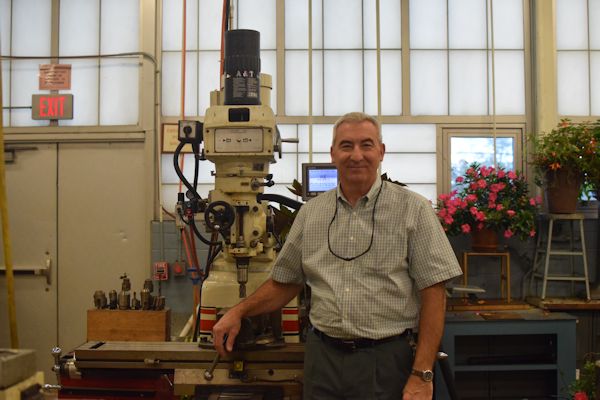 After an incredible 41 year career at Tyrone Area High School, Metal Fabrication Instructor Ed Vancas will retire at the end of this school year.
When asked what he will remember most about his long career, Vancas spoke of all the students that he has taught over the years and the life lessons he has tried to instill in them.
"I think most students would say they enjoyed my classes, whether it was only a quarter class or if they decided to take the class for their entire high school career," said Vancas. "I am most proud of the students I have had over the years. It was my job to prepare them for life after school and help them to become contributing members of the community. I feel I have been successful with this challenge."
It would be difficult to find a staff member or former student at Tyrone Area School District who would disagree.
"
I am most proud of the students I have had over the years. It was my job to prepare them for life after school and help them to become contributing members of the community. I feel I have been successful with this challenge"
— Ed Vancas
Vancas is not only the longest serving teacher in the Tyrone Area School District, but also one of its most beloved.
Physics teacher Bryan Gruber remembers meeting Vancas for the first time when he was a new teacher.
"He was a bit intimidating at first, but he turned out to be so helpful when I needed some metal pieces for a density lab and holes punched in some tin cans," said Vancas. "He earned the respect of his students and he had creative metal shop projects that kept the kids interested."
Health tech teacher and HOSA adviser Christie Taylor has appreciated the leadership that Vancas has provided for the career and technology department over the years.
"Mr. Vancas has been the foundation of the Career and Technical Education wing and faculty member for as long as I have known him," said Taylor, "Mr. Vancas has always focused on preparing students for the world outside these hallowed halls of Tyrone High."
Art teacher Eric Feather has had the privilege of teaching across the hall from Mr. Vancas for the past 20 years.
"Ed has a gift for breaking down complex problems into understandable tasks," Feather said "He's had an incalculable positive effect on his students and guided so many of them into successful careers over the years."
Vancas grew up in Ramey, PA, and graduated from Moshannon Valley High School in 1976. He received his Bachelor of Science degree in Industrial Arts from Penn State University in 1980 and was hired by Tyrone High School in the fall of that year.
He was inspired to pursue a career in the field by his own shop teachers and his family.
"I took many shop classes while in high school," Vancas said, "I enjoyed them very much and thought I could do this as a career."
His brother and dad also help to influence his decision, with his brother already being an elementary school teacher.
"They agreed that teaching was a good career choice," Vancas said, "Plus, by becoming a shop teacher I could use my hands-on talents to help students develop their hands-on skills. I think it worked out quite nicely."
It also helps that Vancas enjoys teaching how to use the equipment and be safe in a dangerous work environment.
"
Mr. Vancas has been the foundation of the Career and Technical Education wing and faculty member for as long as I have known him"
— Christie Taylor
"I enjoyed teaching them how to safely use the equipment and machines necessary to complete projects," Vancas said, "It was always rewarding to watch students start with rough stock, follow their plans, and see the finished product."
Vancas also used the projects in his class to teach valuable life lessons that students could apply to everything that they do – like how to make a plan and stick to it.
"I always told them to 'plan your work and work your plan'. It didn't matter whether the student was in eighth grade or twelfth grade, they were always proud of their work. It was always very rewarding to see students develop and advance their talents as they progressed through high school."
He will miss many things about the school, especially teaching students and seeing them learn and grow. "I always tried to make the shop environment a fun place to learn a skill and make friends," said Vancas.
Vancas will also miss his colleagues, especially the teachers in the career and technology wing.
"[I'll miss] working with a great group of people that I consider great friends. We were all grouped in the CTE wing of the school, so we spent a lot of time together and shared many great times and also some sad times. We could always count on each other for help. Many of us worked together for decades," said Vancas.
Over the course of his career, Vancas became the unquestioned leader of the vocational department. With his years of experience and wisdom, Vancas was always there when anyone needed help.
"Mr. Vancas was the vocational wing's source of positive energy," said Gruber, "He used his humor to make everyone's day better."
It's often said that veteran teachers have "seen it all," but this is especially true for Vancas, who once even put out a fire in the vocational wing.
According to current art teacher Eric Feather, who strongly emphasizes that he was not yet an employee of TASD when there was a fire in the art room, it is an often discussed story in the vocational wing.
"A sink full of paint solvents caught fire, and smoke began billowing into the hall. Ever vigilant of shop safety, Vancas was the first responder to the scene with his fire extinguisher in hand," said Feather.
Gruber was the next on the scene, but Vancas already had the situation well under control.
"I [also] grabbed my fire extinguisher and went to the art room," physics teacher Brian Gruber said, "as I was about to enter, out of the smoke came Mr. Vancas with his own fire extinguisher. He looked at me and said, 'I got it, it's out."
There was also the time Vancas used his ingenuity and skill to try to help a teacher's Chihuahua.
"Mr. Vancas caught word that the Spanish teacher's dog, Chi-Chi the Chihuahua, had a soft spot on its head," Taylor said, "Out of concern for the dog, he made it a helmet out of a tennis ball. The new helmet worked perfectly. Unfortunately, I don't think the teacher saw the value of the new medical device, or the humor."
When he wasn't putting out fires or making dog helmets, Vancas was entertaining his colleagues at lunch or at faculty meetings.
"Every week or so we could count on him to find the most bizarre or humorous story from the newspaper to share with us at lunch," said Feather. "I know I speak for all of the teachers in my wing when I say we will especially miss lunchtime with Mr. Vancas. He was full of countless funny stories, jokes, and "Vancas-isms" that he would share with us in addition to his food and some delicious desserts made by his wife, Mary."
But his biggest contributions were to his students and the community. Over the years, Vancas and his students did many projects that helped the school, area churches, and other community organizations.
"
He is such a kind and generous person and he does not ever hesitate to help a person that needs help"
— Mary Vancas
Vancas and his students built the Blair County Relay for Life Torch, piano carts for the Presbyterian Church, Advent candle holders for the Presbyterian Church, and many others. School activities such as the prom and the middle school SOAR Carnival also got support from Vancas' classes.
"He is such a kind and generous person and he does not ever hesitate to help a person that needs help," said Mary Vancas, Ed's wife, who also retired from TASD this year.
Mary is very proud of her husband and happy about the contributions that he has made to students in the district.
"He is such a wonderful teacher and I know he has helped a lot of students and staff over the years," Mrs. Vancas said. "I wish him much joy and all the best during his retirement."
Vancas will have a lasting impact on the school for years to come and will be remembered as one of its best teachers.
"I would like to thank all the teachers, secretaries, custodians, and other staff I have worked with over the years," said Vancas, "I also want to thank the students for taking my classes and making my teaching career very enjoyable. I appreciate the support of the past and current TASD school board members and administrations for supporting my program. I would also like to thank current Superintendent Leslie Estep for her help and support."
In retirement, Vancas plans to spend more time with his beloved wife Mary and their dogs.
"We enjoy gardening, being outside, and walking on Rails to Trails," said Vancas, "I enjoy woodworking and metalworking, so I plan to continue using these skills to complete various projects."
Mary is excited that she and Ed will have more time to pursue their hobbies in retirement.
"I am very blessed to be married to such a wonderful man," said Mary, "He is such a remarkable person. "He has such a great sense of humor and he always knows just the right thing to say at the right time to help someone."
Leave a Comment
About the Writer
Haydn Loudenslager, Staff Writer
Hello my name is Haydn. I am a junior who wears five watches for no reason at all. I spend most of my time at home playing video games, listening to music...