Tyrone's Williams Commits to Juniata for Volleyball
Tyrone senior Courtney Williams has committed to Juniata College to continue her academic and athletic career.
Williams has had an impressive high school volleyball career, with 193 blocks (1st in school history), and 420 kills (3rd in school history). She plans to be a middle hitter for Juniata just as she has been for the past four years of high school.
Committing to a school is never a simple decision, but for Williams, Juniata was an obvious choice.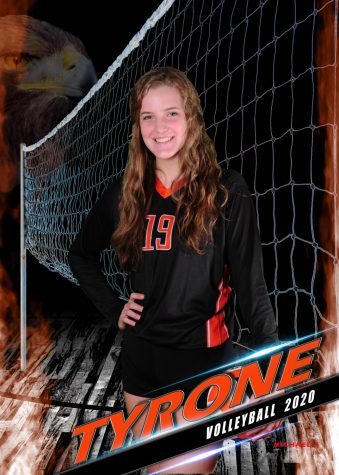 "I chose Juniata for many reasons. They have a really good science program, and, after I went to visit, I loved the campus. The staff there is so supportive and cares about your future. Also, it isn't too far from home so my parents can still watch my volleyball games," said Williams.
Juniata has had an eye on Williams for a few years now; the coaches knew from the get-go that she would make a great addition to their team.
"I've been talking to the coaches for a year or two now, and they have been watching me since freshman year. The coaches and staff are really nice and they stay up to date with my volleyball career. I'm super excited to play for them," said Williams.
College is more than just its sports, and Williams is very pleased with Juniata's academics. The volleyball star plans on going into a pharmacy program after earning her bachelor's degree.
The Lady Eagles volleyball team and coaches are all excited for Williams and can't wait to see what she will accomplish in her future.
"I am so proud of Courtney. She has been my role model since I started playing high school volleyball. As much as I am proud of her, I will miss her too. She taught me so many things. I've always looked up to her, mentally and physically. I wish her the best in life and volleyball career," said middle hitter Piper Christine.
Tyrone Head Coach Michael Kraft had a lot to say about William's journey and what is yet to come.
"Courtney has improved leaps and bounds since starting in eighth grade. I'm very proud of her for making the commitment to improve over the last few years. With her height, she could be a force at the next level if she continues to put in the time and work hard. As an alum of Juniata College, I've told Courtney that it won't be easy and she will be challenged every year. She has been accustomed to this atmosphere at Tyrone and Horseshoe, so I'm excited to watch her continue to grow at Juniata," said Coach Kraft. "Courtney will do what you ask of her. You don't have to question her effort or commitment to get better."
Leave a Comment