Tyrone Wrestlers Drop Close Match vs PO
Despite out-pinning the Mounties 3-1, Tyrone could not overcome three forfeits in a close 33-27 loss to P-O at home on Tuesday night.
Tyrone had to forfeit at 107, 114, and 127, giving PO an 18-point advantage which Tyrone was almost able to overcome.
The wrestling began at 121 between Tyrone's Logan Rumberger and PO's Sam McDonald.
Rumberger scored first in the second period with a 2-point reversal. He then dominated on top and added a takedown in the third for a 4-0 win.
Tyrone's Remington Fleck then took on PO's Ben Gustkey in the 133 bout after a Tyrone forfeit at 127. Fleck earned one point from an escape after a scoreless first period. With 20 seconds left in the second period, Gustkey scored a takedown. Fleck rode Gustkey the entire third period in an attempt to get back points, but Gustkey took the win, 2-1.
The 139-pound bout featured a questionable call, with the Golden Eagle's Cohen Wallace locking up a cradle on top in the second period. Wallace put PO wrestler Nate Fleck on his back for what seemed to be more than 5 seconds, but the official only awarded 2 back points and no pin. PO's Fleck went on to win the match 3-2.
The next two matches both ended with pins, one for the Golden Eagles, and one for the Mounties.
Tyrone's Lukas Walk rolled his way to a pin in 2:53 at the 145-pound bout and Mountie Ian Phillips pinned Brody Klein in the 152-pound bout.
The match of the night was between two state-ranked wrestlers in the 160-pound weight class: Andrew Weaver for the Eagles and Marcus Gable for the Mounties.
Weaver was trailing 4-0 going into the third period. He got the choice and chose neutral, and he was successful in taking Gable down, cutting the lead to 4-2. Weaver then tried to turn Gable on top but was unsuccessful. He was only able to draw a stall warning on Gable throughout the course of his ride.
Tyrone then dominated the next four bouts, winning two by pin and two by decision.
Tyrone's Kyle Scott and Braden Ewing both won by fall, with Ewing pinning his opponent in just 24 seconds.
The Eagle's Richard Rawlings and Caleb McKinney both won by decision with Rawlings taking home a 10-5 victory and Mckinney winning 8-3.
Despite the four straight wins, Philipsburg's Caleb Hummel received a forfeit at 107, giving the Mounties the 33-27 win.
Tyrone dropped to 3-2 and PO improved to 5-3 overall.
BOX SCORE
114–Foster, PO, won by forfeit; 121–Rumberger, T, dec. McDonald, PO, 4-0; 127–Hu. Kephart, PO, won by forfeit; 133–Gustkey, PO, dec. R. Fleck, 2-1; 139–Fleck, PO, dec. Wallace, 3-2; 145–Walk, T, pinned Ha. Kephart, 2:53; 152–Phillips, PO, pinned Klein, 2:54.
160–Gable, PO, dec. Weaver, 4-2; 172–Scott, T, pinned Koptchak, 2:48; 189–Rawlings, T, dec. Rowles, 10-3; 215–McKinney, T, dec. Hensal, 8-3; 285–Ewing, T, pinned Cort, :24; 107–Hummel, PO, won by forfeit.
Records: Philipsburg-Osceola (5-3), Tyrone (3-2).
Exhibition winners: DuVall, PO; Smeal, PO; Shaw, PO; Rice, T; Bock, PO.
Referee: Paul Myers.
Leave a Comment
About the Contributor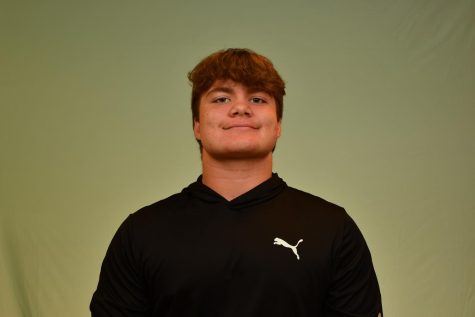 Braden Ewing, Sports Editor
Braden Ewing is a current junior at Tyrone Area High School. This is his first year on the Eagle Eye staff. Many of Braden's friends call him Jefe, a Spanish...