Tyrone Trio Leads Lady Eagles
Lady Eagles hot streak continues as they win their 7th game in 8 contests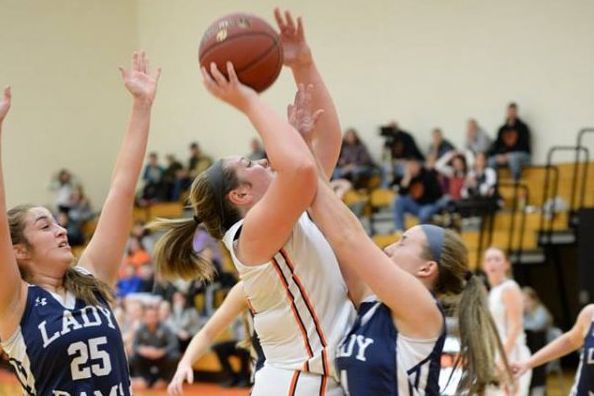 The three-headed monster of Wagner (11 points), Shaw (13), and Lehman (10) led the Lady Eagles to a low scoring defensive 48-32 victory over Mountain League rival Huntington on Friday night.
The Lady Eagles bounced back in great fashion after to falling to Central in their previous game with a hard-fought victory over another tough Mountain League opponent.

The first quarter was a defensive standstill with both teams unable to pull ahead and gain much momentum. The slow-paced first quarter came to a close with Huntington holding a slim one point 7-6 lead.
The second quarter delivered a strong defensive element, but with a little more scoring by both teams. Tyrone was able to strike first and pull ahead and gaining a slim lead. The second quarter came to a conclusion with Tyrone perched on top of a four point 21-16 lead.
The third quarter, once again went back and forth each team trying to dominate on defense, while their offenses tried to spark to life. The third frame came to an end with Tyrone still sitting on top of a 34-27 lead.
Tyrone came out in the fourth quarter and finally able to pull ahead as they outscored Huntington 14-5 in the fourth quarter. They went on to defeat the Lady Bearcats 48- 32. With the victory, the Lady Eagle's hot streak continues as they have now won seven out of their last eight games.
About the Writer
Michael Stoner, Sports Editor
Hi, I'm Michael Stoner. I'm currently a senior at Tyrone Area High School, and this is my third year as a member of the Eagle Eye staff. This year,...