Tyrone Track and Field Sweeps West Branch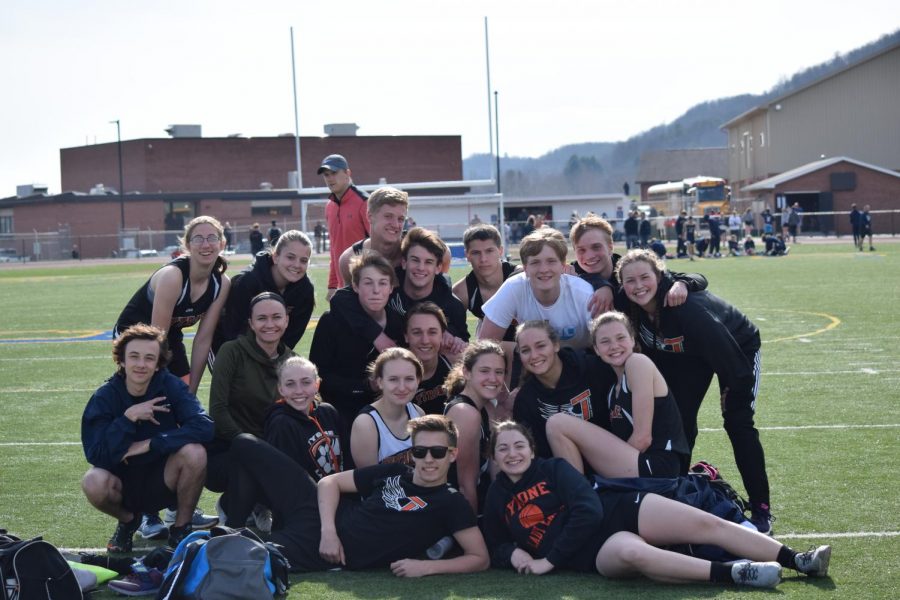 Both the boys and girls track team had an easy day against West Branch.  The boys blew out West Branch with a score of 121-28, and the girls defeated them with a score of 107-43.
For the boys, Nick Vasbinder was a triple winner and double winners were Matt Clifton, Nathan Walk, and Kyle Silva.
Vasbinder won the triple, high, and long jump.
Clifton won both the 100m and 200m with a personal record in both events.
Walk won the 110m and 300m hurdles, also with a personal record in both events.  Walk also helped contribute to the winning 1600m relay team.  Silva won the shot put and discus.
On the girls side, double winners included Chesney Saltsgiver, Natalie Saltsgiver, Brianna Decker, and Marissa Lewis.
C. Saltsgiver won the long jump and  400m dash in a very close race.
N. Saltsgiver won the high jump and the 200m dash, which was also a very close race.   Decker won the 300m hurdles and javelin.  Lewis won the 800m and 1600m run.
This win pushed the boys team to a 3-1 record, and the girls now have a 2-2 record.
About the Contributor
Nathan Walk, Staff Videographer
What's up?  My name is Nathan Walk, and this is my second year as a part of the Eagle Eye.  I am a videographer this year because I  wanted to try something...