Tyrone to Present How To Succeed In Business Without Really Trying on April 12 & 13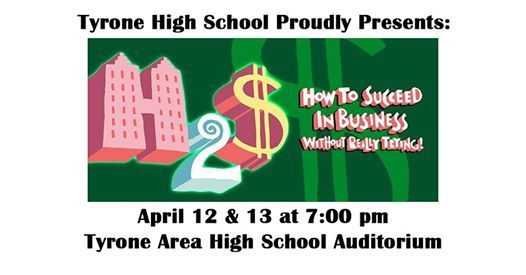 The Tyrone Drama Club is excited to present their production of the critically acclaimed musical "How to Succeed in Business Without Really Trying" on April 12th and 13th at 7:00 pm in the Tyrone High School Auditorium. 
With the majority of the students returning from great productions such as Into the Woods and Beauty and The Beast, the cast is confident that this year's musical will be a hit.
"It's a great show, you're not gonna wanna miss this," said junior Tyler Beckwith, who plays Mr. Gatch.
"
The musical is going to be fantastic and something the community doesn't want to miss
— Hannah Gampe
The 60's musical-comedy set in the '50s takes place at the World Wide Wicket Company headquarters on Park Avenue in New York City.
Following the story of an ambitious and quick-witted young window washer, J. Pierrepont Finch, and his rapid rise to the top of the business world. From his overbearing bosses, treacherous office enemies, and beautiful secretaries to hot-headed sycophants and collegiate favoritism, audience members of all ages can laugh and sing along to the hilarious antics of the corporate world.
"The musical is going to be fantastic and something the community doesn't want to miss," said senior and female-lead Hannah Gampe.
Other cast members, like senior Ethan White, are excited for the audience to the big dance numbers that the cast and choreographer have put many hours into perfecting.
"I think that the audience is going to love Brotherhood of Man," said White, "Nothing is more entertaining than a bunch of dancing dudes."
Reserved tickets are $8 and general admission tickets are $6 and can be purchased at the TAHS main office from 7:30 am to 3:30 pm Monday – Friday.  Tickets will also be available at the door.
Leave a Comment