Tyrone Teacher to Establish Scholarships in Memory of Late Son
Tragedy struck Tyrone English teacher Kathleen Beigle and her family when her 27-year-old son Tyler Slippy was killed in November 2020.
To honor her son's memory and his lifelong passion for art, Beigle plans to establish two memorial scholarships in Tyler's name: one at his alma mater, Hollidaysburg Area High School, and another at Tyrone Area High School, where Beigle has taught for the past 16 years.
"Tyler was truly one of a kind. He lit up a room with his humor, outgoing personality, and brilliant smile. Honestly, to know him was to love him. He truly touched everyone's lives that he was friends with. His kindness and free spirit will live on forever," said Beigle.
Tyler graduated from Hollidaysburg in 2011 and later attended Indiana University of Pennsylvania.
Beigle described her son as a happy and outgoing person who was adored by his friends and family.
"He was pretty much a celebrity in our dorm room," said one of his IUP classmates in a remembrance note to Beigle. "He knew everyone and treated everyone with the same amount of respect and love. He was so good about empowering others and encouraging them to be however they wanted to be."
Those close to him described Slippy as funny, kind, wonderful, caring, sweet, and selfless.
Some of the many comments shared with Beigle were "You raised a man who truly touched so many people's lives…So many people from IUP loved Slippy…He was such a joy and light in this world…He was the definition of selfless…I remember so many times he would go out of his way to help someone out if they were in need regardless of how big or small."
The impact that Beigle's son had on others has been a comfort to her, and through these scholarships, his life will live on.
The scholarship in Tyler's name will be given to a senior student who excels in art, in honor of Tyler's own free spirit and personal love of art.
"Art was a class where Tyler could express himself freely, without restraint or 'rules' that most core classes have," said Beigle. "Tyler was very outgoing, funny, an extrovert for sure, but he also had trouble talking about issues and problems. However, I think his artwork was an outlet for him to express feelings and emotions he was having trouble expressing verbally."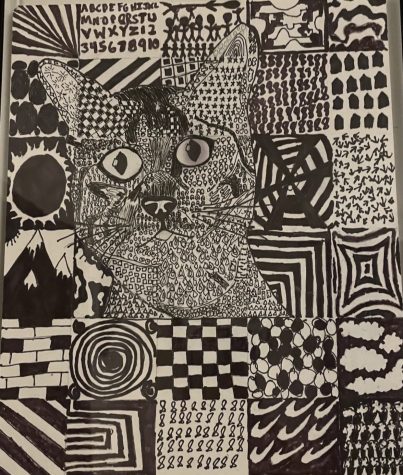 The scholarship will be open to seniors at TAHS and HAHS. More details about the application process will be available soon.
"There will not be an essay required to apply for the scholarship, because Tyler would have hated that," said Beigle.
Instead, the scholarship will be awarded based on a submission of a student's artwork. Tyrone art teacher Eric Feather will work with Beigle on finalizing the entry guidelines and selecting the recipient.
To donate to the Tyrone scholarship fund, send a check payable to TASD, 701 Clay Ave., Tyrone PA, 16686, and write "Tyler Slippy Art Scholarship" in the check memo line.
To donate to the Hollidaysburg scholarship fund send a check payable to HASD Foundation to 405 Clark St., Hollidaysburg, PA 16648 and write "Tyler Slippy Art Scholarship" in the memo OR visit www.hasdfoundation.org and choose "Donate Now" in the top right corner. Please write "Tyler Slippy Art Scholarship" in the notes section at checkout. The Foundation is a 501c3 so all donations are tax-deductible.
View Comments (2)
About the Contributor
Ellie Oakes, Editor in Chief
Ellie Oakes is in her third & final year as a member of the renowned Eagle Eye News staff. As a senior, she is hoping to make her last year of high...