Tyrone suffers tough loss to league rival Clearfield
Heart. In most sports that is what will win games when two evenly matched teams clash. Tyrone certainly showed how much heart they have as they battled against the bigger and more physical Clearfield.
Despite a terrific effort from every team member, Tyrone suffered a heartbreaker to Clearfield 57-46 on Tuesday night. In order to control their destiny in the mountain league, Tyrone needed to win this game.
"
We fought with them on the glass, played good defense, shot great from the field. Zach did a great job guarding Myers
— Senior Anthony Politza
Clearfield was a very tough competitor, with a reputation of a 16-1 record. there record is enough to most likely get them a number 1 seed in the district 5 AAA playoffs.
The game started off great for Tyrone. They jumped out to a 13-11 lead after 1…that doesn't sound right does it? 13-11 might not be that big of a lead, but when playing an extremely tough competitor like Clearfield, it's pretty good.
"We fought with them on the glass, played good defense, shot great from the field. Zach did a great job guarding Myers", Senior Anthony Politza said about the first half.
Tyrone's success continued in the second quarter, and they ended the half with a 29-25 lead, getting production from almost all of it's players.
The second half on the other hand, was a completely different story. Tyrone scored just 6 points  in the third quarter. Likewise, Clearfield poured in 16 for the third. Senior Anthony Politza sat most of the third quarter as a result of foul trouble. Those stats just won't win the game against Clearfield.
Tyrone revamped their engines in the fourth, but it just wasn't enough. Clearfield outscored Tyrone in the fourth, 16-11, putting the game away in the meantime.
Politza led Tyrone with 13 while Alex Weaver added 8 and Zach Soellner added 7.
Tyrone's next game is Friday at Bellefonte.
BOX SCORE
TYRONE (46): Soellner 3 0-0 7, Mitchell 2 0-2 6, Meredith 2 0-0 4, G. Weaver 1 0-0 2, A. Weaver 2 3-6 8, Lewis 2 0-1 4, Thomas 1 0-0 3, Politza 6 1-2 13. Totals – 19 4-11 46.
CLEARFIELD (57): Brown 3 5-6 11, McKenzie 3 3-5 9, Hazel 2 0-1 5, Myers 3 5-7 12, Spaid 7 1-4 15, Strauss 2 1-2 5. Totals – 20 14-25 57.
SCORE BY QUARTERS
Tyrone 13 16 6 11 – 46
Clearfield 11 14 16 16 – 57
3-point goals: Tyrone 5 (Mitchell 2, Soellner, A. Weaver, Thomas); Clearfield 2 (Myers, Hazel).
Records: Tyrone (10-5); Clearfield (16-1).
JV: Tyrone, 49-41. High scorers-Anderson, T, 11; Sorbera, C, 10.
Leave a Comment
About the Contributor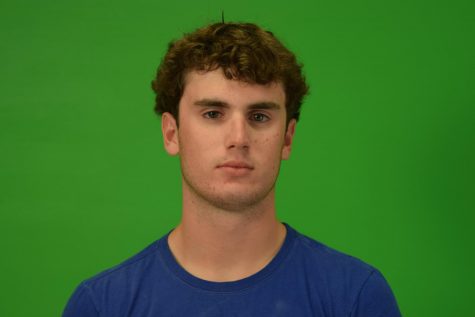 Noel Politza, Sports Editor
My name is Noel Politza. Most people call me Dicky. I am a senior at Tyrone High. My favorite color is green and my favorite subjects are science and math....