Tyrone offense rolls over Red Raiders, 47-7
Tyrone locks up Bellefonte on both sides of the ball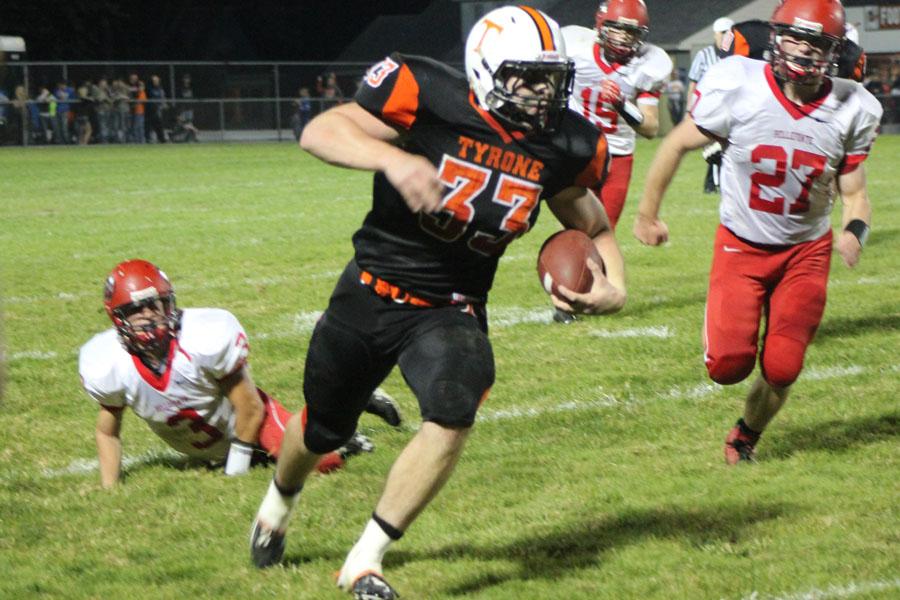 The Golden Eagles had no trouble putting up points on Friday at Grey Field, dominating Bellefonte 47-7.
Junior Tyrone tailback Aleic Hunter had another monster game.
"
Great intensity out on the field. We just have a lot of fun out there each game"
— RB Aleic Hunter
Hunter began the game with an electrifying 88 yard return of the opening kickoff.
He then amassed over 150 yards more of total offense and two rushing touchdowns on only thirteen touches.
"Great intensity out on the field," commented A. Hunter, "we just have a lot of fun out there each game."
Quarterback Garrett Hunter also showed off his marksmanship, completing twelve of sixteen passes for one hundred sixty four yards and two passing touchdowns.
Fullback Eli Sleeth performed at a high level on both sides of the ball. He recorded seven carries for thirty four yards and a score, not to mention an impressive forty four yard touchdown pass on a screen pass by Hunter.
Sleeth also held his own on defense, adding an interception along with several tackles.
Defensive back Cameron Bakhsheshe also added an interception right before halftime.
The  Red Raiders were held to a dismal 120 yards of total offense.
The Golden Eagles were able to put up a jaw dropping 387 total yards in comparison.  This was with Tyrone playing the junior varsity team in the second half because of their 27-0 lead at the break.
Tyrone sports an impressive 5-0 undefeated record going in to their next game on the road against Bald Eagle Area.
SCORE BY QUARTERS
Bellefonte 0 0 0 7 – 7
Tyrone 20 7 14 6 – 47
First quarter
T-A. Hunter 88 kickoff return (kick failed), 11:44.
T-Sleeth 3 run (Vipond kick), 6:06.
T-A. Hunter 10 run (Vipond kick), :12.4
Second quarter
T-Sleeth 44 pass from G. Hunter (Vipond kick), 8:25.
Third quarter
T-Getz 7 pass from G. Hunter (Vipond kick), 6:30.
T-A. Hunter 56 run (Vipond kick), 3:49.
Fourth quarter
T-Soellner 3 run (kick failed), 7:32.
B-Kreger 8 run (Feldman kick), :51.6.
INDIVIDUAL STATISTICS
RUSHING: Bellefonte-Kephart 1-31, Smith 5-16, Kutches 4-13, Jackson 9-13, Kreger 6-11, Kerschner 2-1, Armstrong 3-(-6). Tyrone-A. Hunter 10-132, Weaver 6-39, Sleeth 7-34, Soellner 2-15, D. Hunter 2-7, Bakhsheshe 1-6, TEAM 1-(-1), G. Hunter 5-(-9).
PASSING: Bellefonte-Armstrong 3-12-2-41. Tyrone-G. Hunter 12-16-0-164.
RECEIVING: Bellefonte-Caprio 2-36, Smith 1-5. Tyrone-Boone 3-50, Sleeth 1-44, Getz 3-28, Crawford 2-21, A. Hunter 3-21.
INTERCEPTIONS: Bellefonte-none. Tyrone-Bakhsheshe, Sleeth.
TEAM STATISTICS
First downs: B: 7    T:21
Rushes-yards B: 30-79   T: 34-223
Passing (comp.-att.-int.) B:3-12-2   T:12-16-0
Yards passing B:41   T:164
Total yards B:120   T:387
Fumbles-lost B:0-0   T:0-0
Penalties-yards B:4-49    T:3-29
Punts-avg. B:7-29.5    T:2-35.5
About the Contributors
Adam Zook, Editor in Chief
Oh hey, I didn't see you there. My name is Adam Zook, Editor in Chief of the world's greatest school newspaper: Tyrone Eagle Eye News! I am a senior...
Grace McKernan, Photo Editor
Hi! I'm Grace McKernan and I'm a senior this year at good old TAHS. I'm the photography editor for the Eagle Eye. Other activities I participate in include...