Tyrone HS Marching Band begins competition season on high note
It is that time of year again, the sound of music fills the air on Friday nights and Saturday afternoons all over the area.  The Tyrone Area High School Marching Band season is in full swing.
The band has had a successful start to the competition season.  After placing third at their first competition in Somerset on September 12, the band placed first in its class with a score of 79.545, a 4.12 point jump from the previous week at last week's competition in St. Marys.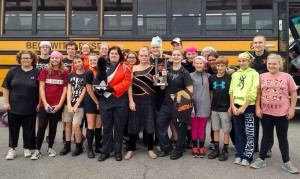 After two competitions, the band is currently in sixth place in the Chapter but with a first place finish under their belt, they are looking to move up in the coming weeks.
"Our goal for the competition season is to have fun and to do well at Chapters at IUP.  Last year our six year string of winning the competition was broken and we want to reclaim the title this year," said sophomore band member Kerrigan Julian.
This year's show is entitled "Celtic Celebration" in group 1A of Chapter 11.
For those who do not know how the band competition grouping works, there are a total of four groups for the Tournament Of Bands  competition season.
Each group is based on the band's size. For group 1A, a band must have up to 30 musicians and a maximum of 30 auxiliary(color guard) members. For a band in group 2A, the band will have between 31-50 musicians and a maximum of 50 auxiliary.For group 3A, a band will have up to 51-75 musicians and a maximum of 75 auxiliary members. For a group 4A band, the band will have 76 or more band members and auxiliary members.
The Tyrone Golden Eagle Marching Band will perform Irish Tune and Galway Piper to open the show. The ballad is an arrangement of Danny Boy. And the closer is Newgrange Hide and Seek.
This season's remaining competitions are as follows:
Central Dauphin – Saturday, September 26
Home Show – Saturday, October 10
Juniata Valley – Saturday, October 17
Chapter Competition at IUP – Saturday, October 24
ACCs at Camp Hill – Saturday, October 31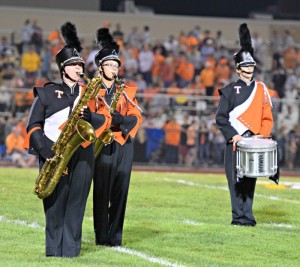 Most important to local fans might be Tyrone's 2015 home show on October 10th at Gray Field.
This year's Music in the Valley, the band will welcome a special guest to Gray field. In addition to a full schedule of high school bands, the St. Francis University Marching Band will perform in exhibition to end the competition.
The section leaders for the 2015-2016 Tyrone Marching Band are: Trumpets is junior Kara Mills, low brass is senior Rae Bonsell, saxophone section leader is sophomore Rachel Robinson. The guard captain is sophomore Katelyn Richards. The drum major is sophomore Rebekah Schleppy. The band is under the direction of Mr. Hock. Percussion instructor is Mark Morningstar.
Band Director David Hock is excited for the season.
"Our goals for the season are to grow and improve from week to week making our score higher and hopefully bring home some trophies," said Hock.
View Comments (3)
About the Contributors
Derek Wilson, Staff Writer
My name is Derek Wilson and I am a senior here at Tyrone High School and it is my third year as a member of the Eagle Eye Student Newspaper. I am a Staff...
Kerrigan Julian, staff videographer 10
Hi, my name is Kerrigan and I am a sophomore at Tyrone High School. I am in Marching Band, Jazz Band, Swimming, Track, Ski Club and Choir. I love to watch...