Tyrone High School honored for academic success in 2014
Tyrone has been recognized for it's academic prowess several times this year.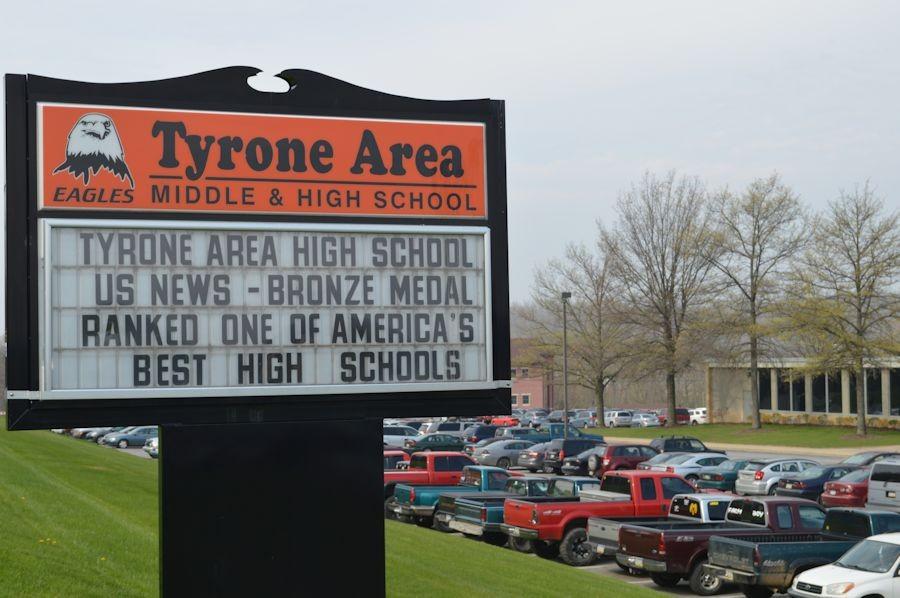 While Tyrone's football team was grabbing headlines this fall and running up the score on its opponents, its students were running up some pretty impressive academic scores of their own, proving that there is more to Tyrone Area High School than just athletics.
The Tyrone Area High School has been recognized by no less than five independent organizations for its academic achievement this year.
The organizations keeping score of these academic accomplishments range from those in the national and state media to the Pennsylvania Department of Education.  But no matter who is rating schools, everyone seems to agree: Tyrone schools are academic winners.
Here's a rundown of the academic honors that the Tyrone Area High School has won in 2014:
'Pennsylvania School Performance Profiles' ranks Tyrone the best of 30 schools in Intermediate Unit 8
"
I'm thrilled with the progression of our students and staff in recent years. It demonstrates that hard work, dedication, and a focus on what is important really does pay off in the end"
— Tyrone Principal Tom Yoder
In November the Pennsylvania Department of Education released its first School Performance Profiles, which for the first time gives all public schools in the state a single building-level academic score from 0 to 100.
The Tyrone Area High School achieved a score of 88.8 out of a possible 100 points.  That is highest score in all of the Intermediate Unit 8 region which is comprised of 30 school districts across Blair, Huntingdon, Cambria, Somerset, and Centre counties.
The PA School Performance Profiles measures SAT scores as well PSSA and Keystone performance in all tested subjects. This program measures not only grades, but school attendance and graduation rates.
This cumulative score is calculated by student performance on standardized testing. Both the Keystone and PSSA exams are examples of tests used in the scoring process.
Tyrone Area High School has a current poverty rate of 46% among it's student body. A high poverty rate often coincides with poor test scores for a school. Tyrone however goes against this trend.
In comparison to Tyrone, nearby Huntingdon Area School Districts has a similar poverty rate at 45% yet only scores a 64.6 out of 100.
"I think it really attributes to the hard work and dedication of the kids," said 11th grade English teacher Steve Everhart, "we as a staff can only present them with the tools for success. All the credit goes to their own diligence in improving themselves."
US News and World Report rates Tyrone High School as one of America's Best High Schools
In April, Tyrone Area High School was voted one of America's Best High Schools by US News and World Report for the third time, placing it in the top five percent of all high schools in the nation.
According to U.S. News, their annual rankings "include data on more than 19,400 public high schools in 50 states and the District of Columbia. Schools were awarded gold, silver or bronze medals based on their performance on state assessments and how well they prepare students for college."
"I'm thrilled with the progression of our students and staff in recent years," said TAHS Principal Thomas Yoder, "It demonstrates that hard work, dedication and a focus on what is important really does pay off in the end."
Factors that led to Tyrone receiving these honors are attributed to it's proficient scores in reading and math, coupled with the teacher to student ratio to better show how teachers are reaching their students.
Pittsburgh Business Times ranks Tyrone 6th in the state as an "over achieving" school.
This year the Tyrone Area School District TASD was ranked 6th in Pennsylvania districts with higher rates of poverty, qualifying it as an "over achieving" school by a Pittsburgh Business Times report published in April 2014.
According to their study, only five school districts of the 498 studied were able to overcome the economic odds of their students as well as or better than Tyrone schools.
As one editor described Tyrone's performance, "a district finishing high on this rank is smashing expectations."
Tyrone High School exceeds expectations on Pennsylvania Advanced Assessment Scoring 
The Pennsylvania Value-Added Assessment System (PVAAS) is a new type of data that, according to the Pennsylvania Department of Education, "offers an objective and more precise way to measure student progress and the value schools and districts add to students' educational experiences."
A school's PVAAS scores measure how much its students grew academically above and beyond what one can statistically expect them to have grown in a single school year.
On this particular measure of achievement, Tyrone exceeded all expectations, finishing an unprecedented 540 points above their projected score.
In fact, Tyrone High has set three state records in Literature and Writing: an 81% Advanced Level Writing Proficiency score in 2010, a perfect 100% Writing Proficiency score in 2011, and a PVAAS Reading Growth Measure Score of 125 in in 2012.
Tyrone sets state records for their Keystone Writing and Reading Performance Scores
According to PDE [The PA Department of Education] data files, the TAHS English Department has set three state-wide high school records in recent years for both PSSA and Keystone Writing and Reading performance.
The three trophies in the display case upstairs at the high school represent those records from 2010-2012. One is for 2012, when our students recorded 100% proficiency in composition with over 71% writers scoring advanced.
Clearly, Tyrone Area High School is making a name for itself not only on the gridiron or any other sporting field, but in the classroom as well.
About the Contributors
Adam Zook, Editor in Chief
Oh hey, I didn't see you there. My name is Adam Zook, Editor in Chief of the world's greatest school newspaper: Tyrone Eagle Eye News! I am a senior...
Grace McKernan, Photo Editor
Hi! I'm Grace McKernan and I'm a senior this year at good old TAHS. I'm the photography editor for the Eagle Eye. Other activities I participate in include...