Alumni Spotlight: 2008 Alum "Retrieves" History In The Big Dance
Former Golden Eagle Brandon Gehret is the Athletic Trainer for the UMBC Retrievers
Before March 16, 2018 few basketball fans had even heard of the UMBC Retrievers. Within 24 hours, UMBC would become the focal point of the sports world and all of social media, as they became the first 16-seed team in Division 1 men's basketball history to upset a one seed after defeating the University of Virginia in the first round of the NCAA tournament.
And 2008 Tyrone alum Brandon Gehret was there for the entire thrill ride.
Gerhet is the current athletic trainer for the University of Maryland, Baltimore County Retrievers men's basketball team.
"I was looking to move closer to my girlfriend in DC, who was attending Medical School at George Washington University," said Gehret. "I saw that UMBC had an opening for an athletic trainer and I applied. I had a phone interview and on-campus interview then offered the job within five days."
After graduating from Tyrone, Gehret earned his Bachelors Degree in athletic training from Penn State in 2012. He then received his Master's Degree in Business Administration from St. Bonaventure in 2015. While at St. Bonaventure Gehret worked as a trainer for many college sports. His primary coverage included women's soccer and baseball, but he has also assisted with men's soccer, softball, women's basketball, and men's and women's tennis.
"
The teams mindset before the game was we knew that if we went out and executed the game plan along with playing how we are capable of playing then we could win the game."
Initially, he was hired at UMBC to be the trainer for women's soccer and baseball.  In August 2017 he took over for the men's basketball team full time.
As the team's athletic trainer, Gehret must be available to the athletes 24/7, and attends every practice and game.
"I am available for the guys to treat, prevent and rehabilitate their injuries," said Gehret. "They can range from small cuts to ankle sprains to concussions. I also deal with illnesses and trying to get the guys seen by a doctor to get the proper medicine."
The Retrievers came into the game with the odds stacked solidly against them. Before that game, 16 seeded teams were 0-135 all-time in the tournament. However, with no pressure on them, the Retrievers relaxed and prepared for it like any other game.
According to Gehret, the team was loose and joking around in the locker room, just being themselves during pregame. UMBC had already played SMU and Arizona to open the season. Even though those teams had more talent, by season's end they were playing a high level of basketball.
"The team's mindset before the game was we knew that if we went out and executed the game plan along with playing how we are capable of playing then we could win the game," said Gehret.
UMBC played a sound game shooting 54% from the floor to go along with twelve three-pointers, they defended the Cavaliers tightly. UMBC had a scare with around eight minutes left in the second half when their leading scorer and team MVP Jairus Lyles limped off of the floor with a nagging injury. Lyles limped over to Gehret, who was there to quickly treat him and get him back in the game.
"Virginia's body language was poor and they were completely out of there game plan but when Jairus started to struggle with an injury around the 8-minute mark, I got a bit nervous," said Gehret. "Luckily though, I was able to get him back in the game a couple minutes later."
When the final buzzer sounded, the UMBC Retrievers made history by becoming the first 16 seed to ever beat a 1 seed and trounced the Virginia Cavaliers 74-54.
"To be a part of history is really really special," said Gehret. "Being a no-name team before the tournament to completely stamping our names in the record books is special."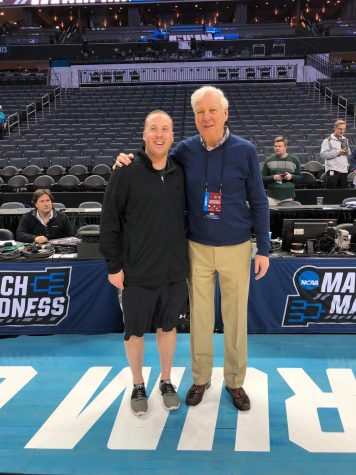 Gehret is no stranger to the basketball court himself. He played all four years in high school for the Golden Eagles and was fortunate to play with the late Steve Catich, not only one of the best players in recent Tyrone history, but also one of Gehret's best friends.
"I already have a brother, but losing Stevie felt like I lost a brother," said Gehret. "We could go weeks to months without talking but always pick right back up where we left off."
Gehret said that he felt Steve Catich's presence in the days leading up to the big game and even dedicated that win to Steve.
"After losing a close friend at such a young age, I really began taking it a day at a time and living in the moment," said Gehret. "Leading up to the game there were many omens that led me to believe that Stevie was with us at that moment."
The win was impressive and UMBC was the talk of the sports world for the next 24 hours. The team got a lot of national attention including shout-outs on twitter from numerous celebrities and athletes, personal text messages from NBA Superstar Carmelo Anthony, custom shoes from NBA MVP and reigning champ Stephen Curry, and they even got to meet the developers of the hit game Fortnite along with face-timing Ninja, a famous Fortnite streamer.
"I had so many texts and social media messages to answer after the game it was overwhelming, " said Gehret. "It is starting to set in now a few days after the fact what we accomplished."
Unfortunately, the clock struck midnight on the this Cinderella story and The Retrievers lost a hard fought 50-43 game to Kansas State in the round of 32.
Gehret plans to continue his career as a Trainer at the Division 1 level but hopes to eventually land a job with to a Power-5 conference school.
But he will never forget being a part of NCAA basketball history this March.
"I'll forever cherish this ride that I was able to go on with these intelligent, talented and caring young men," said Gehret.
About the Contributor
Asher Christine, Sports Editor
Hi my name is Asher Christine.  I'm a Senior here at Tyrone Area High School and this is my third year as an Eagle Eye staff member. The main reason I...