Tyrone's RJ Royer shot a 77, good enough for third place at the PIAA District 6 Championship at Scotch Valley Country Club, earning a trip to the PIAA State Championship Tournament at Penn State on October 16 and 17.
Royer is a student at Williamsburg High School but plays on Tyrone's golf team as part of a co-op agreement between the two schools.
Tyrone Head Coach Mike Fuinicelli was impressed by Royer's ability to battle adversity and still come out on top.
"In the cold and rainy conditions, Scotch Valley played tough. I'm ecstatic that RJ finished at five over after going three over in his first two holes," Funicelli said.
Royer was not completely satisfied with his round, which started out rocky, but he was happy with the end result.
"I had an up and down day on the course, mostly not going my way, but I did what I needed to move on to states," Royer said.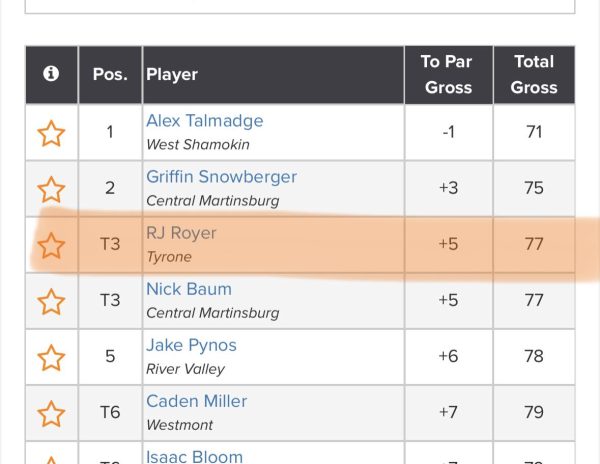 He and Tyrone sophomore Kaleb Sweitzer both qualified for districts by placing in the top 30 at the Sectional Match at Ebensburg Country Club on September 20.
"I was happy that RJ and Kaleb qualified for districts in the first place, being that Ebensburg is a tough course and that there were other good competitors who did not make the cut," Funicelli said.
At Districts, Royer started his round on the 13th hole with a bogey on the short and downhill par four which angles to the left.
Royer then carded a double bogey on the par five 14th, but he made a good birdie on 15 to bring him back.
Royer continued to have pars and bogeys, but birdies on the fifth and 12th hole left him with a very respectable five over par for the day.
Tyrone's other competitor at districts, sophomore Kaleb Sweitzer, also did not have as good a round as he hoped, shooting a 91, 13 strokes over his best round.
Sweitzer consistently bogeyed his holes with a handful of double bogeys and pars in the mix.
"Being his first time at districts, I was happy that he didn't have any huge numbers on the scorecard," Funicelli said.
Sweitzer finished in 21st place as a sophomore and will be back to try again for the next two seasons.
"
I had an up and down day on the course, mostly not going my way, but I did what I needed to move on to states
— RJ Royer